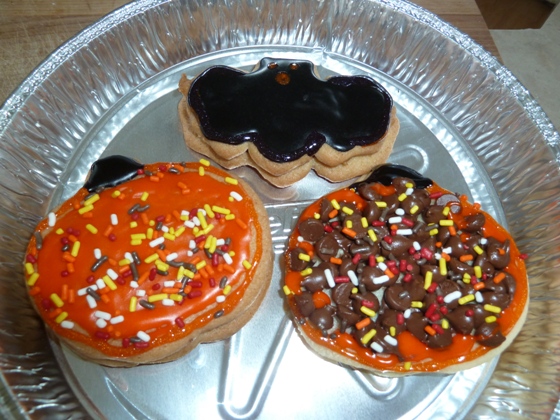 Feel like making Halloween cookies? Here are some that are quick and easy. I needed easy after my Epic Fall Fail Cake.
My first idea was to make chocolate croissants in the shape of a pumpkin. Then I watched a YouTube video on how to make croissants and quickly changed my mind. I decided I'd make sugar cookies instead and add chocolate.
My kids told me I should stick with boxed mixes so I decided to listen to them this time.
After I took this picture I realized I had never made sugar cookies with cookie cutters. I know, pretty pathetic.
[/caption]When they were done baking I loaded one cookie of each shape with chocolate bits. My grandmother used to put chocolate bits on a Ritz cracker and stick it in the microwave for a few seconds. Salt and sweet all in one bite. Delicious.

Put the two cookies together and decorate. Easy peasy. If you're questioning my spelling of peasy… I looked it up in the Urban Dictionary. It originates from a british TV commercial for Lemon Squeezy detergent. FYI.

Okay, it's not exactly Pioneer Woman's level of cooking or photography but they're tasty and did I mention easy? Happy Halloween!
---