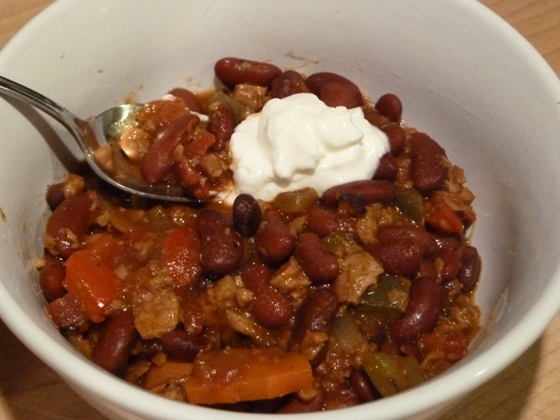 The weather in Florida has been beautiful. Our windows are open and the air conditioner is off. It's our chili time of year. Usually Eric is the cook in our house but since he's away at Busch Gardens being chased by zombies and vampires I decided to give his chili recipe a try. Turns out it's easy to make, easy to clean up and there's enough to have chili every night of the week. Should you want to have chili every night of the week.
Ingredients:
 2 tablespoons olive or canola oil
 1 medium yellow onion, chopped
 1 large carrot, chopped
 1 medium green bell pepper, cored, seeded and chopped
 1 medium red bell pepper, cored, seeded and chopped
 3 cloves garlic, finely chopped
 1 to 3 finely chopped chipotles in adobo, 1 tablespoon dried oregano
 2 teaspoons ground cumin
 1 tablespoon chili powder
 1 1/2 teaspoons salt
 1 (28-ounce) can diced tomatoes, with their liquid
 3 cans red kidney beans
 1 can black beans
On a whim, I added one bag of Morning Star crumbles and it turned out great.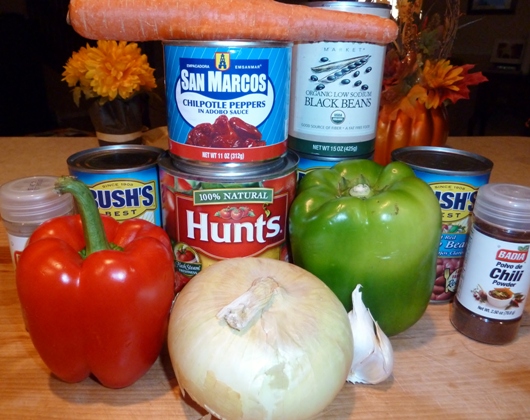 Chop the carrots, onion, peppers and garlic.
Heat the oil in a large pot over medium heat. Add the carrots first, then onions, peppers, and garlic and cook for ten minutes.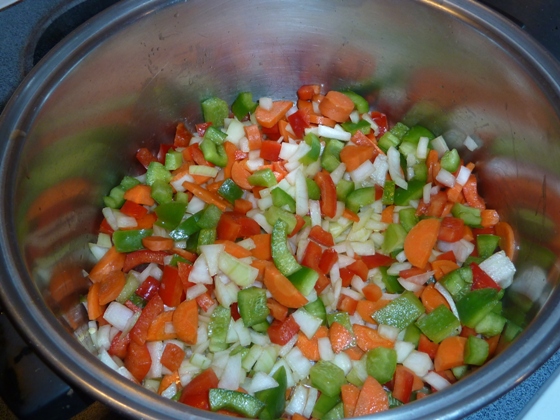 Add, chipotles, oregano, cumin, chili powder and salt. Stir.
Then add the tomatoes and beans with their juices. I repeat… with… their… juices. I didn't catch that the first time I read it on my recipe. (Shh, I had to add a little water to make up for the lack of juices.) Increase the heat and bring to a boil. Stir. Reduce the heat, let it simmer and make your house smell like glorious fall for forty-five minutes.
---