My feet are aching from standing in the kitchen barefoot for seven hours trying to create my Halloween extravaganza recipes. Sometimes my vision for the perfect party doesn't quite match the reality of my cooking ability. I get a little carried away and think that I'm a wizard in the kitchen. I'm not. However, I was able to make some cool magic wands.
It all started last week when I remembered that this is the last Halloween we'll all be together. The last Halloween all the seniors at North High will be together. So, I decided to have a party. It's really easy to say, "Hey, let's have a party!" Go ahead try it. See… easy.
All four Rausin's shopped for costumes. Arielle said "Mom, you should be an Avatar." I questioned her but figured it's her party and if that's what she wants me to wear… okay. I haven't dressed up in years. Now, I have a tight blue suit, wig, giant ears and blue face paint. Then Arielle told me she was only kidding. Not good. We'll see if I'm brave enough to actually put it on tomorrow. Maybe I'll just dress up as a blogger.
Even though it's really easy to say you're having a party, it's not easy to plan, shop, bake, and clean you're entire house for a party. Especially if you're like me and think you can do everything in three days.
Here are all the recipes I thought I'd make. There were the ghoulish eyes, the creepy crawly brownie spiders, the caramel apples, dirt cake, punch surrounded by dry ice, cookie mouths Arielle saw on Facebook, veggie hot dog mummies, popcorn hands, and magic wands. Add to that macaroni and cheese, chips, soda and candy bars and it's a party.
So far,the brownie spiders, dirt cake and magic wands are done. The creepy eyes are still in the freezer and I haven't found any plastic gloves for the popcorn hands. At this point I'm thinking popcorn bags or tubs will work just fine.
Of course all of these treats will have to be displayed on a spooky table inside a haunted house. I saw this picture and thought… no problem, a little cheesecloth, glue, plastic spiders and I'm done. Are you laughing at me yet? Picture me on a ladder tomorrow at about 6:20pm. trying to hang cheesecloth. (The party begins at 6:30.)
Arielle is downstairs cleaning as I type. I'm heading down there to finish my ghoulish eyes and try out my new air popper and maybe even vacuum.
So, if you're throwing together a last-minute party like me. Stay away from the spiders. They take way too long. Give the magic wands and dirt cake a try. They're really easy! Tasty too.
Happy Halloween!
Added November 1st:
I told Arielle and Kai there was no way I was dressing up. I knew I wouldn't have time.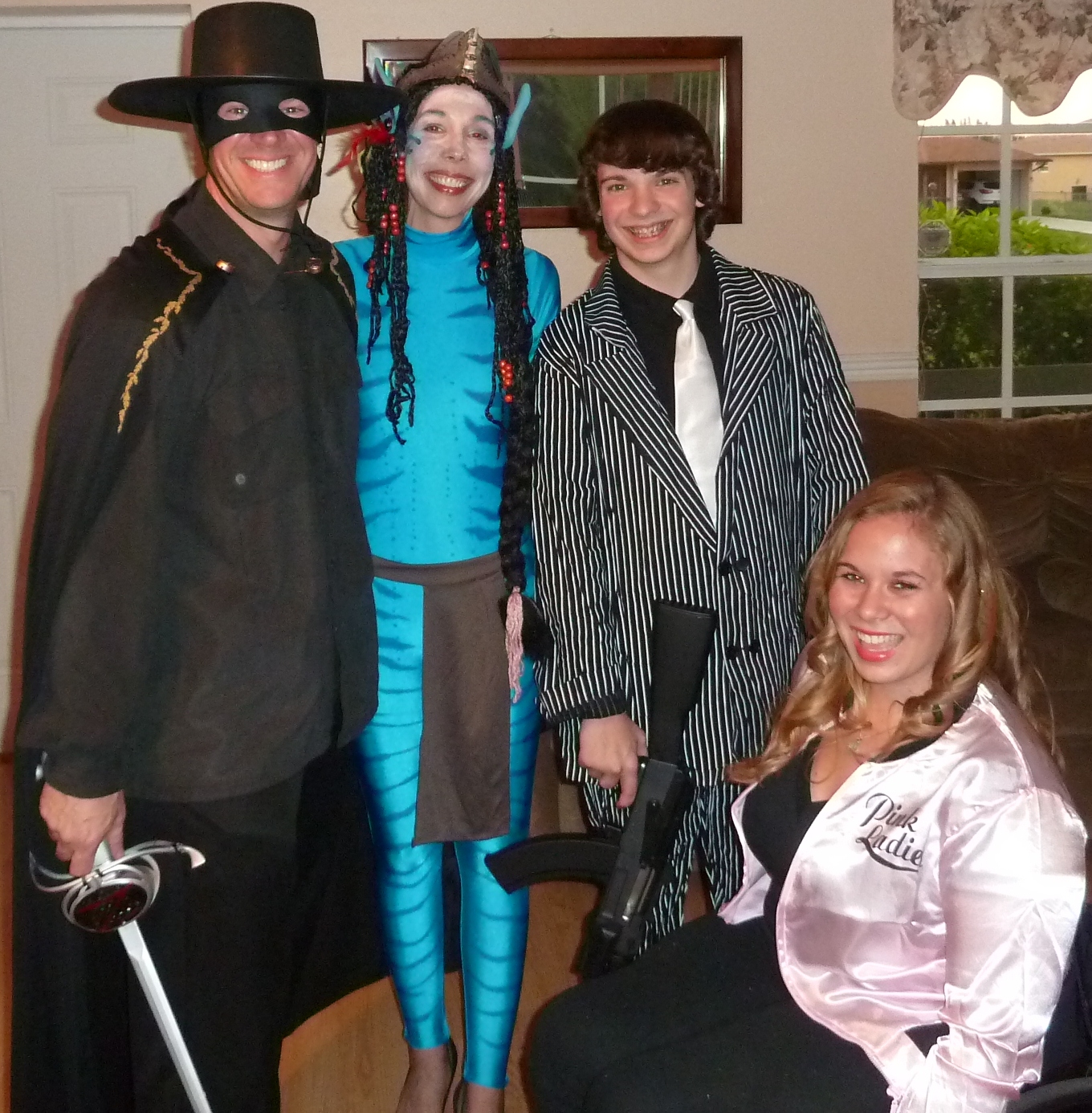 Glad I was wrong. I remembered what Halloween used to feel like all those years ago when I carried a pillowcase and knocked on neighbors doors.
Here we are on our last Halloween before Elle leaves for college. The laughter, the smiles, seeing all the costumes –  completely worth all the work that goes into planning a party.
"Hey, let's have a Christmas party!"
---