Warning! Eat before reading this post. It could cause some serious hunger pangs.
I asked Johnny Depp what he put into his chili and he rattled off the following ingredients. Beer (Corona), Morning Star crumbles, poblano chile, chipolte chile, oregano, pumpkin, onion, fresh tomato and an avacado and celantro garnish. The sour cream on top was a mixture of sour cream and pumpkin. I don't think he used a recipe he just started mixing. I do know that I happened to see him at a hockey game the night before and he had no idea what he was making.Then he served all of us this amazing dish.
Ashton made a pumpkin shrimp brushetta. He removed the shrimp for the vegetarians in the group. I really wanted to eat two pieces but only ate one knowing how much food was to come later in the evening. I should have hid one in the back of my fridge. I'd love a snack about now.
Today I bought risotto at the grocery store because John Travolta's risotto with pumpkin left me wishing I could have eaten a plateful. It's on my dinner menu for this week.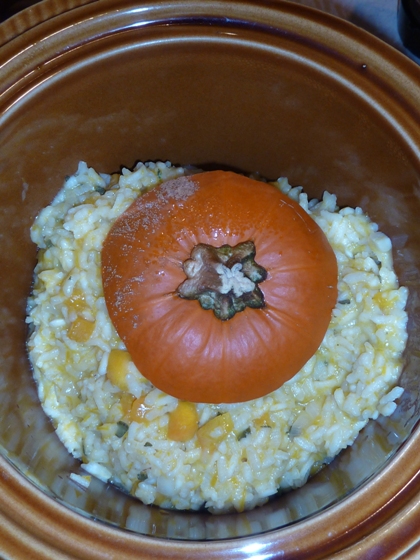 John followed the risotto with pumpkin fritters.
Eric knows how much I enjoy cheese totellini. He made a cheese tortellini with pumpkin sauce. Luckily there are lots of leftovers. Another dinner for this week.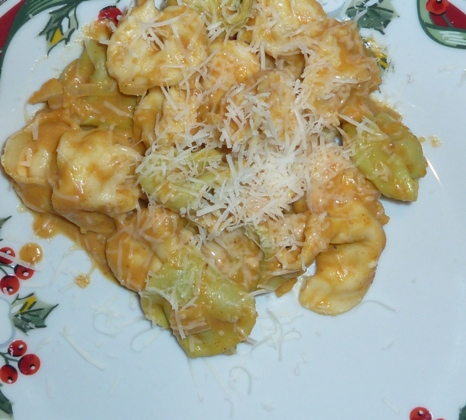 Look at this cannoli!
The evening was a great success and left us wanting to do it again. That's when my friend K. had a brilliant idea. February = chocolate! Chocolate apps, chocolate entrees and chocolate desserts! I think that's going to be my favorite Iron Chef of them all.
---