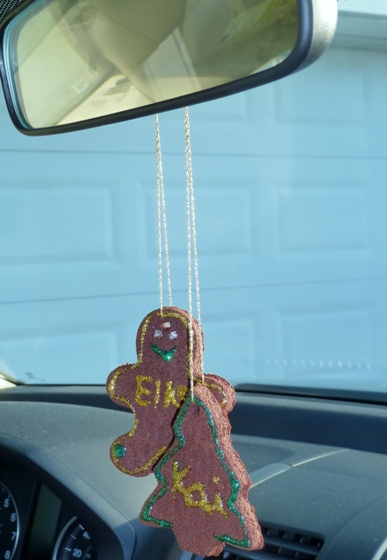 This post contains several ideas for an ornament recipe I found on Martha Stewart's holiday website. The ornaments have a strong cinnamon smell and can be used to decorate a Christmas tree or as a car air freshener to keep you in the holiday spirit as you shop.
Teachers, these ornaments are easy and inexpensive to make. If you are looking for a project that will include all of your students regardless of religion – keep reading…
Snowflake Bentley
by
Jacqueline Briggs Martin
 and illustrated by
Mary Azarian
is the story of a man who captured beautiful photographs of snowflakes.
Wilson A. Bentley
was the first to discover that no two snowflakes are alike. (A wonderful lesson for a classroom.)
Many years ago, I read Snowflake Bentley to my class and then handed out tee-shirts with an iron-on snowflake and a quote about being someone special on the back. The students decorated their snowflake with fabric paint.While it was a fun project it also took a lot of preparation (hours of ironing snowflakes) and was a bit on the pricey side. Here's a better idea.
Read Snowflake Bently to your class and use snowflake cookie cutters with the following recipe. They smell incredible and can be used in cars, drawers, as room fresheners, or hung on a Christmas tree. Just please remind your students that they are not edible – even though they smell delicious.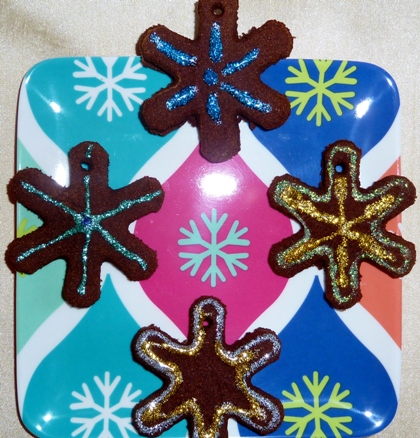 If you're not a teacher these ornaments make great holiday gifts. Add someone's name and they can be gift tags.
Ingredients:
1 Cup Cinnamon
1 Cup Applesauce
1/2 Cup to 1 Cup Glue (1 cup works well – try a little less for a stronger cinnamon smell)
Cookie Cutters (Any shape)
String
Parchment paper
Craft Decorating Glue or Beads, Sequins, Glitter
Mix the cinnamon and applesauce together and add the glue.
Mix it all together with a rubber spatula and let the dough sit for an hour. If the dough is too sticky add water. I made two batches out of the ingredients above and the dough turned out perfect. After an hour, roll out the dough and use your cookie cutters.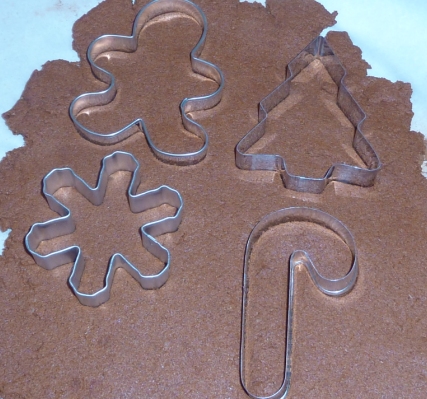 I have to say I was amazed at how easy it was to use a straw to make a hole in the top of the dough. Yep, I even giggled a bit.
Bake the dough at 400 degrees for 7 minutes. Check to make sure the holes have not closed up. You can still use a straw to make the holes bigger if you need to. Then, carefully flip each one over and bake for 5 minutes. Flip again. Bake for 2 more minutes. They should be done. If not, keep a close eye on them and continue to bake. several people who used Martha Stewart's directions let the ornaments air dry for several days or baked them at 200 degrees for two hours. I was able to make and decorate about 24 ornaments in one day using this recipe. Why am I being vague about how many ornaments? Well, I learned that wax paper and parchment paper are not the same. If you put wax paper in the oven you will end up with a sticky mess and have to throw away all the ornaments on the wax paper. You'd think I would have learned from the caramel apple disaster. Nope. My trash smells very cinnamony. Hey… another use for these ornaments. Put them under your trashbags. Yet another fail to succeed lesson.
Happy decorating and please feel free to share your ideas or links to pictures of your creations.
---