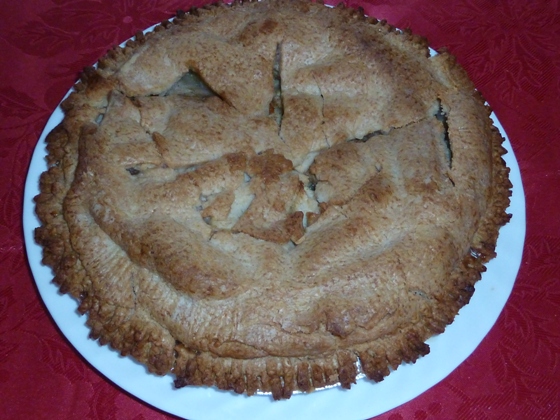 I cheated on this post. Eric made the pie and took the pictures. I think I was at the gym while he spent the afternoon in the kitchen. It works for us. I get to be out of the house but still in my own world, running on the treadmill to my favorite tunes, and he gets to watch football all afternoon while he cooks. I have issues with the noise of TV for hours… and hours. Peace-Ruiner, however, loves noise.
Here's his delicious pie recipe and pictures.
Apple Pie – New Fashioned from Epicurious.com.
Ingredients:
1 15-Ounce package of Pie Crusts – Let sit at room temp. 15 min.
2 1/4 Pounds of Granny Smith apples, peeled, cored, and sliced
3/4 Sugar
2 Tablespoons plus 1 teaspoon of all purpose flour
2 Tablespoons grated orange peel
2 Tablespoons Grand Marnier liqueur or any orange liqueur
3/4 Tablespoons cinnamon
2 Tablespoons unsalted butter (sliced)
Heat oven to 400 degrees.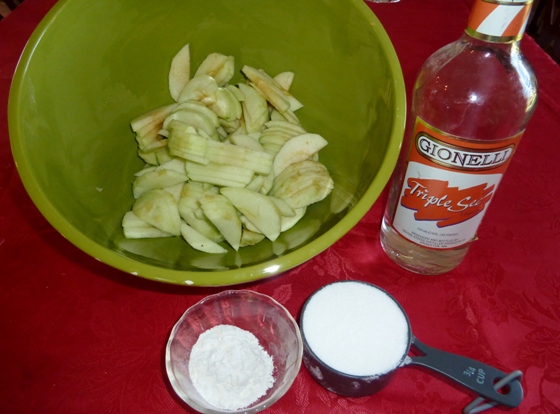 Mix together the apples, sugar, orange peel, 2 tablespoons of flour, Grand Marnier and cinnamon.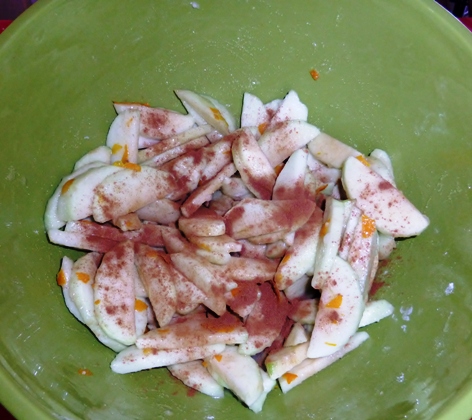 Sprinkle one crust with 1 teaspoon of flour and place the flour side down in a 9 inch glass pie plate. Place the apple filling into the crust and add the sliced butter on top.
Place the second pie crust over the filling and seal the edges. Cut slits in the top of the pie to vent and then place it on a cookie sheet in the center of the oven. Bake about 50 minutes. The crust should be golden brown. Cool and serve.
---