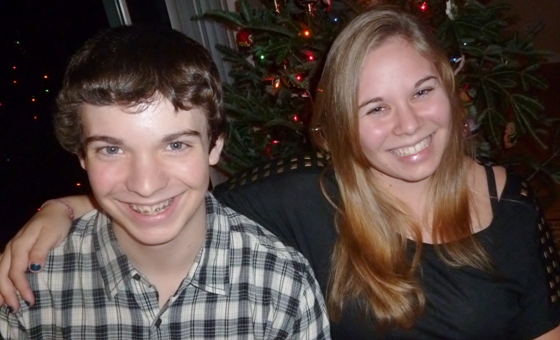 One of the greatest sounds in the world is the laughter of my children – together. Last night I was upstairs working, Eric was playing his computer game and our two children were downstairs watching a movie and laughing hysterically. I felt the warm glow that mothers feel when their children are bonding and kind to one another. I finished writing and went down to join them.
Arielle was lounging on a chair and Kai was across from her on the couch. A small table sat in between. I plopped down next to Kai and we all watched, Waterboy.
A commercial came on and Kai muted the TV. Arielle began telling me about her various choices of dorms and meal plans to choose from at college. (She's decided to go to the University of Illinois! Go Illini!) Meanwhile, my little drummer young adult starts tapping on the end table sitting between him and his sister.
In the middle of her sentence, Arielle glares at Kai and says "stop tapping!" Does Kai stop? Nope. He continues on because now he knows he's completely annoying his sister and what could be better than that? Suddenly I realized how having siblings provides them really good practice for marriage. My husband on occasion has been known to utter the chorus of the Guns N Roses song, I Used to Love Her…
How many times have I glared at Eric in the same way and thought or said…
1. Take your dress shirt off my dining room chair!
2. Don't follow that car so closely. What if he brakes?
3. Stop snoring… I can't hear the TV.
Kai continued to tap despite his sister's squinting eyes. Arielle said, "He's tapping on purpose because I asked him to stop." I nodded knowingly. Arielle leaned over as far as she could and pushed the table out of Kai's reach.
Kai could have gotten up and moved the table back but instead he found another drum. The side of the couch. Deep thumps replaced the light taps. I enjoyed the whole scene a little too much. Luckily we were saved by Waterboy coming back on. Kai had to unmute the TV.
From belly laughs together to wanting to strangle each other. That's the sibling relationship and that's marriage. Thank goodness for holiday breaks. They provide countless opportunities for family bonding.
---