Most of the recipes I post are easy. This one is super duper easy.
I found a recipe for popcorn cake on Pinterest. The recipe called for marshmallows which are not vegetarian. Yeah, I was crushed when I found out how gelatin is made. No more smores for me unless I can find vegetarian marshmallows.
Anyway, I took the recipe for the popcorn cake and made one with caramel and another with chocolate. If I hadn't run out of caramel, I would have used them both on the second cake. I'm crazy that way. They both turned out super duper yummy.
By the way, did you notice the Valentine's Day card in the picture? It was made for me by my favorite three year-old.
Valentine's Day Popcorn Cake

Print recipe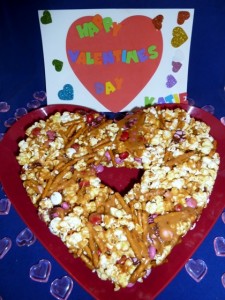 Ingredients
1 bag Popcorn
1 bag M&M's
1 bag Caramel
2 tablespoons Heavy whipping cream
2 cups Pretzel sticks (May want to break the pretzel sticks in half.)
Directions
Step 1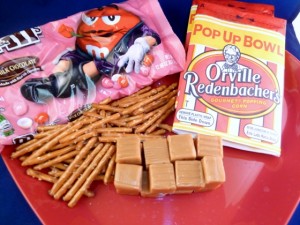 Microwave the popcorn according to the package directions.
Step 2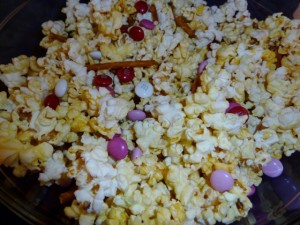 Pour the popcorn, M&M's and pretzel sticks into a bowl.
Step 3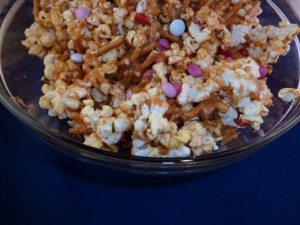 Melt the caramels and cream in a saucepan. Pour the caramel over the popcorn mixture.
Step 4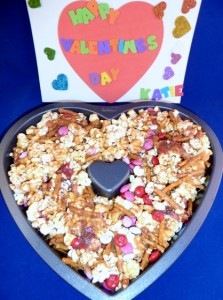 Spray the cake pan and your hands with cooking spray. Spread the popcorn mixture into the heart shaped pan and press down.
Step 5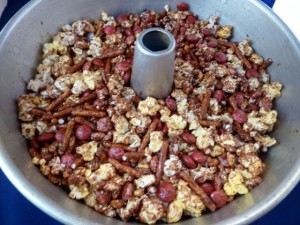 I also made this recipe and added chocolate instead of the caramel. Just as delicious!
---