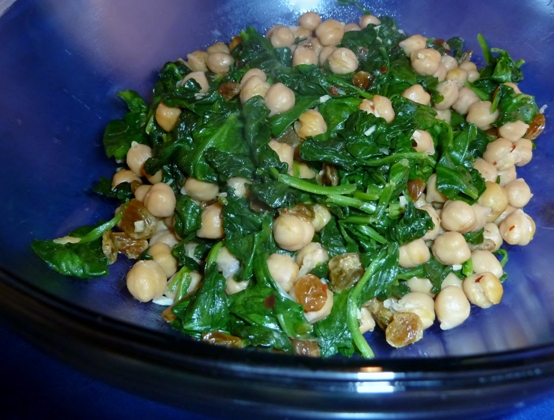 Chocolate day is over so now it's time to focus on leafy greens. At least until dessert.
Spinach is one of my favorites. We have a spinach salad with dinner at least three times a week. When I think my family can't take one more bowl of cold spinach… I heat it up! This recipe has a lot of kick to it if you add extra red pepper.
For the health benefits of spinach click here. And for the health benefits of garbanzo beans/chickpeas click here.
Italian Spinach

Print recipe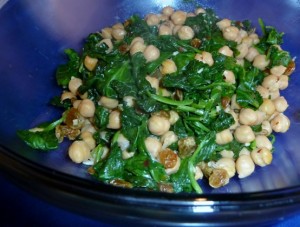 Ingredients
bag or two bunches of fresh Spinach
1 can Chickpeas / Garbanzo Beans
1/4 cup Golden Raisins
1/4 teaspoon Crushed Red Pepper
1 clove Garlic
1/2 teaspoon Salt
2 tablespoons Olive Oil
Directions
Step 1
Heat the oil and garlic in a frying pan over medium heat. Let the garlic turn golden and infuse in the oil.
Step 2
Add the crushed pepper. If you add extra crushed pepper be sure to add extra golden raisins too. Otherwise the pepper will overshadow the sweetness of the raisins. (And burn your mouth!) I learned this the hard way when my husband added an extra pinch or two of the crushed red pepper. I took one bite and went running for a glass of water.
Step 3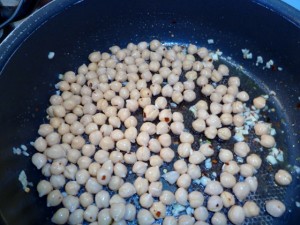 Stir in the garbanzo beans and let it cook for a few minutes.
Step 4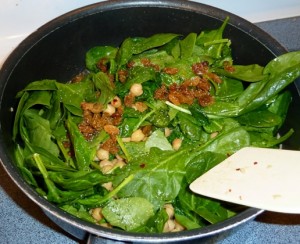 Increase the heat and add the spinach a little at a time. Sprinkle the salt and pour the raisins on top. Stir. Cook until the spinach is wilted.
---