I'm still on my healthy kick since baking and eating way too many sweets around Valentine's Day. I found a website, thanks to Pinterest, that shows how to make energy bars. Lately, I've been needing extra, extra energy to get me through my days teaching middle school math. I spent last week factoring trinomials. Soon I'll have to face graphing quadratic equations. Still, I have to admit I'm having fun – and math was never my thing. Reading was, so I couldn't resist today and had to pull out my Kindle before lunch and read the first few pages of Number The Stars to the sixth graders. Oh they rolled their eyes but it didn't take long before I had some of them hooked.
So anyway, back to energy bars. Here's the skinny. They are not Snickers or Reese's Peanut Butter Cups. They're a healthy snack. It's best not to get the two confused before you take a bite. These energy bars will come in handy when you're ravenous and still have to cook dinner. Or, after school while you're at your desk grading papers. Healthy, grab and go – that's what makes these bars appealing.
Energy Bars

Print recipe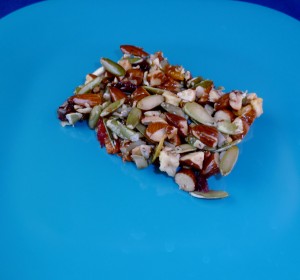 | | |
| --- | --- |
| Serves | 4-6 |
| Prep time | 15 minutes |
| Cook time | 18 minutes |
| Total time | 33 minutes |
| Website | enlightened cooking |
Ingredients
1 cup toasted almonds chopped
1/2 cup green pumpkin seeds
2 tablespoons sunflower seeds
1/8 teaspoon fine sea salt
1/4 cup brown rice syrup
1/3 cup dried fruit chopped
Directions
Step 1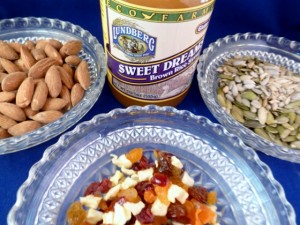 Line a 8x8 square pan with foil. Spray the foil with cooking spray. Preheat the oven to 325 degrees.
Step 2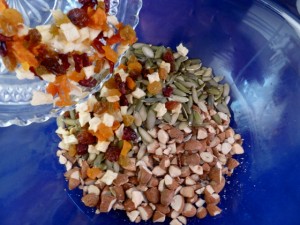 Mix together the almonds,seeds, and dried fruit.
Step 3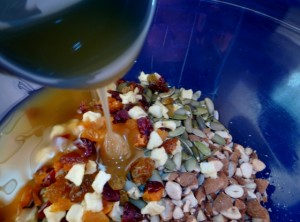 Pour the syrup over the mixture and stir.
Step 4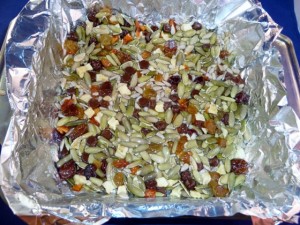 Press it evenly into the pan using another piece of sprayed foil. (Easier than slathering your hands with butter and pressing down.)
Step 5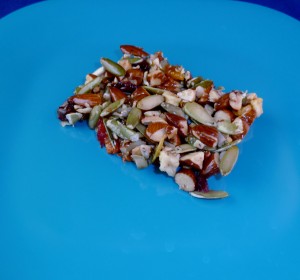 Bake for 18 minutes. Cool for 20 minutes and then cut it into bars. Do not try and remove the bars from the foil. They will crumble while they are still warm. Only remove the foil from the pan. Let the bars COMPLETELY COOL and then peel off the foil.
---