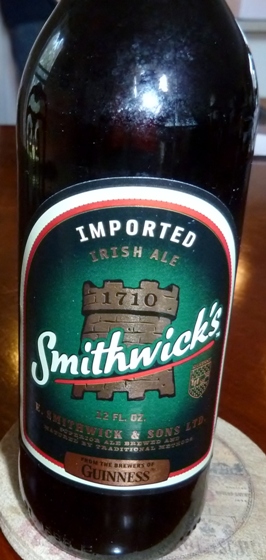 Everyone has indulgences; things they love that aren't necessarily good for them; for Krista it's chocolate and ice cream – for me it's beer. Once a month or so I succumb to my passions and take a trip to Total Wine. For those of you not familiar with it, Total Wine is the beer lovers equivalent of Mecca. Imagine a store the size of Wal-Mart or Target filled with nothing but alcohol in every shape, size and type imaginable.
Looking for vodka in a crystal skull? They've got it. A wonderful cream liqueur made from the African Amarula fruit? Check that off the list too. But most importantly they have two full rows exclusively devoted to beer. So when Krista said that she was going to write five St. Patrick's day related articles in a row, I graciously volunteered to co-blog with her by reviewing an Irish beer each day as well. Did I mention that I LOVE this blog!
So here we go. I started with a bottle of Smithwick – an Irish Red Ale. I have always had a love for red ales since first being introduced to them by the long gone Hollywood landmark, Gorky's Cafe, so I was really looking forward to trying this one.
The appearance of the beer itself is absolutely gorgeous. After an aggressive pour into a pint glass I was rewarded with a two finger head topping a deep clear copper brew. The aroma of this beer is very faint and hard to discern, just hinting at the smell of bread rising. My first taste confirmed the promise of the aroma by being a very mellow beer. It is well balanced with no particular component really standing out. There is, perhaps, a slight emphasis on the malt without much of a noticeable hop presence.
One thing that really surprised me about the beer was its lightness. Usually red ales tend to sit a little heavier, but the well integrated carbonation in this beer and its creamy mouthful made it slide down smoothly. That, combined with its 4.5% alcohol content, would make it easy to down a few of these without feeling bloated or tipsy.
Unfortunately, the beer's strength is also its weakness. While Smithwick has a lot going for it, in the end it is simply an unremarkable beer. Not something you mind drinking, but not worth going out of your way to do so. Having said that I think it would pair well with a wide variety of food. So if you are looking to cleanse your palate between bites of shephard's pie, you won't go wrong here.
---