Today is day 2 of my St. Patrick's Day extravaganza.Yesterday's pot of gold was a big hit with the high school crowd and today's shepherds pie received two thumbs up from Arielle and Eric. I believe I heard Arielle say, "You're keeping the leftovers in the fridge… right?" And Eric replied with, "Yeah but this is a get up in the middle of the night and sneak some dish." My heart smiled. It's nice to know my cooking skills are improving. Even though last night Kai told me the Food Network had the perfect show for me – America's Worst Cooks. Anyone who lives with teens has to be tough. Insults are the way they express their love. I'm not sure why they teach pregnant moms deep breathing exercises. The moms who really need it have teens. Breathe in – remember that little baby you held in your arms? – Breathe out – I know they still love me.
Vegetarian Shepherd's Pie

Print recipe
| | |
| --- | --- |
| Serves | 8 |
| Prep time | 1 hour |
| Cook time | 30 minutes |
| Total time | 1 hour, 30 minutes |
| Dietary | Vegetarian |
| Misc | Serve Hot |
Ingredients
2 bags MorningStar Crumbles
1 box MorningStar Sausage (Cut into small pieces)
1 cup onion
2 cups Frozen mixed vegetables thawed
1 cup water
1 (6oz.) can tomato paste
1/4 cup fresh parsley chopped
2 tablespoons Vegetable broth
1/4 teaspoon salt
2lb Refrigerated mashed potatoes
1 1/2 cup Shredded sharp cheddar
1/2 cup chopped green onions
2 heaped teaspoons Sugar
Optional
1/8 teaspoon Black Pepper and red pepper
Directions
Step 1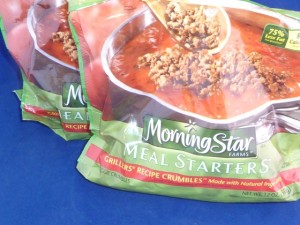 Preheat the oven to 350 degrees and spray a 12x8-inch dish with cooking spray. Cook the crumbles and sausage in a large skillet on medium heat. (I add a little olive oil.)
Step 2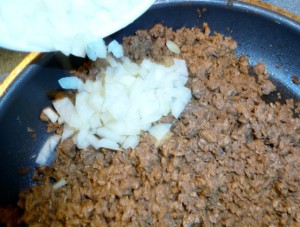 Add the onion first and cook for two minutes.
Step 3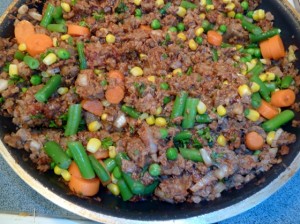 Next, add the vegetables, broth, tomato paste, water, parsley and sugar. Sprinkle the salt and black and red pepper to taste. Stir everything together.
Step 4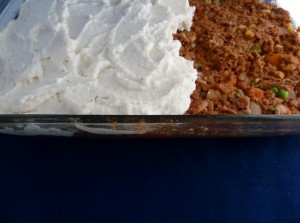 Pour the mixture into a baking dish. Spoon the mashed potatoes on top.
Step 5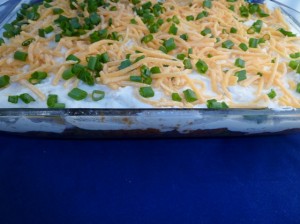 Sprinkle the cheese and green onions over the mashed potatoes. Spray a sheet of foil with nonstick spray and place it over the shepherd's pie while baking. Bake for 25 to 30 minutes. Oh, so good!
---