Of course I had to try making my pots of gold into Easter baskets. When I couldn't get any kind of candy basket handle to stay up for more than five seconds I dubbed them nests. Let me know if you try these and find something that works. Possibly if the nests/baskets were dipped in chocolate then the chocolate would hold the handle in place… once it dries. That would mean having a lot of patience which I tend to have for writing novels but not cooking.
They're a fun dessert for a party or an economical treat for a classroom of students. Teachers, two books that would go along with the theme of this spring treat would be Ugly, by Donna Jo Napoli and Presenting Tanya the Ugly Duckling by Patricia Lee Gauch.
Spring Cookie Nests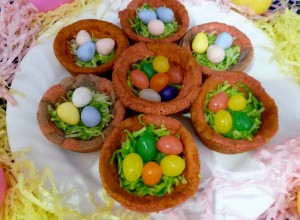 Ingredients
1 refrig. package Cookie Dough
6-8 drops Food coloring or food coloring gel
1/2 cup coconut
chocolate eggs
Optional
Directions
Step 1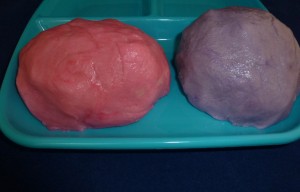 Divide the cookie dough into four equal balls. Add several drops of food coloring to each ball. Mix well.
Step 2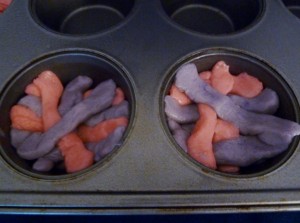 Spray a cupcake pan with nonstick spray and layer the dough in each cupcake compartment. Press the layers down in the center and up the sides.
Step 3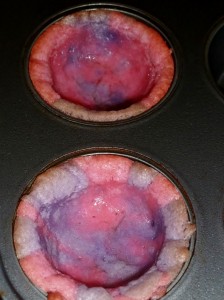 Bake at 350 degrees for 13 minutes. Remove from the oven and gently press down the center of each cookie using the back of a small spoon or measuring spoon. Return to the oven for 8 minutes. Remove and repeat. After baking for 21 minutes check the cookies every 2-4 minutes pressing down the center when needed.
Step 4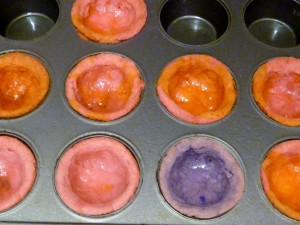 When the bottom of the cookie no longer appears wet the cookie is done. Remove from the oven and let sit for 8-10 minutes. They should pop right out of the pan when a knife is inserted along the edge. If they stick in the middle they're not done and will break. Place them back in the oven for 2-4 minutes and try again.
Step 5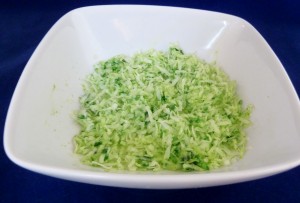 Mix a few drops of green food coloring with the coconut.
Step 6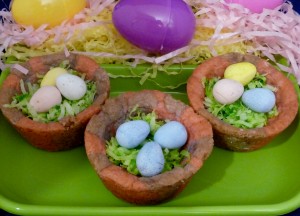 Add the coconut and eggs to your nest.
---