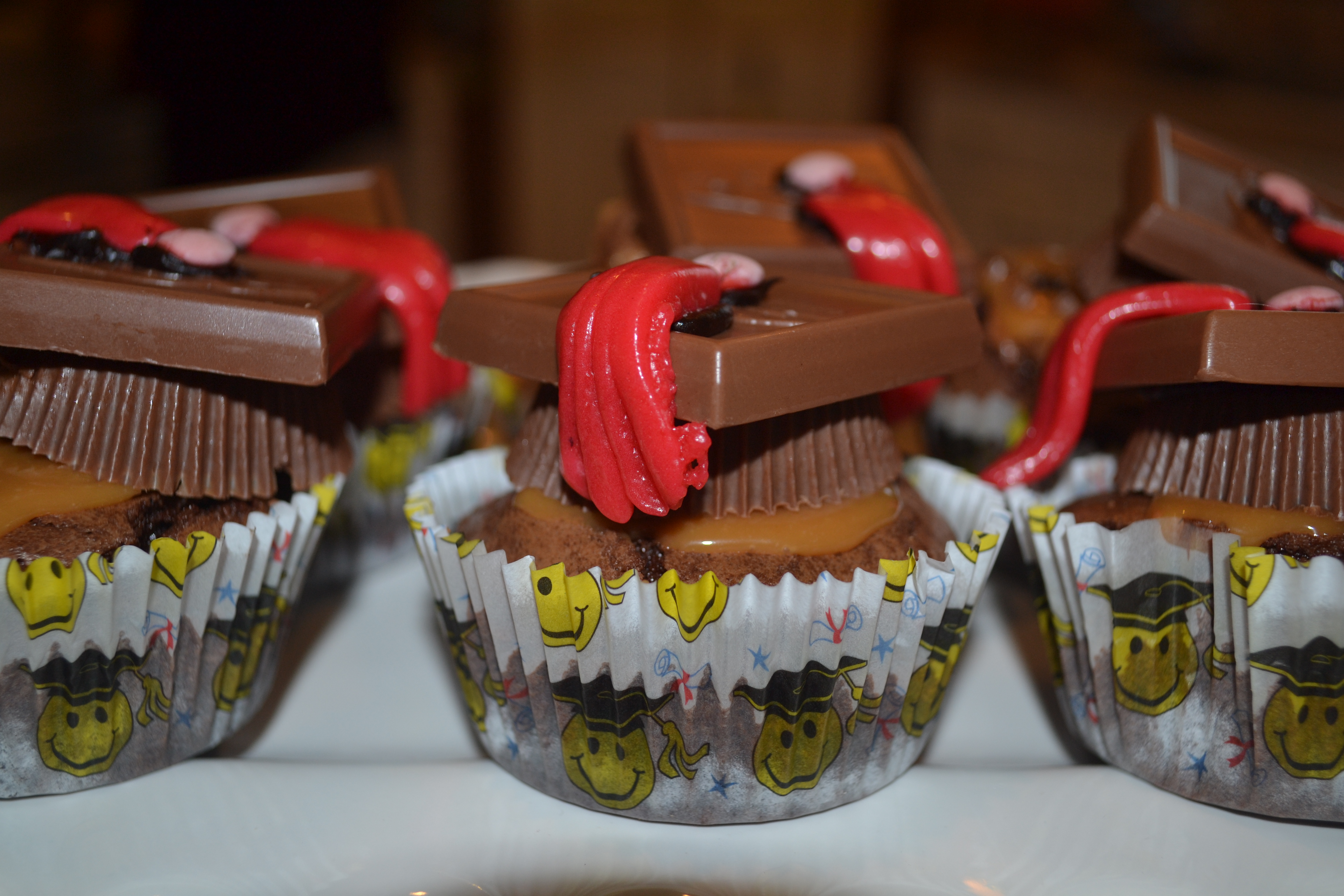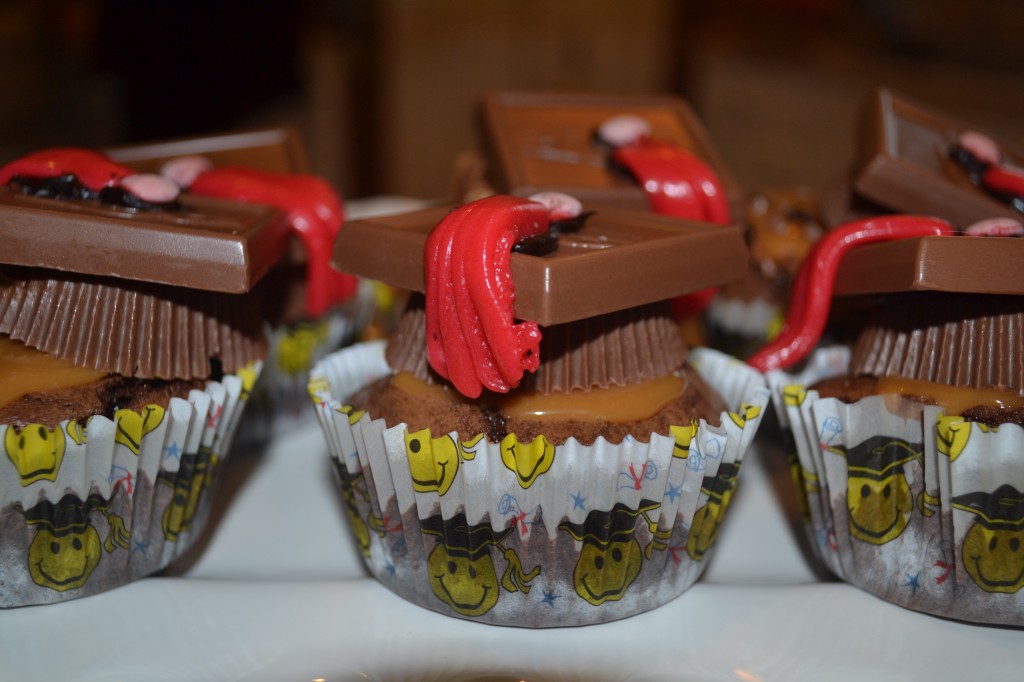 The picture above is what the cupcakes should look like. They are totally worth the effort of making them. Yummy! You can read all about my mistakes during my first baking attempt or simply scroll down and print out the recipe.
MY First Try:
What do you get when you add graduation cupcakes and the Wizard of Oz…
"I'm MEL… TING!!!" I goofed again. Twice. Okay maybe three or four times.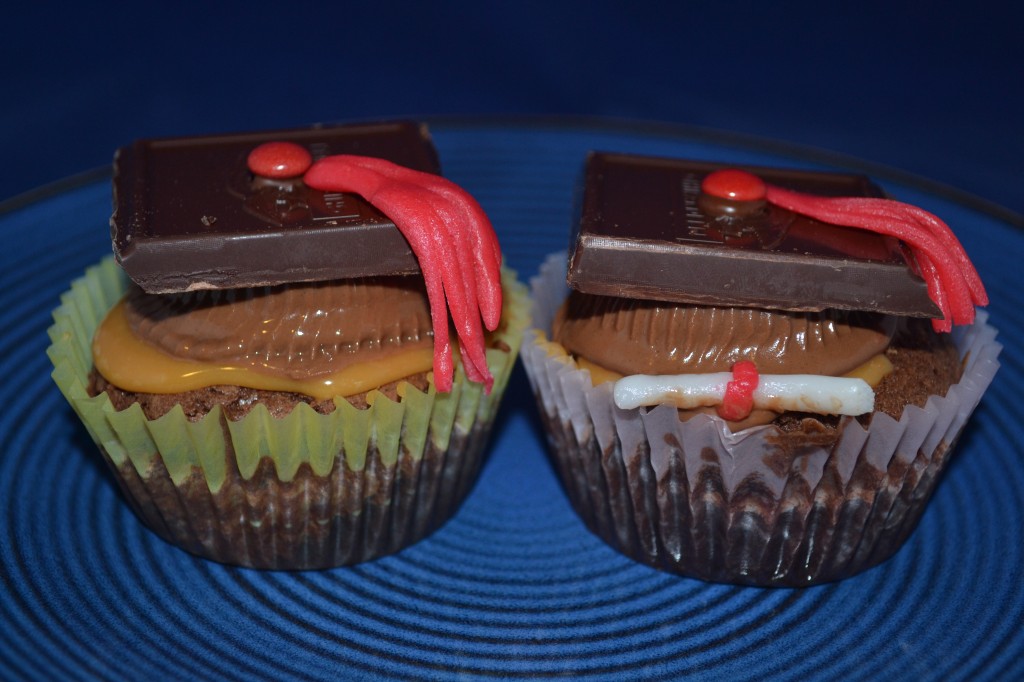 I had good intentions. I thought I'd add the graduation cap decoration to Arielle's favorite cupcake. Easy? Well, I made one mistake after the next and by the end of the evening I was snapping away trying to capture the perfect photo in hopes of making it look like I knew what I was doing. No such luck. Chocolate melts super fast on hot caramel. Dah!
First, I had to go to my own blog to print out the cupcake recipe. Then I realized I hadn't used GetMeCooking and I couldn't easily print out the recipe. I had to copy it all down. Ugh! From now on I'm using the GetMeCooking template. Here's the original post. Notice what I have listed on the ingredients list beside vanilla. T. Translation… teaspoon not tablespoon. See where I'm going with this? Yeah, double dah! Who puts two tablespoons of vanilla in their cupcake batter?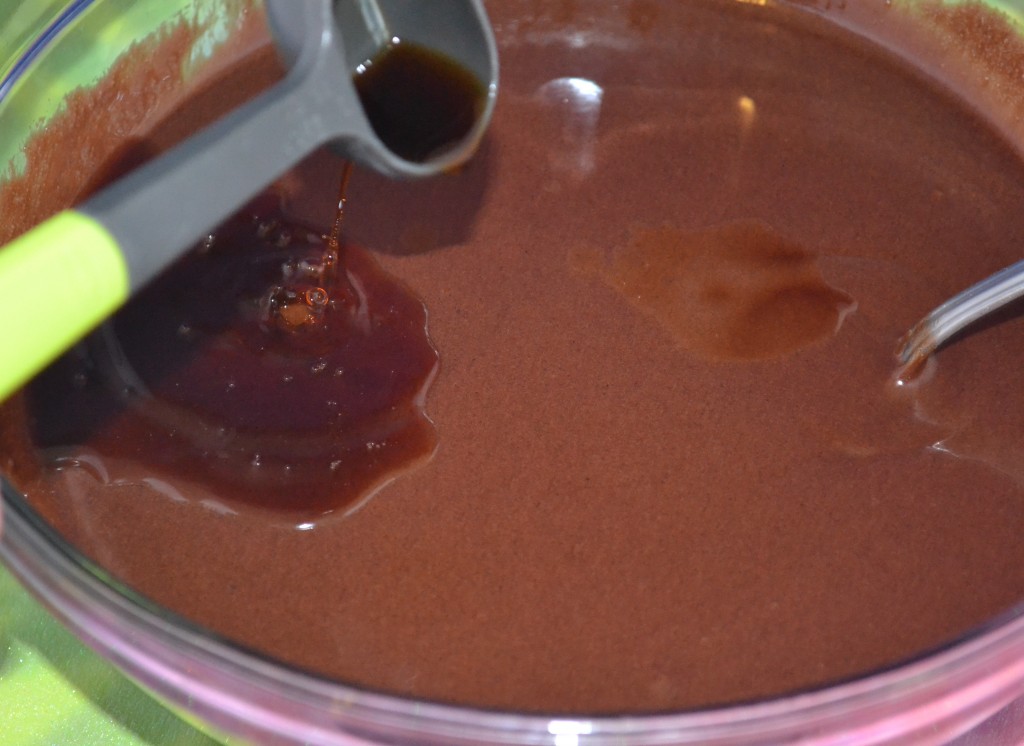 Me! As I'm pouring I'm thinking – wow, this is a lot of vanilla. Maybe it was supposed to be teaspoon. Nah, I would have caught the mistake on my post. I have to be right. It's tablespoon.
Next, I discovered the cookies I bought for the graduation caps were rectangular not square. Rectangular caps? Not going to work. If I cut them there would be a non chocolate edge. I couldn't have that. I grabbed my phone and called Eric. "Oh, dear sweet husband will you stop at the grocery store on your way home? I need vanilla extract and square-shaped chocolates." He lovingly obliged.
Then I placed a miniature peanut butter cup under a square chocolate I had found in the refrigerator. Arielle laughed. The miniature cup was too small. I picked up my phone and texted Eric. I need 18 large Reese's Peanut Butter Cups too.
The video
 I watched that showed how to make the graduation caps said to put the Tootsie Rolls in the microwave for a few seconds to make them easier to cut. I figured it would have the same affect on Airheads. I only had one white Airhead left in a half eaten box. Apparently, the white mystery flavor tastes the best. I placed it in the microwave and… it stuck like glue to the plate. I picked up my phone and texted.
And I need about five white Airheads.
The cupcake batter smelled more like vanilla than chocolate. I knew. Still, I had to keep going and place the cupcakes into my old failing oven. I have to guestimate on the temperature and time when I place anything in it to bake. It makes baking an interesting game of chance. There's a chance my ingredients will be fully cooked or a chance the undercooked eggs will give us salmonella. I grabbed my phone. And a new oven.
I took the cupcakes out of the oven to check them no less than eight times. Cooked or uncooked that was the question. I melted the caramel for the topping. By this time Eric was home from work and shopping, teens were about to arrive and everyone was hungry for dinner. Dishes and bags of unused candy bars and rectangular cookies covered the counter. Ollie barked at every sound that resembled a knock because he knew company was coming and my nerves had had enough of cooking.I just wanted to finish and go for a peaceful walk.
I spooned the caramel on the cupcakes, placed the graduation cap on top and went to get my camera. A few final pictures and I could enjoy the post rain shower coolness of the Florida evening. I returned to take my perfect shot and… that's when the belated thought finally arrived. Chocolate will melt on hot caramel.
HOT CARAMEL with a Reese's peanut butter cup slowly melting on top equals a kitchen filled with laughter. Mom messed up again. Three words: Epic Fail Cake.
Just as an experiment I decided not to tell my family about all the extra vanilla. Turns out two tablespoons of vanilla won't destroy the cupcake taste. Although it may prevent it from completely baking. Hard to tell with my mystery oven. The cupcakes fell apart. Was it the oven or all the vanilla? I won't know until Friday when I give them another try.
Eric still loved the graduation cupcakes and so far so good… he's not sick! He added a bit of whipped cream to the melting mess because two chocolate bars, a brownie cupcake, caramel and a peanut butter cup are not quite enough sugar.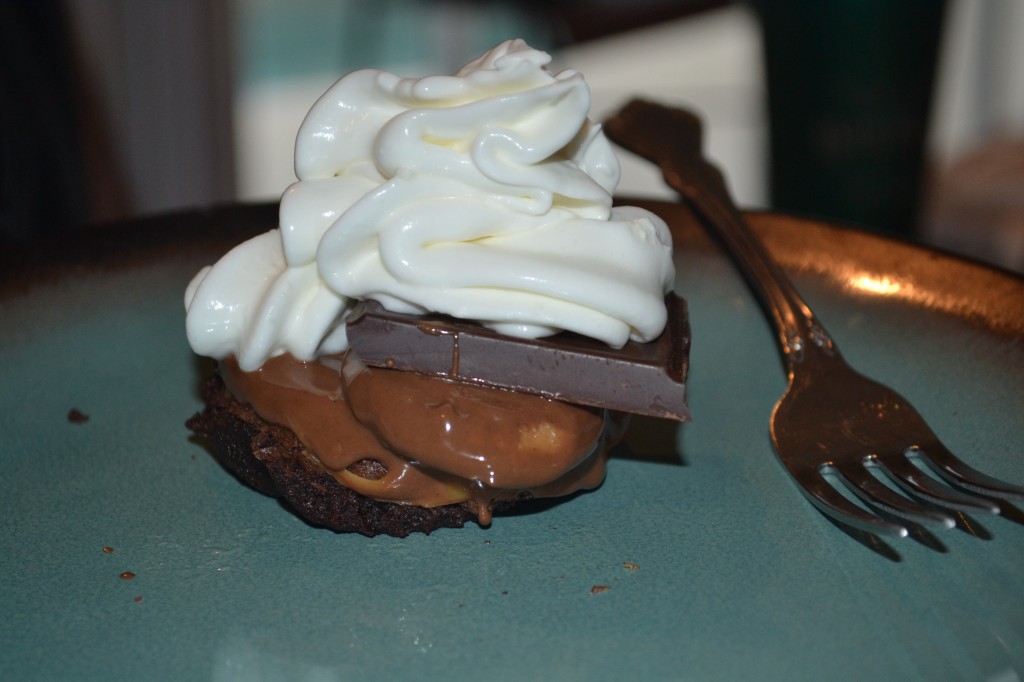 I'm going to list this post as inspirational because my failure should inspire you to do better:) I've even entered everything into GetMeCooking so the recipe is easy to print. Remember sometimes T. means teaspoon and not tablespoon. Measure cautiously. For the record. From now on I'm going to list Teas. and Tab. My web of a brain needs it.
Graduation Cupcakes

Print recipe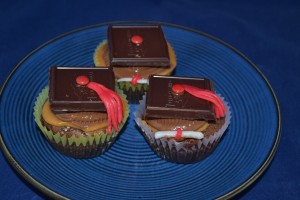 Ingredients
Cupcake
5 Candy Bars
4oz Unsweetened chocolate
1 1/2 stick Unsalted Butter
2 cups Sugar
1 cup Flour
3 Eggs
2 teaspoons Vanilla
1/4 teaspoon Salt
Topping
30 Caramel Candies
1 tablespoon Heavy Cream
Graduation Cap
18 Square Chocolate
18 Peanut Butter Cups
6-8 White and Red Air Heads
18 Mini M&M's
Graduation Cap (Optional)
Directions
Step 1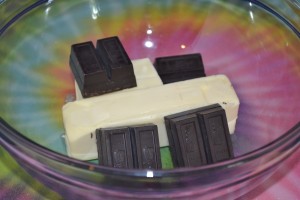 Heat the oven to 350 degrees and prepare a cupcake pan. You may want to use different color liners for each candy bar filling. Place the butter and chocolate in a microwave safe bowl.
Step 2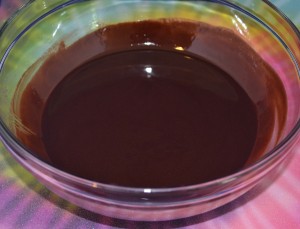 Melt the butter and chocolate for 90 seconds. Stir.
Step 3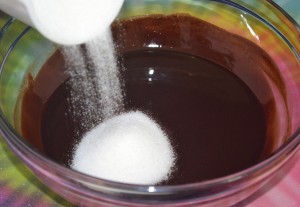 Add the sugar. Stir.
Step 4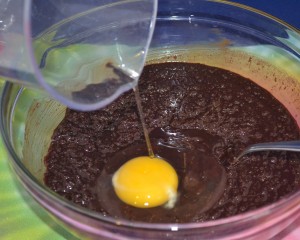 Add one egg at a time - stirring in between.
Step 5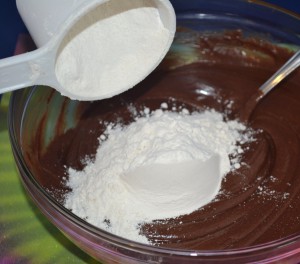 Finally add the vanilla, flour, and salt and stir some more.
Step 6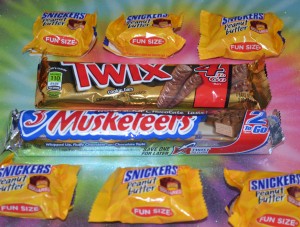 Cut the candy bars into bite size pieces.
Step 7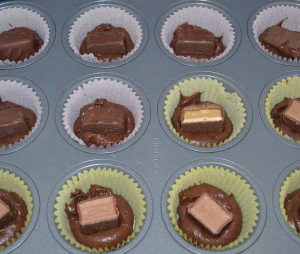 Place a tablespoon of batter in each cupcake liner and then add a piece of candy bar.
Step 8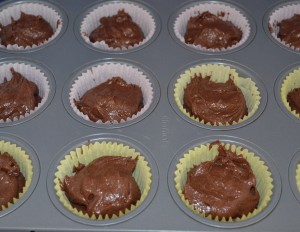 Cover the candy bar with more batter. Bake the cupcakes for 23 minutes.
Step 9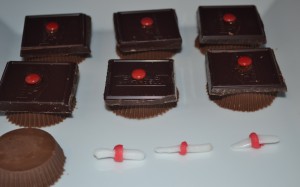 During this time prepare the graduation caps. Place a dab of chocolate icing or melted chocolate onto the peanut butter cup. Then secure the square chocolate on top of the peanut butter cup. Add the mini M&M on top of the square chocolate also using the frosting to keep it in place. Cut the Airheads to look like a scroll and a tassle for the cap. My student's school colors are black and red so that's why I chose red. Use any color Airhead you like.
Step 10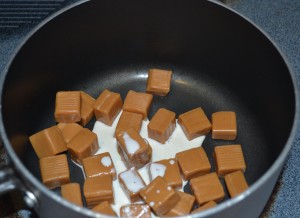 Melt the caramels and cream.
Step 11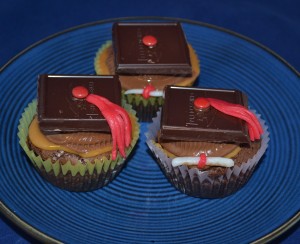 Drip the caramel topping on each cupcake and let it COOL. (You can see from my picture what happens when you add a chocolate cap to warm caramel.) Dab some frostng onto the caramel and place the peanut butter cup cap onto the frosting. Do the same for the scroll.
My Second Try:
I had to add a picture of what they look like when the caramel cools before you add the cap. I did it! And those who were brave enough for all that chocolate said they were awesome. Yipee!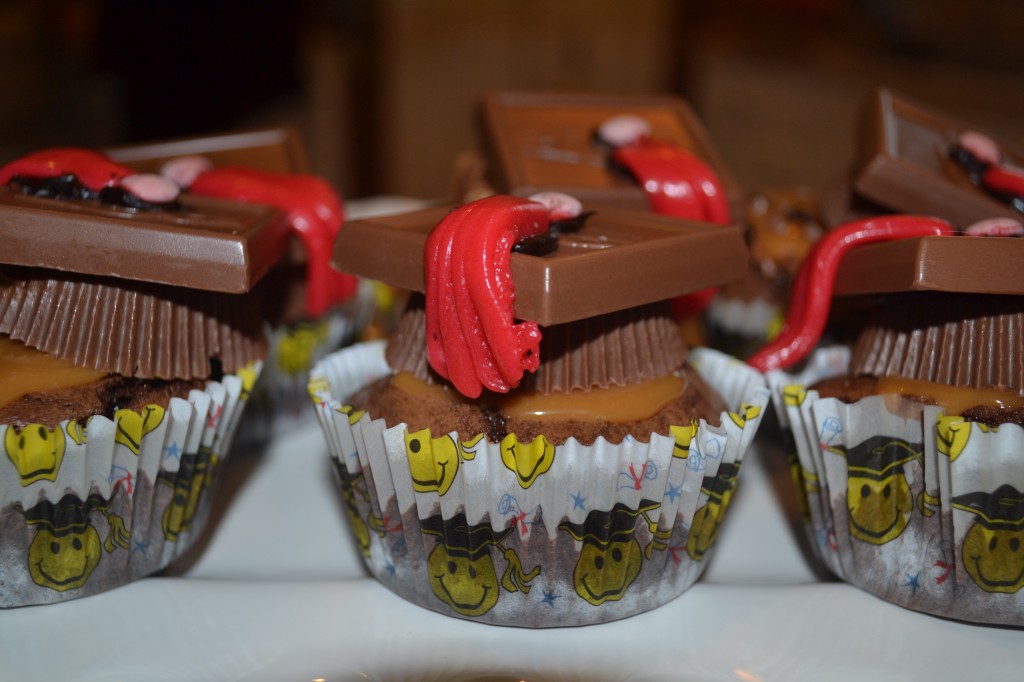 ---