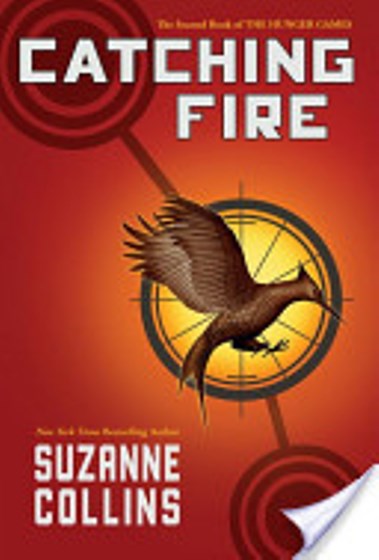 Catching Fire and Helping Children
I was watching Catching Fire with my family.  In the scene where Katniss and Peeta are giving a speech to District 11 they're told to read their speeches from prepared cards. Peeta looks at his card and begins to read as the crowd stands emotionless, then he puts down the card and speaks from his heart. When he does he and Katniss inspire the crowd. Sitting in the theatre it suddenly occurred to me that writing is the same. If I throw away everything that is on the surface and dig deep, connections are made. For adults it takes courage to go deep and slice through the layers to what we're really feeling in our hearts but for kids it's easy. They are ripe with emotion and that's part of what makes them so beautiful.
While I was waiting for Arielle at the airport I saw a little girl with her mom and two young men. The little girl looked up at one of the men and said, "I hope your airplane doesn't crash and you die." They all ignored her so she said it again. Her mom said, "We don't say those kind of things." The girl had no reaction she just began playing with her toys. She was simply stating what she felt. She didn't want the man to leave her. By the time we're adults we've had many of these same kinds of lessons.
I had the opportunity to spend several days in a second grade classroom. It was just me and 17 eight year-olds. I was prepared. I had my green tea and my Starbucks espresso shots because I knew I was going to need a lot of energy to keep up with them. Wow! One minute I was tying shoes, the next teaching double-digit subtraction with regrouping while pausing for two minutes to write a pass to the clinic for a lost tooth. Then I was doing jumping jacks and playing Simon Says, two of many brain breaks to help keep 8 year-olds and tired 40 year-olds focused. They were by my side from 7:30 am – 2:10 pm. It didn't take long for me to fall in love with their adorable smiles and crazy one liners like, "Yes, Krista I will tell you the answer to that question." I learned that maybe it's not such a great idea to let second graders look at my substitute ID. I heard "Oh, your name is Krista?" And "You look a lot younger in your picture." One of my favorites was "Do you recognize me? My hair is different today so I want to make sure you know who I am."
Then when I least expected it one of them would tell me something from their lives that would leave me speechless scrambling for just the right words in hopes of easing their mind. There was "My grandma doesn't have a lot of money for food so there's not much to eat but I did have toast." After reading THE TRUE STORY OF THE THREE LITTLE PIGS one boy raised his hand and told me about his pet pig and how his his dad took a machete and chopped off his head. And the next day I heard about the dad that told his family he'd be back in five days… three years ago.
The innocence of eight year-olds makes them question why there's no food or why a dad would leave his family and then state how those things make them feel. By the time they reach middle school though they no longer question life they accept and learn to keep their pain bottled up inside. That's why books are so important for young minds. Authors who dig deep through the layers are able to create characters that face some of the same kind of emotional hardships that our young people are going through and not speaking of because society eventually teaches them not to. When they pick up a book and read  about a family who doesn't have money for food or a dad who leaves they can connect to those characters and realize they're not alone in their suffering.
Books are important! Teachers, parents, friends, if you have a favorite children's book (YA, MG, too) that you love please give it a shout-out in the comments section. Not only will you help spread the word and support the author but you'll also help others reach more kids with books. Yay books!
I'll start. Here's a great book to help young minds deal with loss. SEE YOU AT HARRY's by Jo Knowles

---