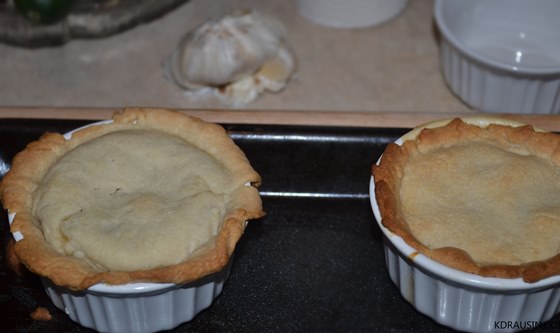 VEGAN CHICK'N POTPIE
A few weeks ago I wrote about a great new cookbook I found – VEGAN COOKING FOR CARNIVORES, by Roberto Martin
Arielle came home from college for a month and Eric decided it was time we learned how to cook. Not really. Arielle and I have always loved cooking recipes for this blog. It's what we do. Since she's training hard at school for her marathons we thought we better find some healthier recipes. We started with wild mushroom tomato sauce. It was delicious! However, I got in a bit of trouble because I posted the pictures of our delicious dinner without posting the recipe. Sorry! I wanted everyone to go buy the book. Authors have to help each other out. Anyway, my social media specialists (Arielle and Kai) told me to ask Roberto Martin if I could post one of his recipes. I was nervous but I did. And guess what? He said yes!
We made Chick'n Potpie! Yum!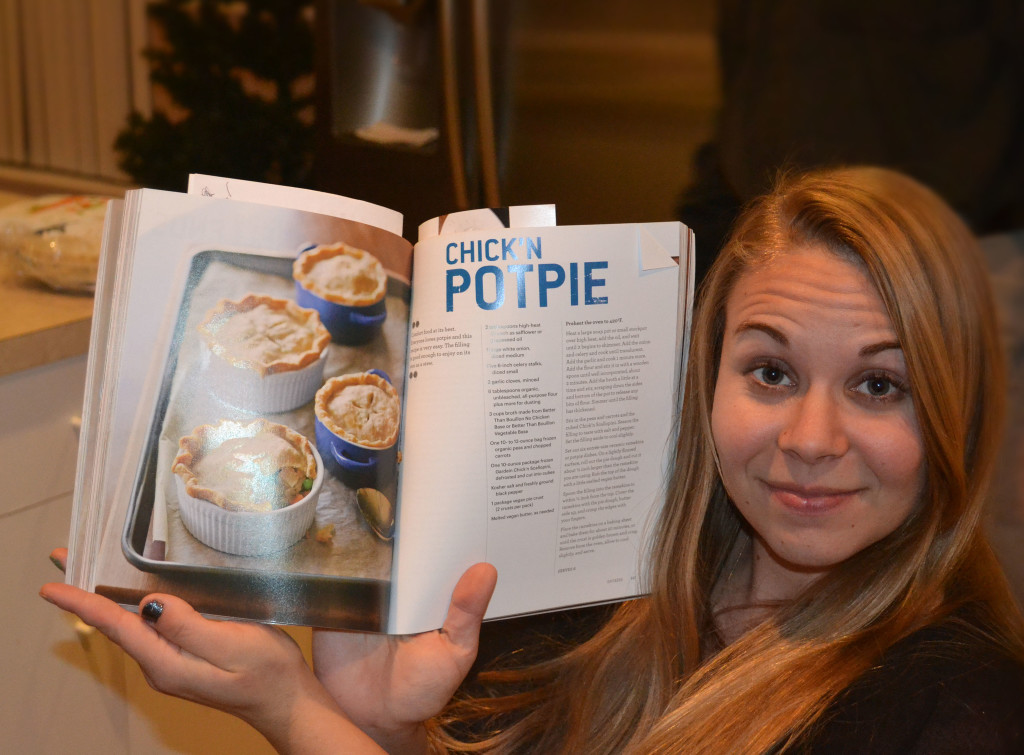 Here's the recipe:
VEGAN CHICK'N POTPIE

Print recipe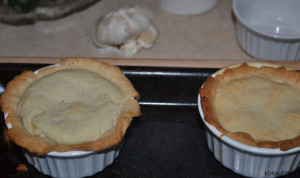 | | |
| --- | --- |
| Serves | 6-8 |
| Prep time | 1 hour |
| Cook time | 20 minutes |
| Total time | 1 hour, 20 minutes |
| Dietary | Vegan, Vegetarian |
| Meal type | Main Dish |
| From book | Vegan Cooking for Carnivores |
Ingredients
2 tablespoons Safflower Oil (high-heat oil)
1 Large white onion (diced)
5 -6 inch celery stalks diced
2 cloves garlic minced
6 tablespoons organic, unbleached all-purpose flour (Plus extra for dusting)
3 cups broth made from Better Than Bouillon No Chicken Base
1 10-12- ounce bag of organic frozen peas and carrots chopped
1 10-ounce package frozen Gardein Chick'n Scallopini
kosher salt and fresh ground pepper
1 package vegan pie crust ((2 crusts per pack))
6-8 Ramekins or potpie dishes
Melted vegan butter
Directions
Step 1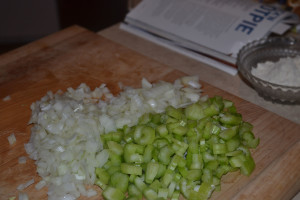 Heat a large soup pot over high heat, add the oil, and wait for it to shimmer. Add the onion and celery and cook until they're translucent.
Step 2
Add the garlic and cook for one more minute. Add the flour and stir with a wooden spoon until it's incorporated. Add the broth a little at a time. Simmer until it thickens.
Step 3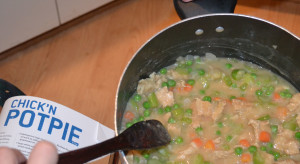 Stir in the peas, carrots and Chick'n Scallopini. Season with salt and pepper and set aside to cool.
Step 4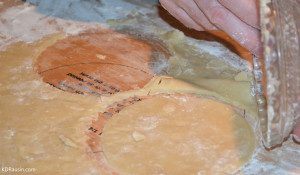 Take out 6-8 ramekins or potpie dishes. On a lightly floured surface, roll out the pie dough and cut it 1/2 inch larger than the ramekins. Rub the top of the dough with melted vegan butter.
Step 5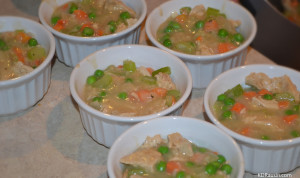 Spoon the filling into the ramekins leaving 1/4 inch at the top. Cover the ramekins with the dough, butter side up, and pinch the edges with your fingers.
Step 6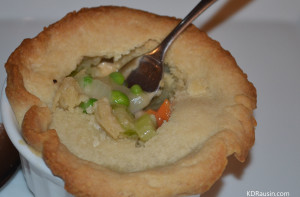 Place the ramekins on a baking sheet and bake for 20 minutes. Allow to cool and enjoy!
Look what I found… after I typed out the recipe! Bonus for you! I'm sure you'll all need to print the recipe anyway. Right? Tell me yes and make me feel better.
Now, are you ready for this…
Vegan Chocolate Chip Magic Bars! I was skeptical. I wondered how in the world substituting almond milk for condensed milk would keep the delicious taste of this treat. They. Are. Awesome! Check out Roberto Martin's book for the recipe.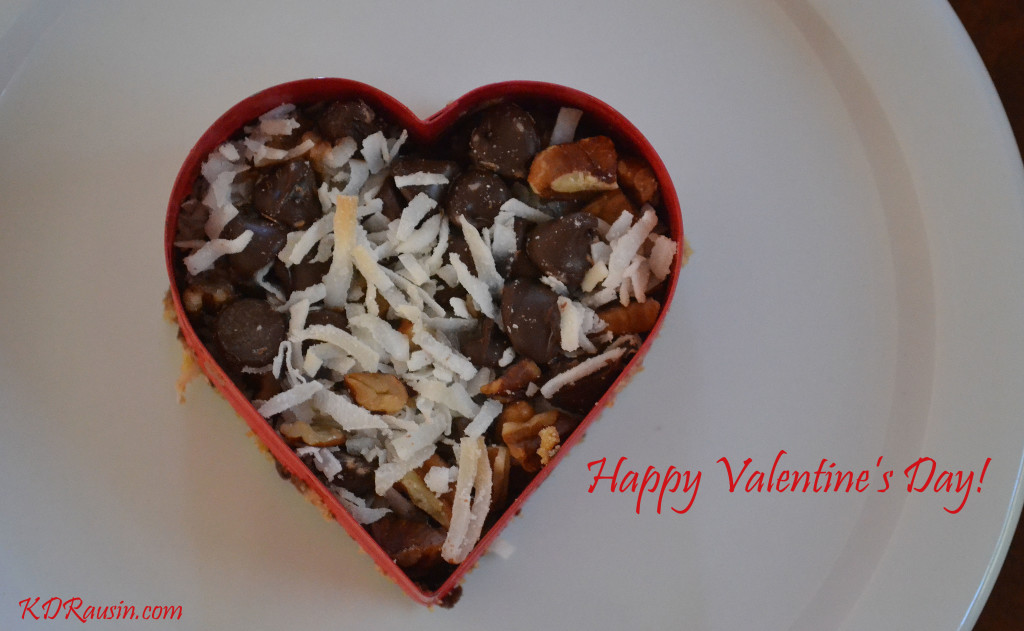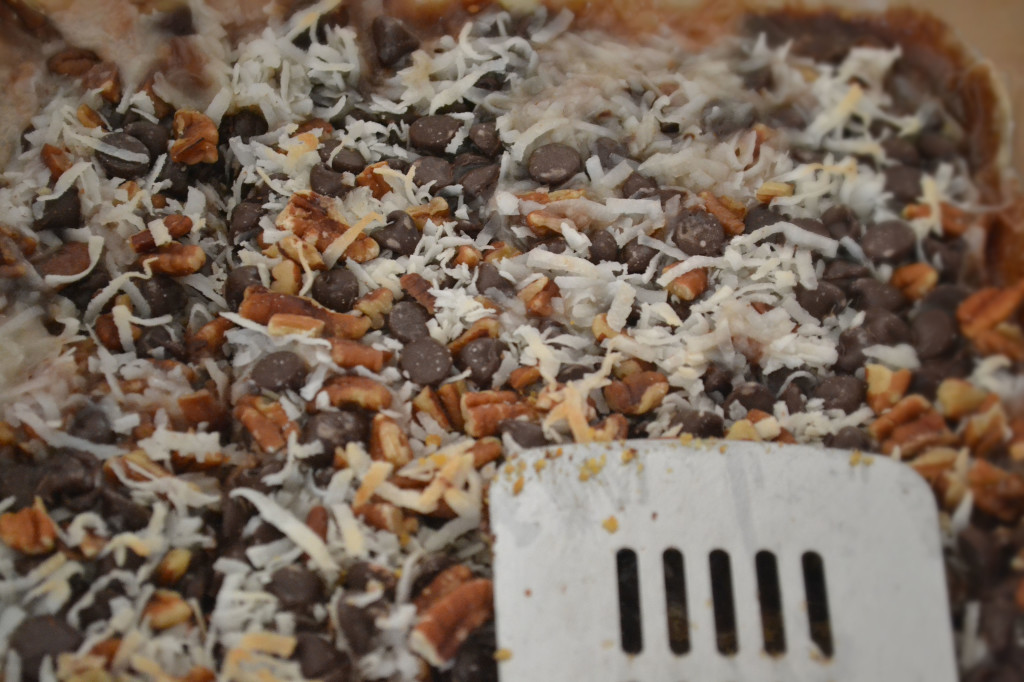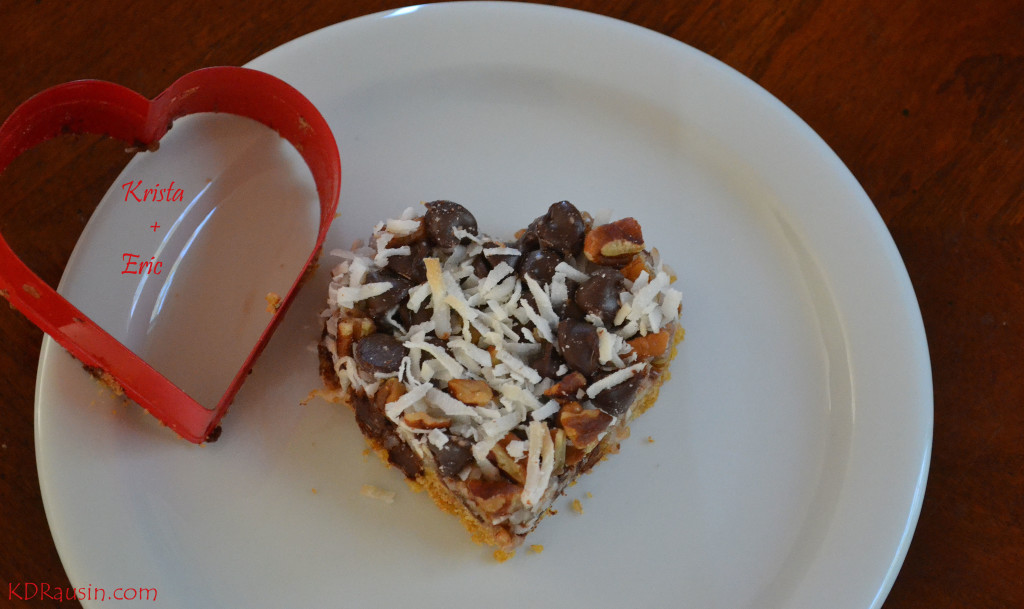 ---