Jamie Ayres and Chocolate Peanut Butter Cupcakes
The talented Jamie Ayres is my guest blogger today. We have a lot in common. We love to write, enjoy teaching and we both live in paradise. Here is a brief description of her book, a tasty recipe and an excerpt. I hope you enjoy it.
Book Summary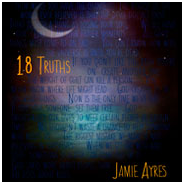 With the lessons the 18 Things life list taught her engraved on her heart, Olga embarks on a new adventure as a spirit guide, but nothing prepares her for the chilling truths she's learning along the way.
Lying is unbearable, betrayal is inevitable, and choosing which path to take is impossible.
Olga Gay Worontzoff ended her senior year as an eighteen-year-old girl totally in love with Nate, enjoying their new romance and about to attend the university of her dreams. Now she's spending her summer in the weird subculture of the Underworld, with charmingly witty and powerful angels, and problematic demons, trying to rescue Connor, the best friend and secret crush she was unable to save during a freak accident.
But Nate has other things on his mind, mainly Grace. She's their first assignment as joint spirit guides, and Olga's feeling hurt and jealous. His mysterious behavior has Olga questioning everything she believed about him and now she must decide whether to stick to their plan, or follow her heart.
Unfortunately, a series of mistakes threatens everyone around her and plants Olga in the center of cosmic events much larger than she ever imagined.
Only one thing is certain: the chilling truths uncovered during her journey will leave no one untouched.
18 Truths Book Trailer
Website: www.jamieayres.com
Add 18 Truths to your Goodreads
Amazon
Barnes and Noble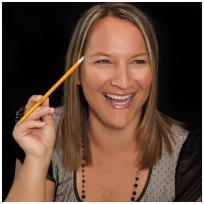 Jamie Ayres writes young adult paranormal love stories by night and teaches young adults as a Language Arts middle school teacher by day. When not at home on her laptop or at school, she can often be found at a local book store grabbing random children and reading to them. So far, she has not been arrested for this. Although she spent her youthful summers around Lake Michigan, she now lives in Florida with her prince charming, two children (sometimes three based on how Mr. Ayres is acting), and a basset hound. She really does have grandmothers named Olga and Gay but unlike her heroine, she's thankfully not named after either one of them. She loves lazy pajama days, the first page of a good book, stupid funny movies, and sharing stories with fantastic people like you. Her books include the first two installments of her trilogy,
18 Things
and
18 Truths
. Visit her online via
Twitter
,
Facebook
, or at
www.jamieayres.com
.
Chocolate Peanut Butter Cupcakes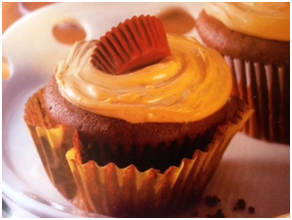 Ingredients:
1 package of Chocolate Cake Mix
1 container of Creamy Vanilla Frosting
½ cup of creamy peanut butter
15 miniature peanut butter cup candies, wrappers removed, cut in half vertically
Directions:
•Preheat oven to 350 degrees. Place paper lines in 30 muffin cups.
•Prepare, bake, and cool cupcakes following package directions for basic recipe.
•Combine Vanilla frosting with peanut butter in medium bowl. Stir until smooth. Front one cupcake. Decorate with peanut butter cup candy, cut side down. Repeat with remaining cupcakes, frosting, and candies. Makes 30 cupcakes. Served best with coffee or chocolate milk!
And now, a sneak peek from Chapter 6 of 18 Truths, where Nate & Olga have just met their first spirit guide assignment & decided getting cupcakes is the best way to get to know her!
Grace backed up a step. "I never said I needed a friend. I said I needed cake."
"You know, I saw a shop called Hey Hey Cupcake on the way to school. We should go there and get you a red velvet cupcake." Even I could hear the desperation in my voice, but I crossed my fingers, hoping she'd say yes.
She smiled. "They do have really good cupcakes." Finally, she found her car keys in one of the front pockets of her purse. "But I'm driving. Dad would kill me if he knew I got into a stranger's car. Besides, you scare me."
I nodded. Technically, the license I'd obtained a few months ago didn't count since the test happened during my Limbo timeline, and Nate had never gotten his back after the accident either. And I didn't blame her for being scared of me. Truth was, I think I would've bolted by now. Grace had no reason to trust us. Not yet anyway.
We headed to the parking lot together. No campus security stopped us from leaving, not that I was surprised. None of this was real.
As she drove down the highway, All Apologies by Nirvana blared from her stereo.
"Wow, George Lucas called. He wants his sound system back."
"Excuse me?"
"Olga is a huge Star Wars geek," Nate informed her from the back seat. "I'll apologize now for all her references."
I turned around and stuck my tongue out at him like a good sister would. "I just meant you have a really nice stereo for an older car."
"The stereo is a recent upgrade, a birthday present from my dad. Music is the only thing I care about these days."
"Well, here's a fun twist for your viewing pleasure." Nate leaned forward, resting a forearm on each of our headrests. "I was the lead vocalist and guitarist for an indie rock band when we lived in Michigan."
Grace raised an eyebrow. "You don't say? What was the name of your band?"
"Cantankerous Monkey Squad."
She snorted. "That's a pretty ridiculous name."
"That was Conner for ya." My stomach clenched painfully at my unexpected use of his name. I tried to hide my pain, but Grace didn't seem to miss much.
"Ex-boyfriend?"
I nodded in agreement because she was a stranger who didn't know any better and because the idea of Conner as my boyfriend made the pain go away a little bit. Then, I remembered Nate. He had slumped back down in his seat.
After a few seconds of silence, except for Kurt Cobain's lyrics about screwing everything up, I couldn't take the heavy anymore. "This song is kind of depressing. Do you mind changing it?"
Grace rolled her eyes. "Fine. Here, take the wheel."
"What? I can't take the wheel! That's the first rule Mom told me when she taught me how to drive. The driver always keeps both hands on the wheel. Two and ten o'clock."
"Well, my mom wasn't around to teach me how to drive. Taking my hands off the wheel now."
I shrieked as she let go and then opened her center console. "I know I have the new Coldplay CD in here somewhere. Is that upbeat enough for our seven minute drive?"
Trying to keep my hand steady, I gave a tight nod.
"You look terrified. Are you always this high-strung?"
Was Grace teasing me already? Maybe this was a good sign. Friends tease each other.
"You know, the rule isn't two and ten o'clock anymore." Nate's voice was carefree again, apparently over my Conner comment.
"What?"
"My Driver's Ed instructor told me they changed the hands thing to nine and three o'clock after the invention of the air bag."
"Good job, Mr. Know-It-All. You want a prize?"
"Hey, I just didn't want you giving our own kids the wrong information one day."
Grace, having already loaded the Coldplay disc, took the wheel back, but abruptly jerked it to the side at Nate's comment. "I thought you guys were brother and sister?"
I gave Nate an incredulous stare.
"Um, we are. I didn't mean kids we'd have together . . . just the kids we'll have one day with our spouses."
Grace nodded, seeming to buy the cover up. "Right. I'm never having kids."
"Why not?" I asked, although I already felt certain of her answer.
"Well, first of all, every child deserves a grandma to spoil them, and mine won't have one. You know what? Bump all of that, every child deserves a mother to love them. I can't even love myself."
I tried to search for some wisdom I'd read in my eighteen years of life to help her, but I came up empty.
"It's not who you are that holds you back." Nate's words startled me out of my thoughts, making me jump a little. "It's who you think you are not."
Grace laughed as she pulled up to the cupcake shop and parked. "Who are you? Some modern-day Confucius or something?"
Now I laughed. "You have no idea."
"It's from the last book I read, Seeds of Greatness by Denis Waitley. I can loan it to you if you want. The book is full of good stuff, if you don't mind all my highlights and notes in the margins. I've probably read the book forty times by now."
This roused a low chuckle from Grace. "Okay, sure." She turned her attention toward me as we strode through the front doors while two blonde haired ladies greeted us from behind the counter. "Do you like cupcakes?"
"Are you kidding?" Nate gasped. "Olga lives on sugar. She tried to convince her boss at the bookstore where she worked in Grand Haven to pay her in candy instead of cash."
I shoved him sideways. "I did not! Although, that's actually not a bad idea."
"What can I get for you?" the lady asked, peering at us over the bakery case. 
---