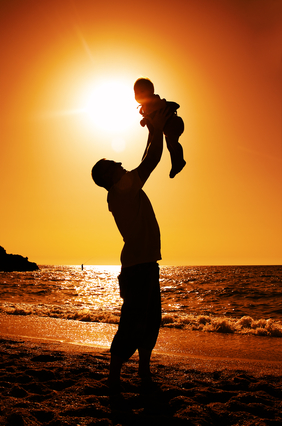 "I've learned that people will forget what you said, people will forget what you did, but people will never forget how you made them feel."   —Maya Angelou
June 14th was Eric's birthday. While I prefer my birthday's to be low-key Eric craves excitement on his big day. There was the year we went wind surfing and then there was the year he strapped on a jetpack and sailed over the Gulf. The man has just as much energy as he had when he was thirty!
This year I asked Eric if he'd like to invite some friends to share in a drink or two at a local brewery. He loved the idea. In fact, he became so excited that he sent out the Facebook invitations himself. Imagine my surprise when I received an invitation from my husband to attend a birthday gathering with 88 invited guests! He was smart. He sent the invitations out the morning he left for Colorado. I texted him at the airport. 88 people? He said he simply invited all of his local FB friends. He called it a casual gathering.
Since I tend to suffer heart palpitations upon having to make small talk at parties I could feel my anxiety building the closer it came to the 14th. This was for my husband…he's a people person and he wants to be with a crowd on his birthday… I can do it! We went to spin class early on the 14th. Seventy minutes on a bike does wonders for anxiety! Later on, we picked up a close friend of ours who I've known for nineteen years. He promised to stay by my side and be my go-to person if I began to hyperventilate.
I found a seat outside, planted myself amongst a small group of friends, and watched as more and more people stopped by to share a drink, play cornhole, and rock out to 80's music. Eric was having the time of his life chatting with everyone. Seeing him happy made me happy.
I realize on this Father's Day that what makes my husband such a good friend to people and incredible father is that he has a gift for making people feel special—not only his children who love him dearly but also all those people who took time out of their day to stop by and share a drink with him. One man, who I had just met, and had known Eric for some time told me that when he gets upset about something he asks himself: How would Eric handle this situation? My husband has a gift for lifting people up and inspiring them to become their best selves. He has a gift for making people feel loved. I can't think of a better gift to have.
---