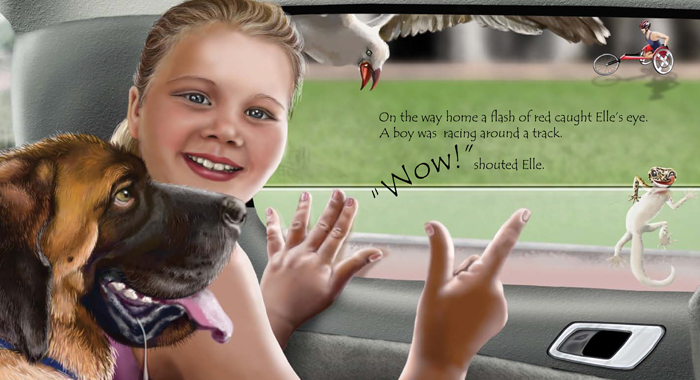 Little did I know in 2009 when I was advocating for my daughter, Arielle, to be a member of her high school track team that I would eventually write a picture book about racing wheelchairs and a big slobbery dog. Back then, I had one goal, make it possible for young wheelchair athletes to become a member of their high school track team. In 2010 it happened! An adaptive track program was added to Florida high schools and Arielle officially became a member of her team.
I knew little about racing wheelchairs and soon came to discover that was true for most everyone who saw Arielle's chair. People were fascinated. Everywhere we went, young kids stopped to gaze and adults asked questions; people were curious. My cousin asked me to recommend a book about racing wheelchairs to read to her son's elementary class. I couldn't find one. That's when the seed was planted to write my own story.
In the spring of 2012 Arielle graduated and my first book, MYSTIC, was in the publishing process. We adopted a six year old shelter dog named Buddy. I fell in love instantly. Buddy traveled with me in the car, sat at my side for hours while I wrote and followed me everywhere. His presence brought me peace. I had never met a dog like Buddy. I knew he had to be in my book. The very first draft of my story was titled Saylor & Buddy.
Not having a talent for illustration, I had to find the perfect illustrator. I came across a picture book with a stunning cover: I CAN'T HEAR YOU! I CAN'T SEE YOU by Sandra Horn Illustrated by Muza Ulasowski. I knew Muza was the one I wanted to illustrate my story. Her work was brilliant! I sent Muza an email query all the way across the world to Brisbane, Australia. Lucky for me, she agreed illustrate Saylor & Buddy, suggesting that the title be changed to ELLE & BUDDY after my daughter.
Two years, and many, many emails, later ELLE & BUDDY is ready to go out into the world. It's my hope that it will inspire differently abled children to try wheelchair racing. Collaborating with Muza has been a wonderful experience. Perhaps if I'm lucky one day we'll work together again.
---