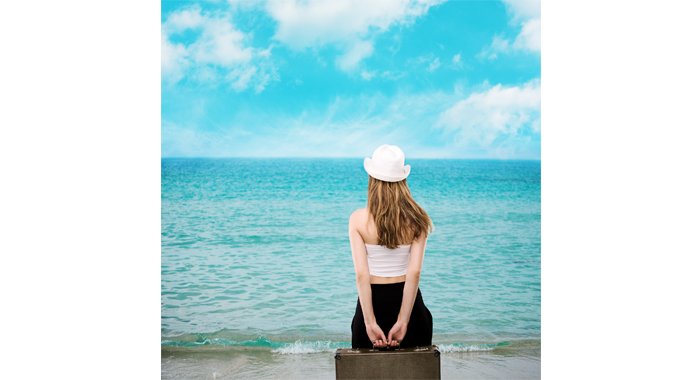 I boarded a plane alone at nineteen. I was on my way to LA! It was probably one of the craziest things I had done in my life. I didn't have a plan, only a suitcase, and some cash. My excitement and naivety took me all the way to Santa Monica Beach.
Luckily, I met some nice people and they helped me get settled. Within weeks my drive to succeed led me to take a bus (I didn't have a car) to Paramount Studios where I found myself on the set of Ghost sitting across from Patrick Swayze. I was the happiest extra of the bunch, smiling from ear to ear because I was on a set with the star of Dirty Dancing. Looking back, I think it was my lack of fear, along with the joy of being in LA pursuing my dream, that opened doors for me.
However, as time went by, life got tough. Those pesky bills were due every month. I needed money for acting lessons, headshots, and a car to get to work. Life happened. I spent more and more time working and less time auditioning. When I did get an audition, my lack of experience showed. As the years went by my enthusiasm dwindled. My fear grew. I met a well-known actress. We discussed the reality of the actor's life. She was over twenty years older, had been in many movies, and was still going to auditions and hoping for meaningful roles. That's when my eyes opened to the difficult path I was traveling. I questioned if I was strong enough to handle years of rejection. My love for acting faded every time I panicked about my future. Fear stopped me from believing in myself and putting forth all the effort needed for a chance at my dream. And it took me years before I was able to look back and realize this. A conversation with my daughter had ignited the spark of understanding.
When my daughter, Arielle, was 21 she shocked me with a question:  Would I have continued acting if I hadn't gotten pregnant with her? The question cut right to my heart. I stammered, feeling tremendous guilt that she may have been feeling responsible for me giving up on my dream. I had never thought that my pregnancy stopped me because I had already given up on acting. It was painful for me to admit to myself that I'd lost hope back then, but even more painful to think that my daughter felt responsible for my choices. Her question forced me to analyze why I had given up. Fear.
Lately, I've been thinking about that young girl who started out fearless at 19. I find myself beginning a new journey as my nest is almost empty and thoughts of: What am I going to do with the rest of my life produce feelings of freedom and trepidation. Am I willing to face my fears or will I allow them to force me into a comfortable risk-free life?
I'm on week 7 of my marathon training. The thought (fear) of running  26.2 miles in December is overwhelming. Even more overwhelming than the thought of having to use a porta-potty! So many times I've asked myself why. Why do I want to run a marathon? Well, I enjoying running. I especially enjoy it after mile 4. I like the challenge. I love the feeling of accomplishment after running a long distance. Most of all, I love the lessons I'm learning from undertaking a difficult task. Each week I must push myself further. There was a time when 9 miles seemed impossible. Then I ran 10. Yesterday, I heard myself tell my husband, "I only have to run 7 miles." Only 7 miles. He chuckled. I'm taking a risk. I'm trying something I've never done. Every time I run I face my fear, and when I succeed it gives me strength in other areas of my life.
Fear is just thoughts. Thoughts can hide deep within stealing our courage, convincing us to not work hard enough, become distracted, or give up because we may fail. It is only in facing our fears that we'll succeed because what 19-year-old me didn't understand was that I faced my fear with every audition. I should have celebrated my strength with every step I took toward my goal rather than judging myself a failure for not being where I thought I should be. Every time courage is summoned it should be celebrated. It's what leads us to take the next step and the next and the next…
"The true measure of your courage is not whether you reach your goal–it's whether you decide to get back on your feet no matter how many times you've failed. I know it's not easy, but I also know for sure that having the courage to stand up and pursue your wildest dreams will give you life's richest reward and life's greatest adventure." Oprah Winfrey from her book What I Know For Sure
---