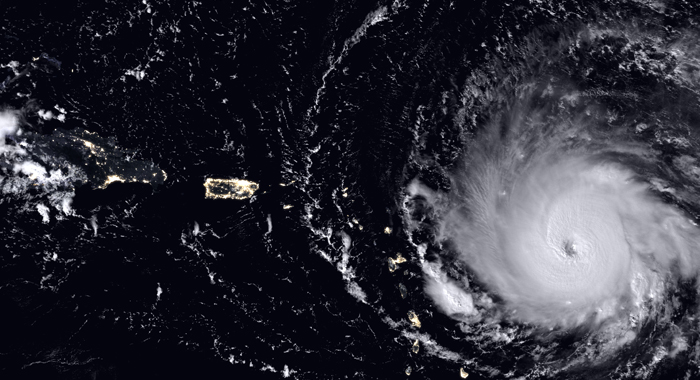 Tuesday Evening September 5th
I called my friend from the road, "Are you staying or going?" Memories of our family with our greyhound and cats huddled under our stairs during hurricane Charley came rushing back. She was emphatic, "Go!" It was just me. My husband was traveling for work; my son was at college and my daughter in Illinois. I had settled into my routine after traveling most of the spring and summer, and I really didn't want to leave. Gas stations were already out of gas. There were reports of shortages of water.  It was only Tuesday. The storm was predicted to hit on Sunday. Remembering our days without power after Charley had me wondering how bad it would be after Irma even if my house survived.
Wednesday Morning September 6th
I decided to go. The carrot at the end of the stick was a road trip to my daughter's house in Urbana, Illinois. I'd get to see her and celebrate her birthday early.
Even after I decided to leave packing and organizing felt surreal. I couldn't wrap my brain around the notion that when I returned my home could be destroyed. There wasn't much I could fit in my car besides my two ninety pound dogs. I spent more time trying to protect things in my house and less time packing.  I grabbed my USB and saved all my manuscripts and all the drafts and their edits. Suddenly, I was very thankful for this blog and social media where years of pictures and posts were safe. Photo albums, paintings, journals, and even my middle school box full of notes went into bins I stored in a safe section of my house. Mentally I had to let go. Hurrican Irma was on her way. My home would be destroyed or it wouldn't I had no control over the situation. The only control I had was my decision to leave. I suppose after experiencing an unexpected earthquake in California, and then Hurricane Charley, I was thankful I had enough warning to get out of town. Life doesn't always give warnings.
Wednesday Evening September 6th
Roscoe, Smudge and I took off on our adventure to Illinois. All the gas stations for miles were out of gas. Luckily, just before I reached I- 75, I spotted a long line and hoped. Never had I been so happy to fill up my tank!
Traffic was light for the two-hour drive to Tampa. Then I caught up to the masses. It was bumper to bumper for hours. Rows of cars lined the exit ramps that led to fast food and fuel. I drove until 2 am and then began searching for a hotel knowing there was no way I'd make it to the room I booked in Georgia. Every station was vacant. No gas. I still had a half tank, but I didn't want to venture too far searching for hotels or gas stations because I didn't want to get stuck in the middle of Florida with no way to escape Irma. My daughter in Illinois and my husband in Vegas called every hotel they could find close to me. Nothing. I pulled into a giant Lowes parking lot to stretch, plan, and walk the dogs. I figured the safest thing to do was stick with the crowds. If gas were coming, it would arrive at stations off of I-75. I kept going. I tried another exit and luckily found gas, but still no hotel. When the adrenaline from the day and caffeine had worn off, I decided to sleep at a rest stop. But the next rest stop I found was closed. Security had to block the entrance because it was packed with people. I kept going. Finally, I reached Georgia! It was 5 am. I found an open rest stop. Cars were parked on sidewalks, grassy areas, anywhere they could find. Roscoe and Smudge were wide awake from napping the entire trip, but I was exhausted. With my seat reclined and my pillow shoved against the car door, I slept, while Roscoe and Smudge pushed their noses to the window watching all the people and their dogs walk by.
Thursday Morning September 7th
When I woke the sun was shining, the air was cool; people were everywhere. The dogs and I went for a walk before climbing back in the car and hitting the highway. Traffic was still busy. Since I had planned to stay in Georgia, I drove for awhile and then began searching for hotel rooms again. The one I had booked had given my room away and they were full. Every exit I tried, every hotel desk I approached let me know immediately that there was no more room. I kept going. By 4 pm I reached a town outside of Atlanta. There were less Florida license plates than Georgia, so I decided to give it a try. I needed sleep, a shower, and food!
When the kind man at the desk
told me he had a room and pets were okay, I wanted to leap over the counter and give him a huge hug! However, after riding in the car with my dogs for hours and not showering, I figured he'd appreciate a simple thank you instead.
Friday, September 8th
After a nap, dinner, and a full night's sleep the boys and I were ready to hit the road again. We drove to Urbana where my daughter had dog treats, dog toys, chocolate, and a University of Illinois hat and fuzzy socks decorating the dresser of our room! My home away from home.
Eric flew from Vegas to Illinois and worked at my daughter's house while we spent the week together waiting for power to return to our neighborhood. Even though I had traveled with my daughter over the spring and summer being with her in her everyday life was different. I had the opportunity to share in her world, and I loved seeing her as an adult, working hard with her team and managing her business. I loved chatting with her roommate and listening to stories about their racing lives. Eric cooked for us because we're all safer if I stay out of the kitchen and he happily tackled my daughter's home repair list because he's a great dad! Meanwhile, Roscoe and Smudge took over every couch, bed, and futon as if they'd lived there forever.
On our drive back home, we stopped to have dinner with my son and his girlfriend. Seeing my children thrive on their own brings me such joy. They're happy. They're independent. They're brave. They're knowledge seekers. I couldn't be any prouder of them. My impromptu road trip brought me closer to my children.
The entire trip from the people at rest stops who offered to help me with Roscoe and Smudge to drivers on the road to people at the gas stations and convenience stores were all kind and helpful. I felt a renewed sense of peace that I had lost with this last election. Seeing so much kindness gave me hope.
When my world is turned upside down eventually I look for the lessons. These past few weeks, I learned the importance of letting go. I learned the value of life and of spending time with those I love. I learned that I can plan all I want but still the unexpected will happen. It's easier to ride the current than try to swim upstream when that happens. And with the loss of two of my favorite trees I planted nineteen years ago, I learned to begin again to focus on the possibility of what could be.
Namaste
---