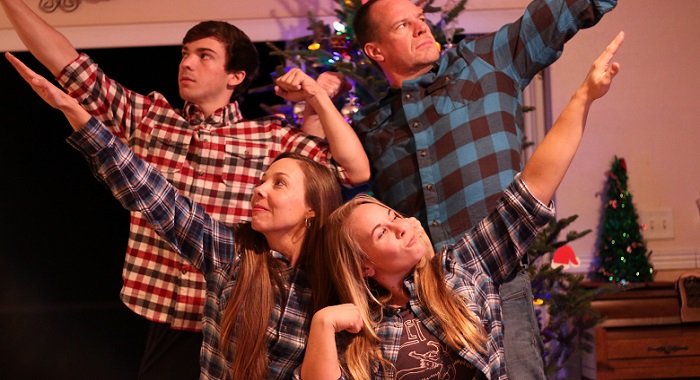 A Christmas I will Always remember
I don't write too much about my husband, Eric. Here are three things that tell a bit about him: 1. I nicknamed him The Peace Ruiner, and he's quite proud of it.  His perfect day would begin with Metallica blaring from his alarm, but I nixed that back in our twenties. 2. He's happy ALL the time! Every day is a great day that he tries to make even better which is really a wonderful way to live. His positive energy inspires me. 3. He's as stubborn as me! We are two firstborns that like to have our way. When our power is focused for good, we can accomplish great things. When it's focused against each other, we're two storms colliding. It's not pretty.
Our early years were rocky.  Once we went to see a counselor while we were dating and the counselor told us he had no idea why we were together. Perhaps he was a genius because that's probably the best thing he could have said to us. We certainly showed him!
After we had Arielle, I really wanted more children. Eric was still getting used to the idea of being married and having one child. He was a wonderful husband and father, but the thought of more responsibility frightened him. I wanted Arielle to have a sibling to grow up with. For months we went back and forth on the idea of growing our family. Neither one of us would give in. Until one Christmas…
It was 1996. My grandmom Keen was with us. It was her first Christmas without my grandfather. I didn't want her to be alone. Eric and I had the presents under the tree–the stockings full. Arielle excitedly began opening her gifts while we all watched.
Eric handed me a present. I ripped off the paper to find a small trashcan. Since the first gift he ever gave me was a coffee maker, I figured he felt we needed another trashcan in the house. Still, it was an odd gift. He told me to look inside. There were two other wrapped presents. I unwrapped the first. It was a box of condoms! Panic! My sweet grandmother was sitting right across from me! I tried to hide them, but she said. "What is it?" My face burned. I chuckled. "They're condoms." She said "what?" I had to say it louder. "They're condoms" words I never imagined saying to my grandmother. "Oh." At that point, I wanted to crawl under the dining room table and hide. What was Eric thinking?  Eric told me there was more. I was scared. I unwrapped a box of matches. Then I realized what he was telling me. Burn the condoms! This was my creative husband's way of saying we could have another child. I jumped into his arms. We explained to grandma what all the gifts meant–another great-grandchild.  December 17th, 1997 our son Kai was born.  And every Christmas after that Grandmom Keen opted for Christmas dinner with us instead.
When I look back on all our Christmas mornings that one tops the charts. Love was the theme. My love for my grandmother. My grandmother's love for us. My grandfather's absence and our love for him. Eric allowing love to overcome his fear. All of our love for Arielle and our future love for Kai. For me, Christmas isn't about material gifts, decorations, or perfect meals. It's about sharing my day with those I love and feeling great joy to have them in my life. One thing I know for certain is that life changes. I can't expect all my holiday celebrations to be the same. However, the one constant that does remain the same is love. No matter where I am or what I choose to do on Christmas Day I can still feel the love of those with me and those who have passed like my grandparents because love is the gift that brings myself and others true joy.
Merry Christmas, Happy Hanukkah and Happy Holidays! I hope everyone has a holiday filled with love and laughter!
---