K.D. Rausin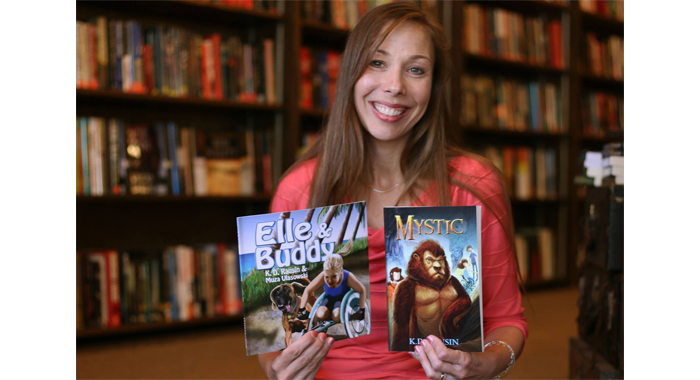 Hi! I'm Krista Dondero Rausin. That's where the K.D. comes from. Here's the story of my life so far. I still plan on writing many more books and having lots more adventures. Thanks for stopping by and reading my ABOUT page.
I lived in many places before turning ten years old; Vineland, New Jersey, Lansdale, Pennsylvania, Hartford, Connecticut, and then back to Vineland. Some of my fondest memories are times spent with my grandparents, swimming in their pool, dinner at precisely six-o-clock, and simply sitting and listening to my grandparents tell stories of their lives. My grandfather was an inventor and business owner, and my grandmother, a photographer. My first story was written in their house on New Pear Street. I was in first grade.
In the middle of fourth grade I moved to Elizabethtown, Pennsylvania. There I met many friends, broke my foot playing football, discovered theatre, and fell in love. I left Elizabethtown when I turned 18, but it has always held a special place in my heart.
After a short stay in New York City and Los Angeles, California, where I met my husband, I moved to Cape Coral, Florida to be near my grandparents. I went to school while raising my two children and many foster children. I also wrote my first adult novel during those years. It was handwritten which means no one will ever be able to read it and it's buried in a drawer somewhere. Despite my lack of organizational skills, I became a teacher in 2003.
That same year my children were in a horrible car accident. My daughter suffered a spinal cord injury and was paralyzed. Not long after, I decided to write a children's book with a strong female protagonist who happened to use a wheelchair. MYSTIC was published in 2013. It took me 6 years to complete.
I like to say I live with my husband and two kids because it makes me sound young. The reality is my kids are 18 and 22 and my daughter spends more time at college than she does at home. I've taken to filling my almost empty nest with animals — mostly cats and that's why people have called me The Crazy Cat Lady. I'm not sure how I feel about that.
Elle & Buddy, my second book, came out March 2, 2015. It's a picture book about a young girl who discovers racing wheelchairs. It too was inspired by my daughter who is an athlete on the University of Illinois racing wheelchair team.
My next book is a young adult novel. It's written and has been edited by the talented  Emma D. Dryden.  I feel very lucky to be able to do what I love. Thank you for reading my posts and books.
---
K.D. RAUSIN FACTS
In 6th grade I was the first on my basketball team to actually score for the opposing team. The crowd went wild…on the visitor's side.
After starring in my high school play I moved to New York City to pursue acting at a school for musical theatre. I couldn't sing.
I love all animals! I'm sometimes called the crazy cat lady but I have no idea why. It's not like I have twenty cats or anything. Oh wait…
My family also teases me because I love to take pictures of cows. They think I have more vacation pictures of cows then of them. Not true.
I don't eat meat. Yes, that includes fish. I do eat desserts and so I go to the gym a lot!