K.D. Rausin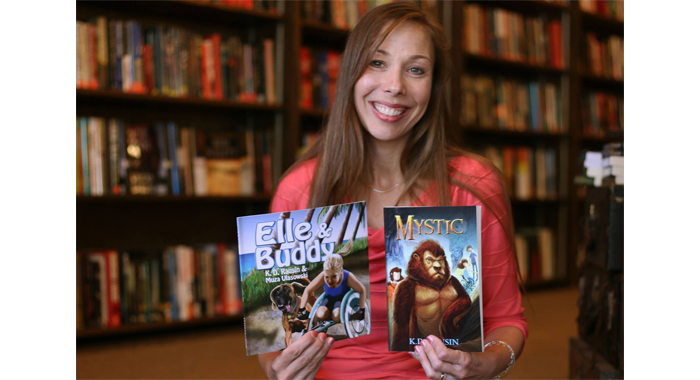 ---
Hi! I'm Krista Dondero Rausin. That's where the K.D. comes from. Here's the story of my life so far.
I lived in many places before turning ten years old; Vineland, New Jersey, Lansdale, Pennsylvania, Hartford, Connecticut, and then back to Vineland. Some of my fondest memories are times spent with my grandparents, swimming in their pool, dinner at precisely six-o-clock, and simply sitting and listening to my grandparents tell stories of their lives. My grandfather was an inventor and entrepreneur, and my grandmother, a photographer. My first story was written in their house on New Pear Street. I was in first grade.
In the middle of fourth grade, I moved to Elizabethtown, Pennsylvania. There I met many friends, broke my foot playing football, discovered theatre, and fell in love. I left Elizabethtown when I turned 18, but it has always held a special place in my heart.
After a short stay in New York City and Los Angeles, where I met my husband, I moved to Cape Coral, Florida to be near my grandparents. I went to school while raising my two children and foster children. Writing was my hobby. On the weekends I would grab my notebook and scribble words onto page after page. Eventually, I had my first novel. It was about a boy in foster care. No one except me has ever read it and since it was handwritten no one will ever be able to read it! I finished school in 2003 and started teaching.
That same year my children were in a horrific car accident. My daughter suffered a spinal cord injury and was paralyzed. When we all returned to school after the accident, I turned to children's literature to help my daughter, my class, and others to understand life living with a disability. When I went to writing conferences and met authors suddenly, I realized what I really wanted to do with my life. I had been doing it since I was six. Write! I decided to write a children's book with a strong female protagonist who happened to use a wheelchair. MYSTIC was published in 2013. It took me six years to complete.
Elle & Buddy, my second book, came out March 2, 2015. It's a picture book about a young girl who discovers racing wheelchairs. It too was inspired by my daughter who is an athlete with the University of Illinois racing wheelchair team and a member of Team USA.
Currently, I'm working on two young adult novels. If you're a writer, who's interested in writing for children or young adults I highly recommend joining SCBWI. I also recommend working with a professional editor before submitting your manuscript to agents. I work with the incredibly talented  Emma D. Dryden.
Thank you for reading and sharing my posts and books.