May and June are all about celebrations. May is my month with my birthday falling close to Mother's Day and June is all about Eric with his birthday near Father's Day. However, we differ greatly on our expectations for celebrating.
I like a nice quiet dinner at home and an ice cream cake dessert. Eric insists on an adventure.
Last year we tried wind surfing on Eric's birthday. This year we took a road trip to Orlando to see La Nouba. They have an excellent offer of dinner at The House of Blues and a show for $99.00. Dinner included an appetizer, main course and dessert for each person.Yes, four apps and four desserts for the Rausin family. I highly recommend the chocolate cheesecake! La Nouba was a thrill. Amazing talent and music all under one roof. Afterwards, we strolled along Pleasure Island (Downtown Disney) and found a musician that left us mesmerized. It's rare to find music that touches all of us. Nicholas Marks – go watch him play. Wow! We bought his CD.
The next morning we left for St. Pete Beach. Eric was ready to strap a jet pack to his back and fly high above the waves. I was ready to keep my two feet on shore and take pictures. We discovered the Trade Winds Hotel. It was oh so very nice! I could have spent several days there. Except, they were missing one thing.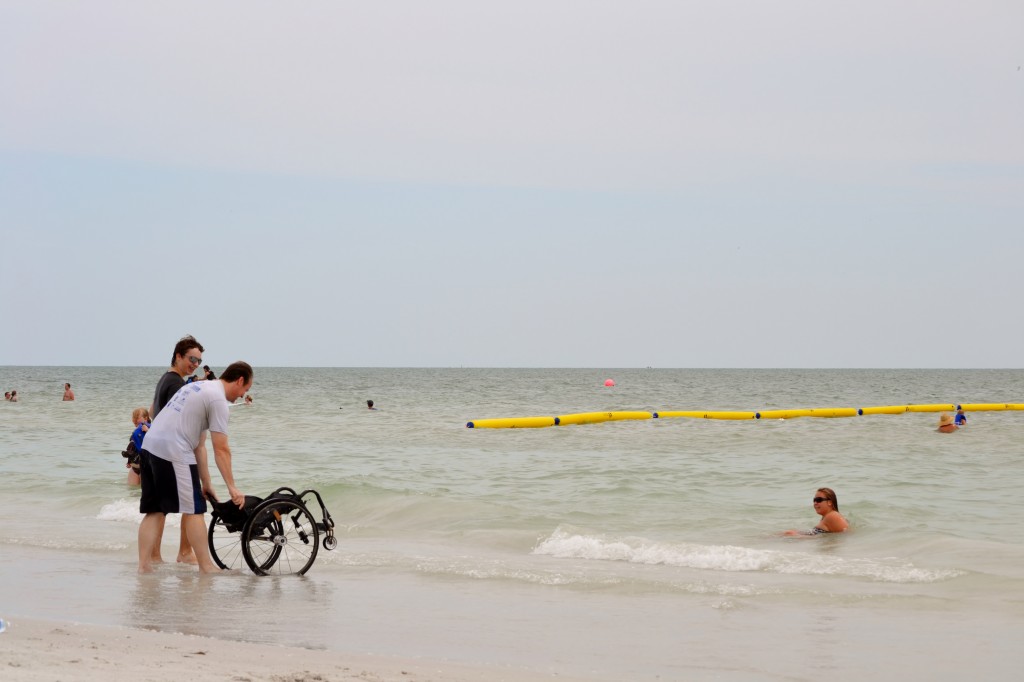 An
accessible beach.
 Not sure if there are any accessible beaches in Florida. Hmmm.
Look at what Trade Winds did have! If you have little ones they'll LOVE this!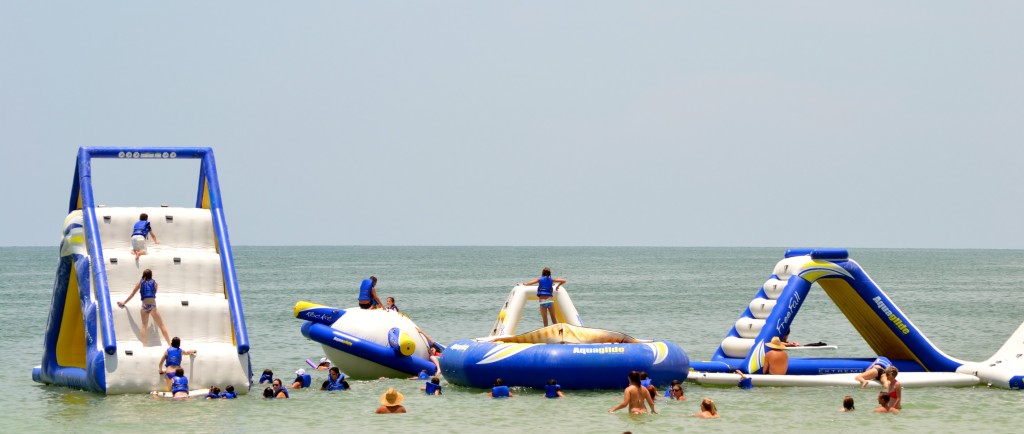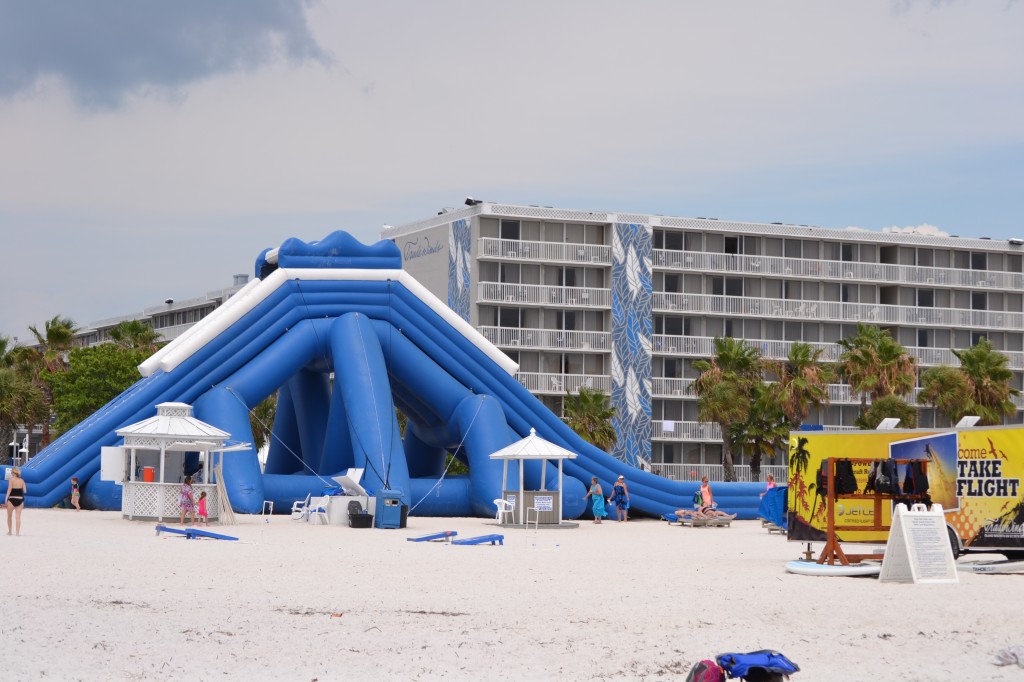 And if you travel to a Florida beach in June… you will need one of these.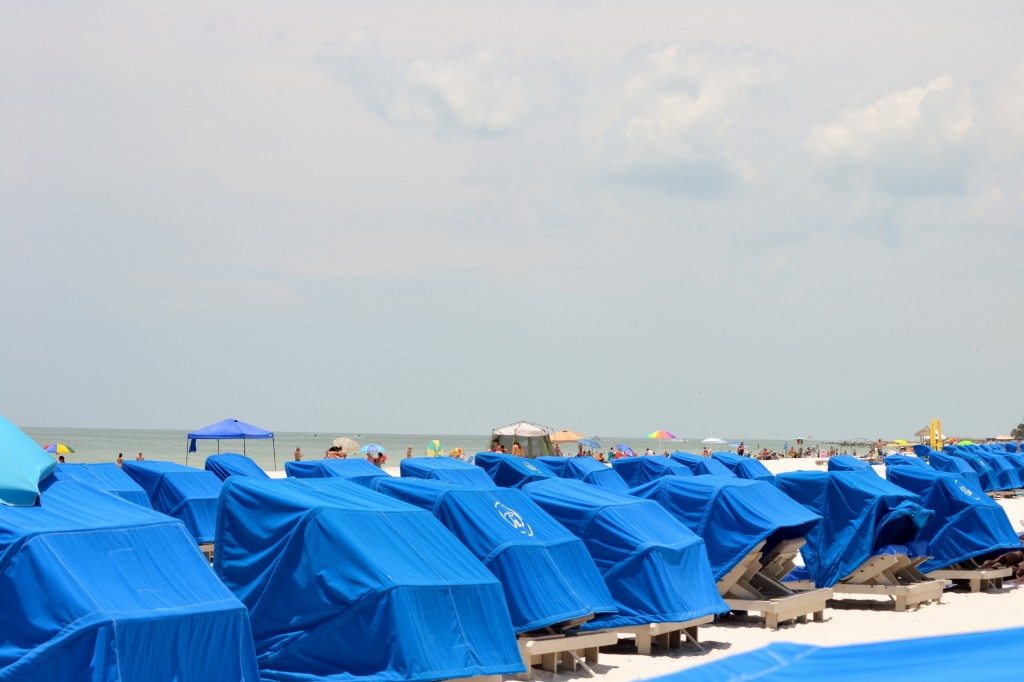 Cabana!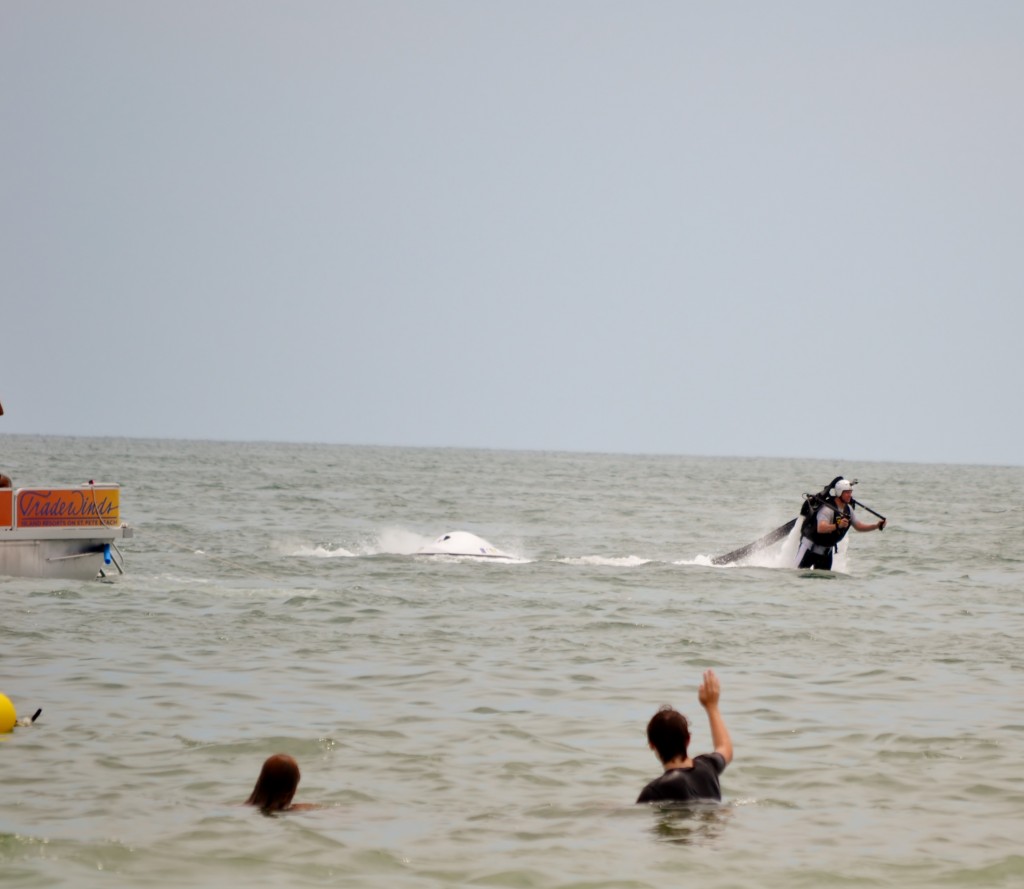 There are my babies. Kai's waving to the crazy man who thinks he can fly. Wait… I know that crazy man.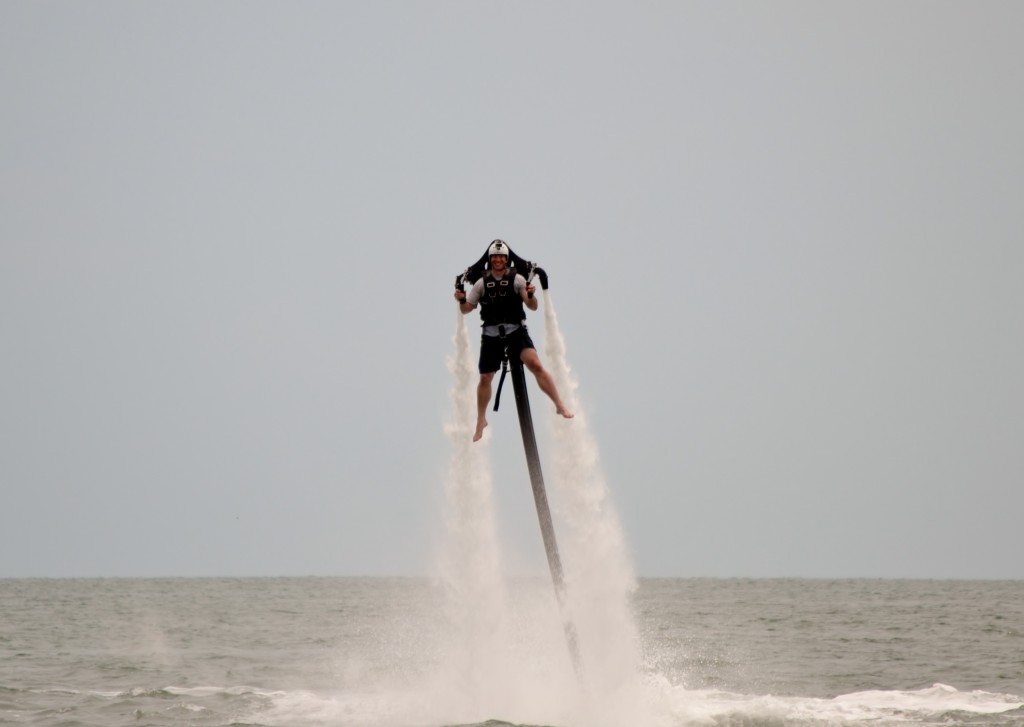 It's Eric!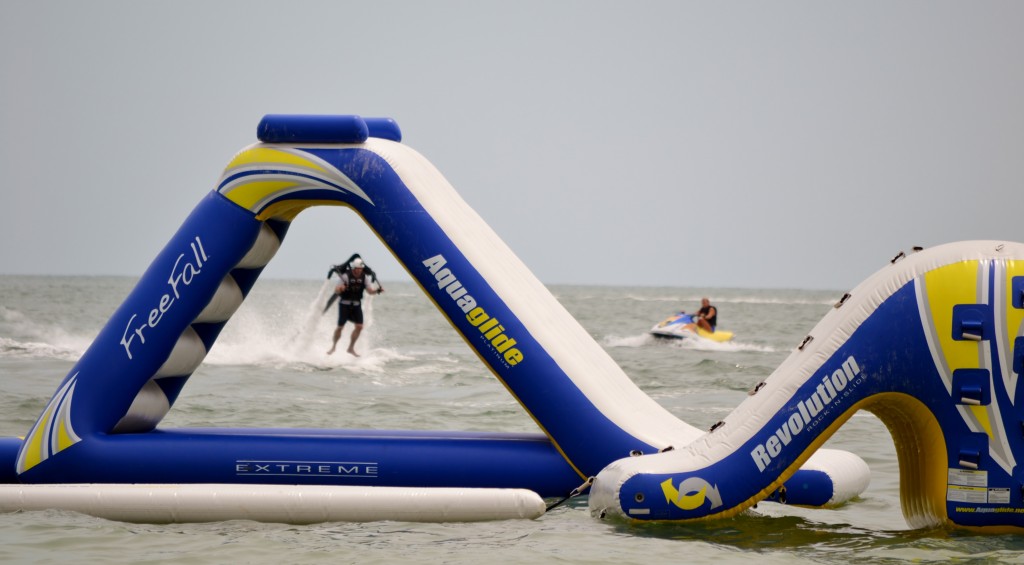 Peek-a-boo. Eric always thought he could walk on water. Damn.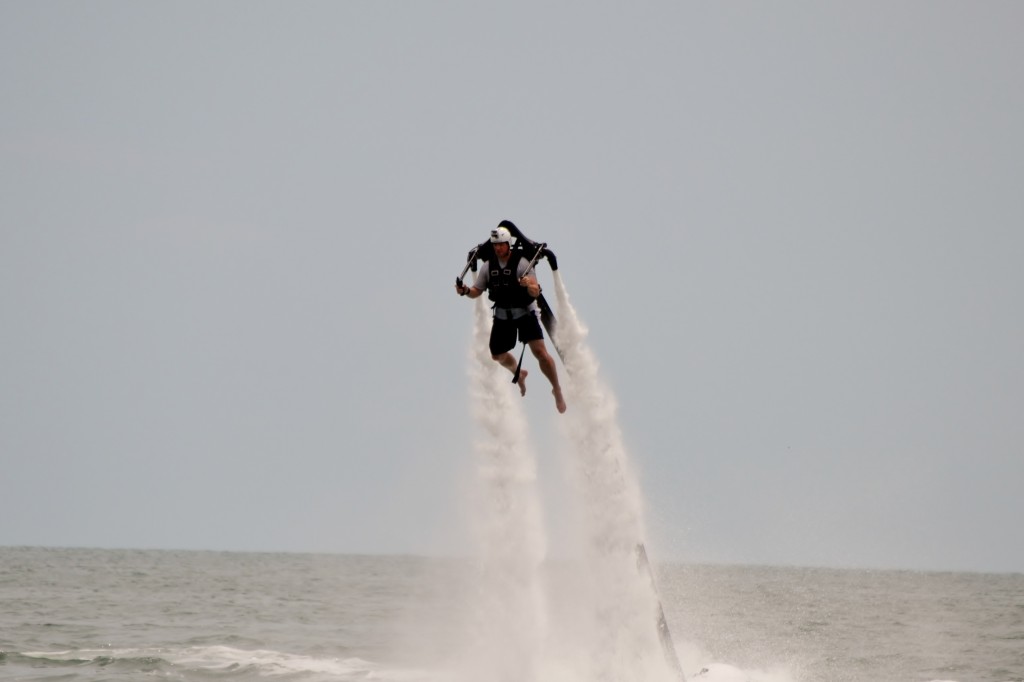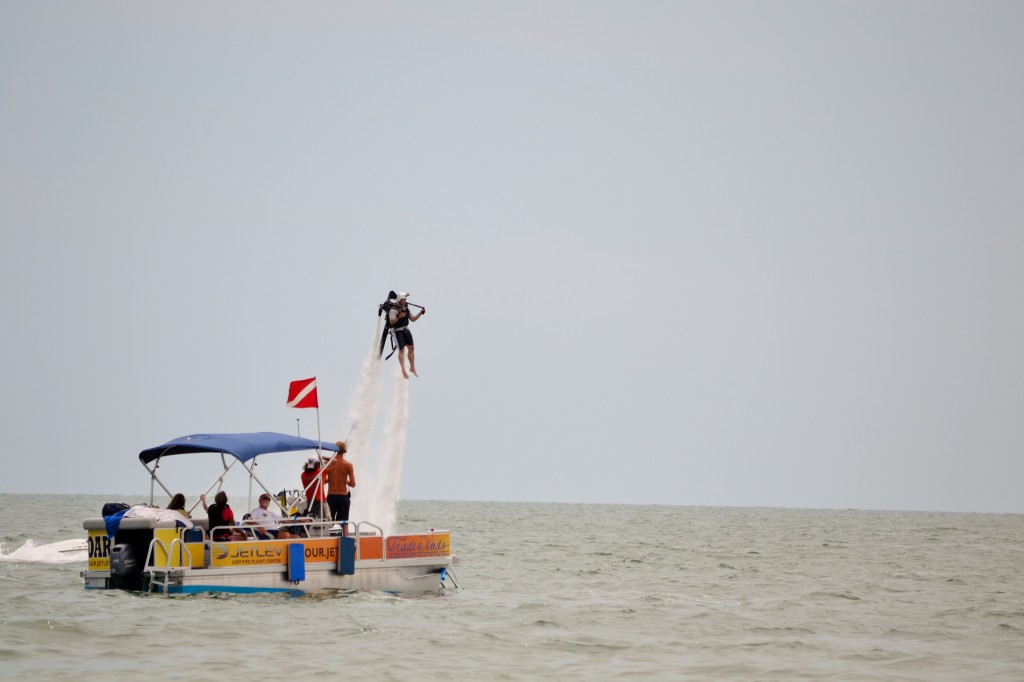 Eric took to the sky. Kai and Arielle napped.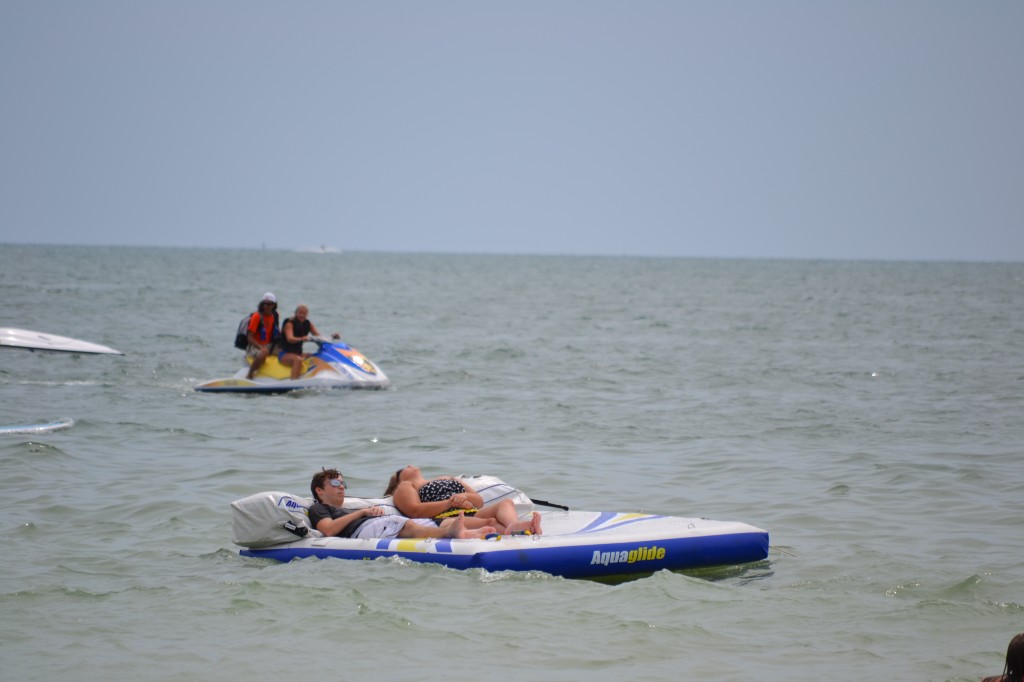 Later, they woke and tried to give me the pouty lips thinking it would convince me to swim out to their raft.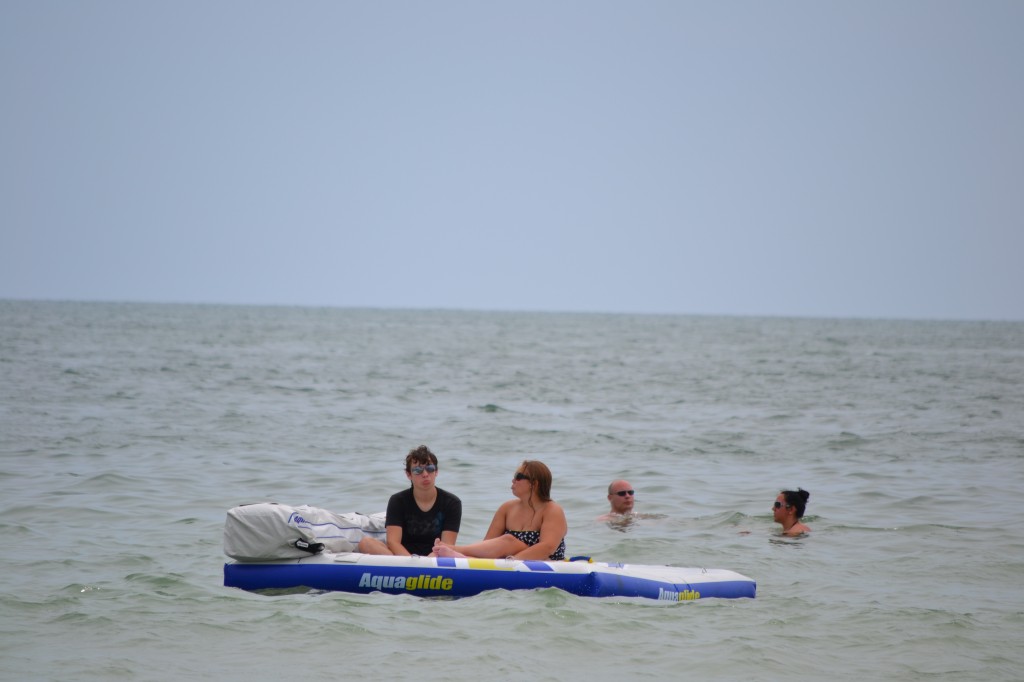 No way. These feet do not do the stingray shuffle. Besides, I think we ruined enough electronics for one year. My camera wouldn't have survived the journey.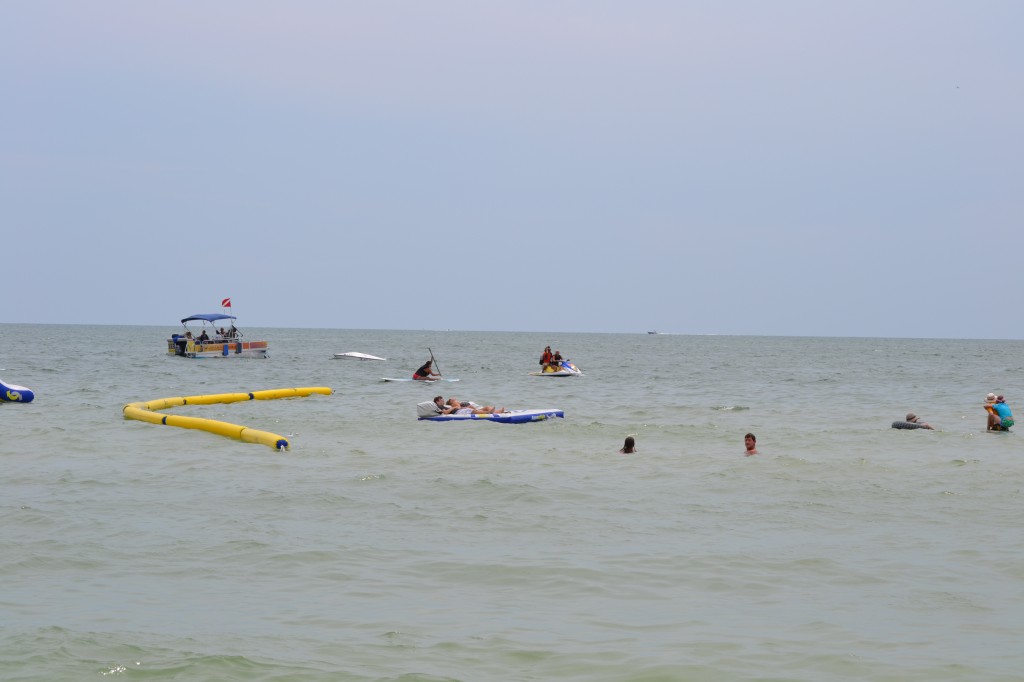 I decided instead to take pictures of seagulls.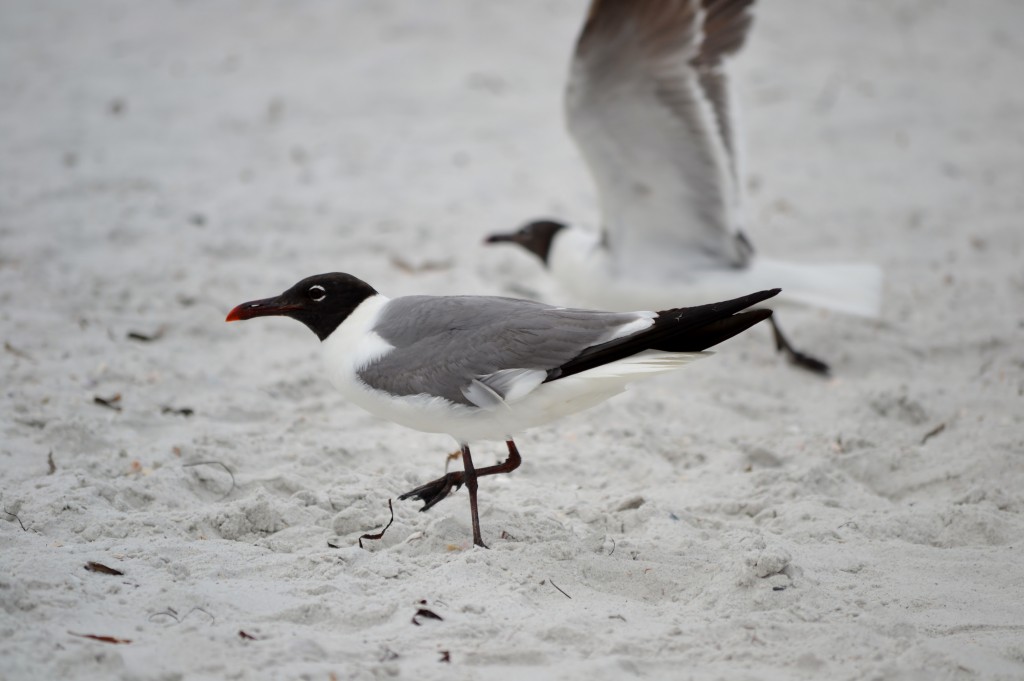 When I turned around guess what Eric was doing?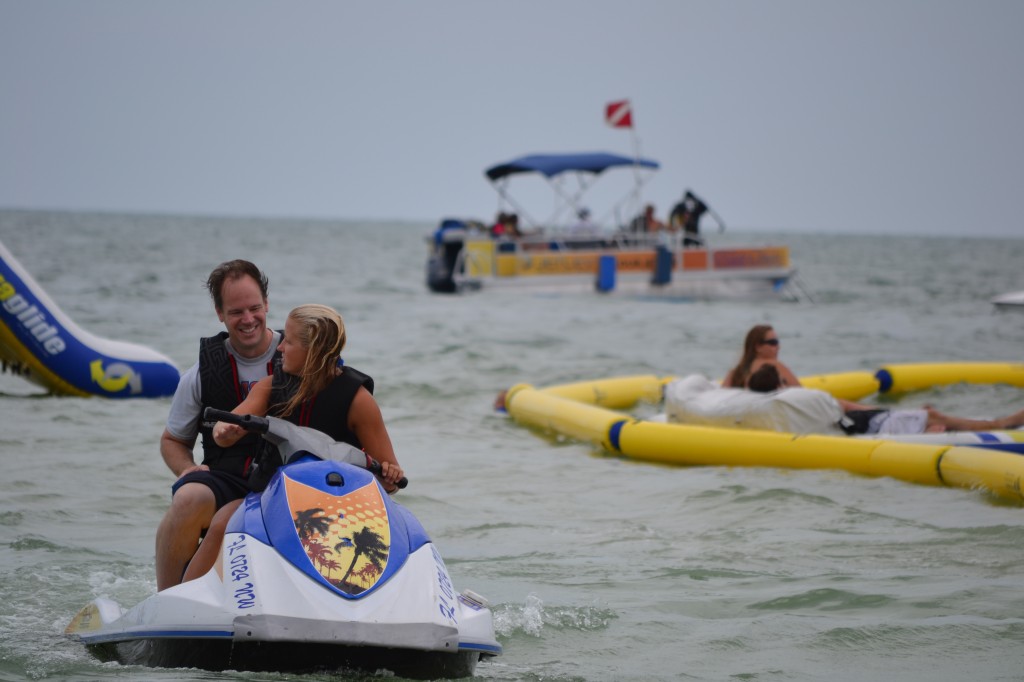 He rode right past his children and didn't even notice. I wonder why? I'm sure it wasn't the young blonde. He's telling her how much he loves his wife or something like that I'm sure.
JetLev at TradeWinds.
By the way – if you like this blog be sure to subscribe to it via email so you get informed of every new post. To do this, just click this link and give us your email address. Then simply click the confirmation text in the email you will be sent and you're all set. Or click on the Facebook button above and click "like" on my Facebook page. I'm trying to hang  with the popular blogs and they won't let me until I have like a bazillion "likes." Thank you.
We took our first trip to Europe in 2007. I was determined to show my daughter, Arielle, that being in a wheelchair should not stop her from pursuing her dreams or traveling abroad. When we returned home, I wrote about our experiences. Compassion in Action was my first online article. The Reeve Foundation posted it on their site and added pictures, you can see it here.Thanks, Rob.
During that trip, we did run into some accessibility problems, but every time people were willing to lend a helping hand. When I made our plans for our vacation to Barcelona, I expected to have many of the same issues we encountered four years ago. I was wrong. Barcelona is the most accessible city I have ever been to in Europe – and in the United States. There are accessible signs everywhere, and the tourist attractions that are not completely accessible do not charge people using wheelchairs.
One of our greatest discoveries was an accessible beach. For years I have watched Arielle struggle on our beaches here in Cape Coral and Ft. Myers. Wheels and sand don't mix. Then I saw the simplest of solutions and wondered why every beach doesn't offer this.
I was very happy when I saw the ramp and then astounded when I saw the accessible shower bench and bathroom on the beach.
Our second greatest discovery was on our road trip to France. We stopped in Roses because Eric wanted to see a famous restaurant called El Bulli nearby. There are always two lingering questions in my mind whenever we stop for bathroom breaks. The first is, will it be accessible and the second, will it be clean? I am overjoyed to say that every bathroom in Barcelona was both.
But that wasn't our second greatest discovery. Our second greatest discovery was a shopping cart specifically made for manual wheelchairs.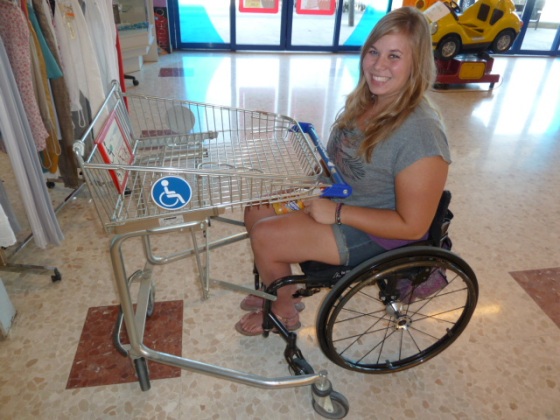 Transportation is always an issue when traveling in cities. One of Arielle's favorite places is London because of their accessible cabs. Every cab has a ramp. We only took two taxi's while in Barcelona, to and from the airport. Both times the drivers were very helpful and willing to take the wheelchair. All of the buses in Barcelona were accessible and guess what… clean. The cleanliness of the entire city (with the exception of La Rambla) was truly amazing.
Subways have always been difficult. It would be wonderful if people using wheelchairs had the same access to all the stops that able-bodied people have. Eric did have to carry Elle many times on our subway travels. I'm sure part of it was our fault for not planning well enough. I did find a sign that listed all of Barcelona's accessible stops.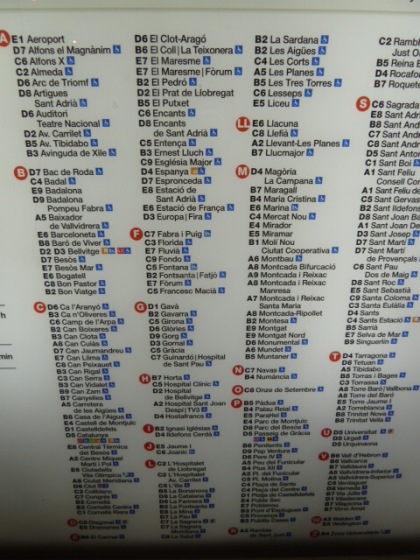 We bought our ticket to Montserrat and the cable car ride from a machine in the subway. We had the choice of taking the train or the cable car up the mountain. There was no sign telling us the cable car platforms were not accessible. The cable car itself was, but there were many steps in both stations. If you're using a wheelchair take the train. We tried to switch to the train for the ride back but discovered they were two different companies and we would have had to pay double. The cable car ride was breathtaking, and the people who worked at the station seemed embarrassed and upset that it wasn't accessible still there were many steps, and it would be impossible for someone using an electric chair.
Most days we walked for miles and explored Barcelona. We only took the subway or the bus when we were worried about timing or completely exhausted. This was a good thing considering all the chocolate croissants, cheese sandwiches and gelato I ate. Every street had ramps and was easy for Elle to traverse. Many times the ramps were marked showing accessibility.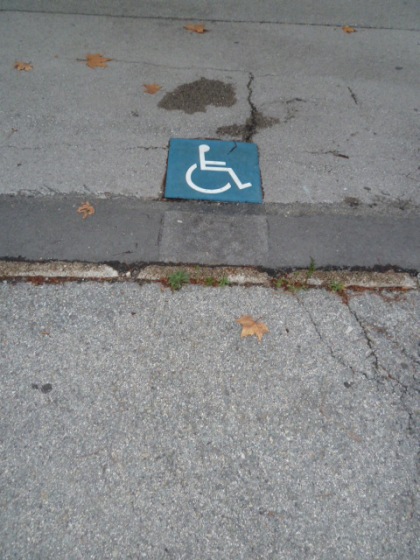 We decided last minute to rent a car and drive to France. It was easy to find a car big enough for all of us and the wheelchair. It turned out to be a great decision because of the total freedom it provided our family. Etched in my mind is the English woman's voice on the GPS  "Go through the round–about and take the second exit."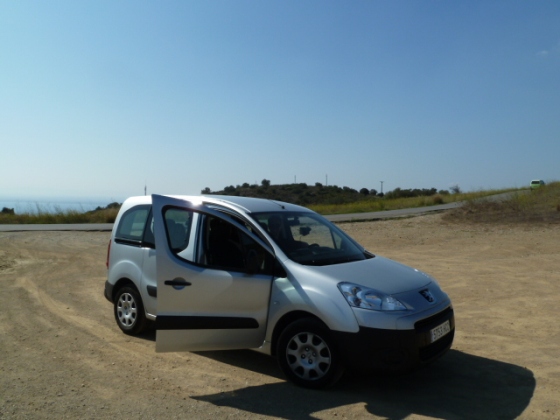 Extremely organized, clean and welcoming to those with mobility challenges, that's how I would describe Barcelona. (Besides being beautiful of course.) There were even airport employees designated to meet the needs of those using wheelchairs.
Now I'm curious to see if Barcelona is unique in their accessibility advancements or if more cities in Europe are just as accessible. I guess we'll just have to do some more traveling to see.
Please join me on Facebook.