Now that my kids are teenagers I occasionally glimpse back to the past and ask myself what I did as a parent that I'm thankful for. I made a list…. here.
Number 2. on the list is family vacations. We began when the kids were little taking short trips to Disney World and then as they got older we explored different states and then different countries. Each trip was an adventure. Each trip was a lesson in exploring and finding the joy in life. It was also a constant reminder for me of what was important. Not having a spotless house or working fifty plus hours a week. Seeing the smiles on my kids faces as they tube down a river in Tennessee or stare in awe at the Barcelona Olympic Stadium. That was what was most important in life. Enjoying moments with my children and teaching them to get out of routines and open their minds to new cultures.
Our latest adventure was a four-day trip to Orlando. Eric works for a wonderful company called desco. They treat their employees and their families to vacations. Thanks to desco we stayed at the beautiful Gaylord Palms Resort.
I absolutely loved the atrium. There were shops, restaurants, cafe's, a castle, alligators, turtles, and Koi all under one giant glass roof. Take a peek.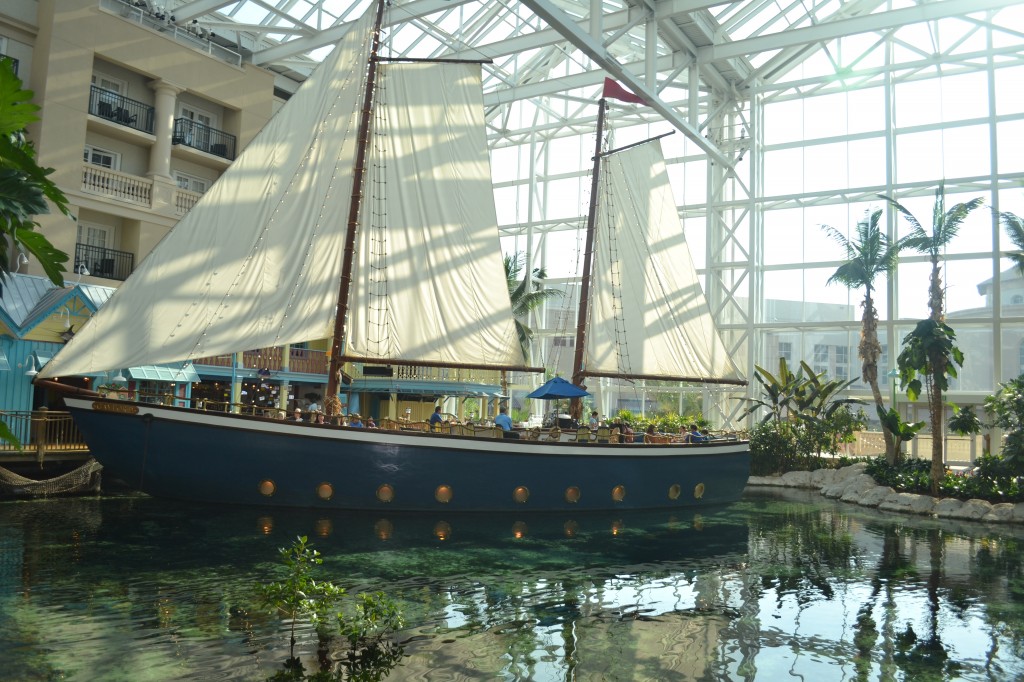 Alligators with their bff's the turtles.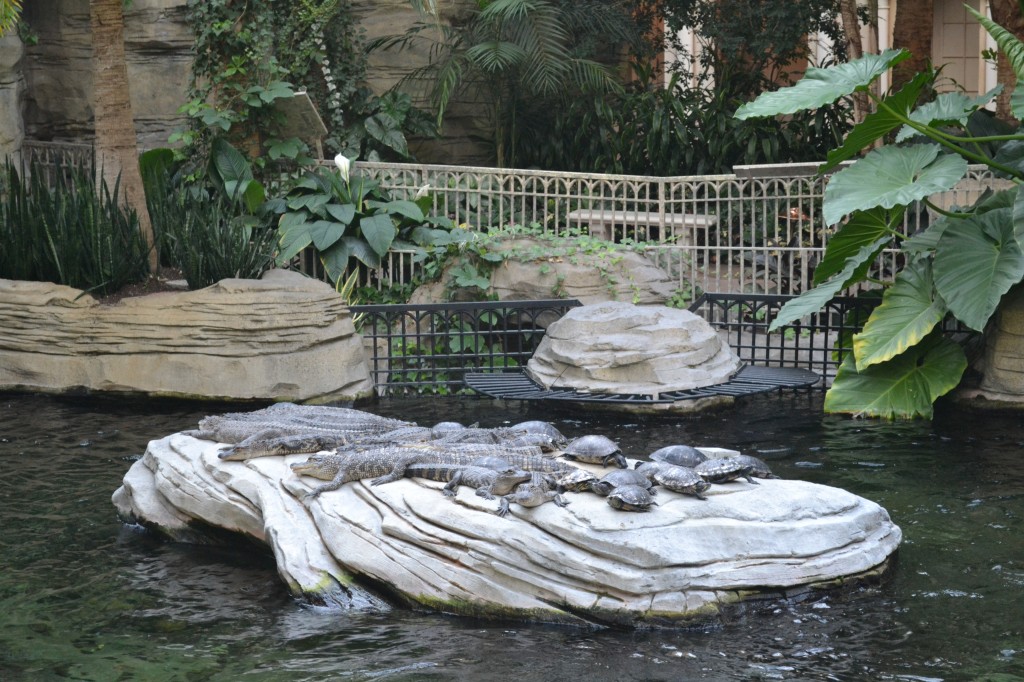 (Insert joke about missing children here.) You know you're thinking it. The animal lover in me was happy they were being well cared for but worried about what happens when they get too big to fit comfortably on the rock.
Right outside the hotel… the pools! If you decide to have lunch on the patio I highly recommend the Greek salad and the chocolate banana bites. Yum!!!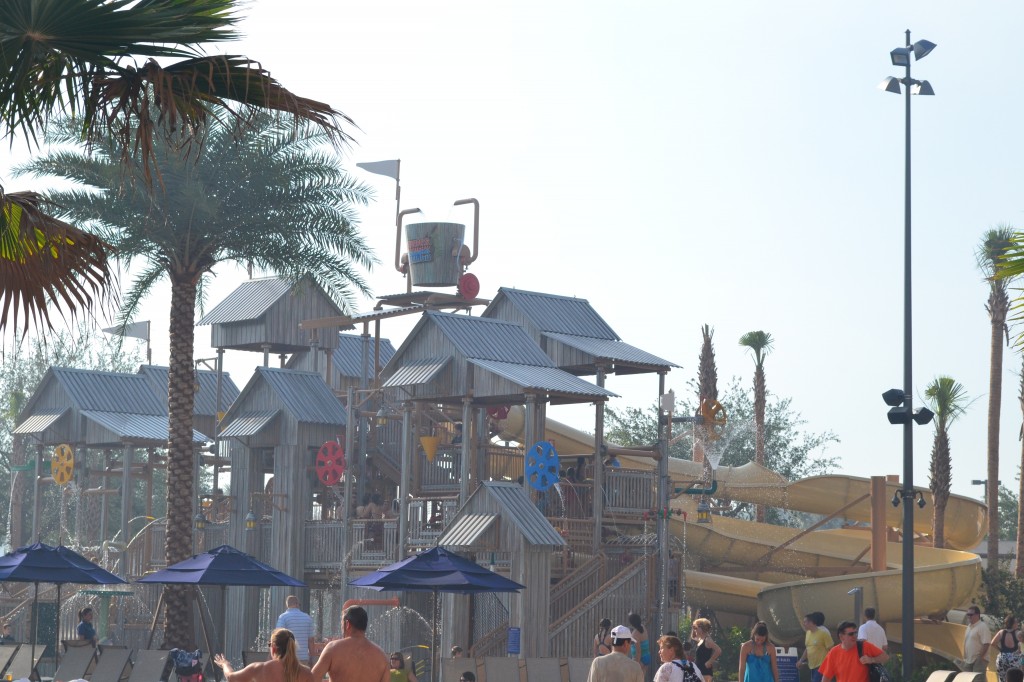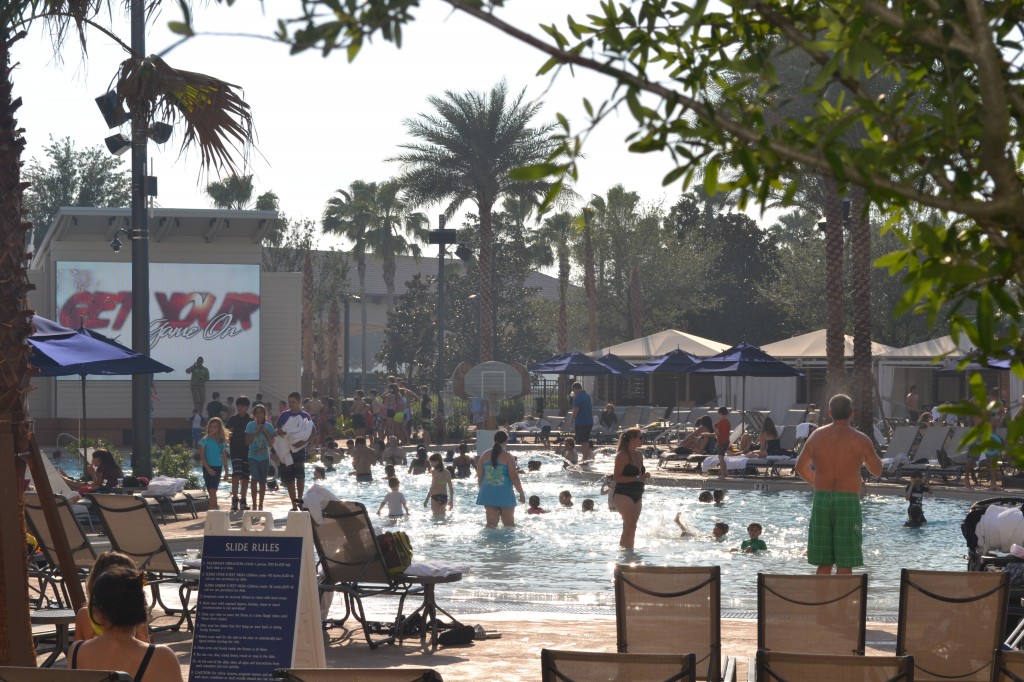 There are two pools. One with slides and a giant bucket that dumps water and one quieter pool for adults and parents with twin 18 year-olds. (wink,wink)
The twins enjoying lunch on the patio.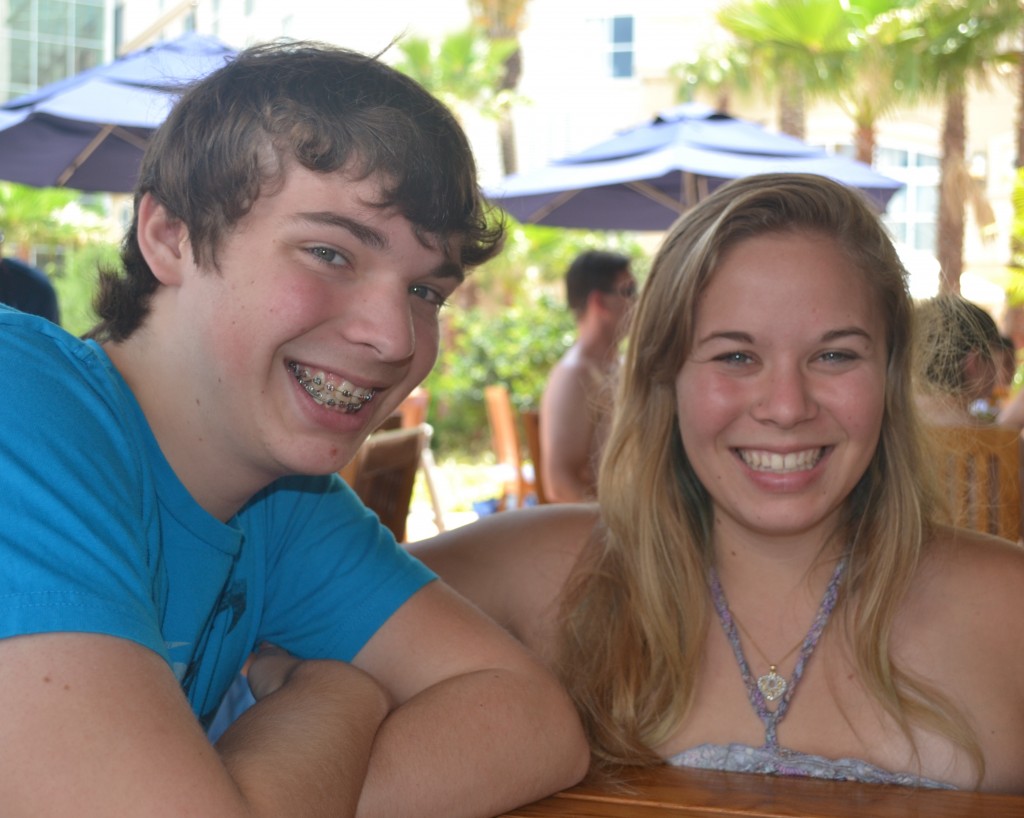 Koi.
Gaylord Palms was by far the nicest hotel I've ever been to in Orlando. We ate in several of their restaurants and shared two catered dinners with desco and the food was always excellent. They even had veggie burgers which made me very happy.
And as an extra bonus… I have found that it is difficult to find accessible rooms with two beds. Very few hotels have them. Gaylord Palms does and our family was able to be together in one room. So if someone in your family uses a manual wheelchair I can tell you room 8357 is quite nice.
Having teenagers with you on vacation means they can talk you into doing crazy things like wearing a bikini in public and …
Wait until you see Sunday's post. It was all Kai's idea. I can't believe they convinced me to try it. I'm so glad they did!
We took our first trip to Europe in 2007. I was determined to show my daughter, Arielle, that being in a wheelchair should not stop her from pursuing her dreams or traveling abroad. When we returned home, I wrote about our experiences. Compassion in Action was my first online article. The Reeve Foundation posted it on their site and added pictures, you can see it here.Thanks, Rob.
During that trip, we did run into some accessibility problems, but every time people were willing to lend a helping hand. When I made our plans for our vacation to Barcelona, I expected to have many of the same issues we encountered four years ago. I was wrong. Barcelona is the most accessible city I have ever been to in Europe – and in the United States. There are accessible signs everywhere, and the tourist attractions that are not completely accessible do not charge people using wheelchairs.
One of our greatest discoveries was an accessible beach. For years I have watched Arielle struggle on our beaches here in Cape Coral and Ft. Myers. Wheels and sand don't mix. Then I saw the simplest of solutions and wondered why every beach doesn't offer this.
I was very happy when I saw the ramp and then astounded when I saw the accessible shower bench and bathroom on the beach.
Our second greatest discovery was on our road trip to France. We stopped in Roses because Eric wanted to see a famous restaurant called El Bulli nearby. There are always two lingering questions in my mind whenever we stop for bathroom breaks. The first is, will it be accessible and the second, will it be clean? I am overjoyed to say that every bathroom in Barcelona was both.
But that wasn't our second greatest discovery. Our second greatest discovery was a shopping cart specifically made for manual wheelchairs.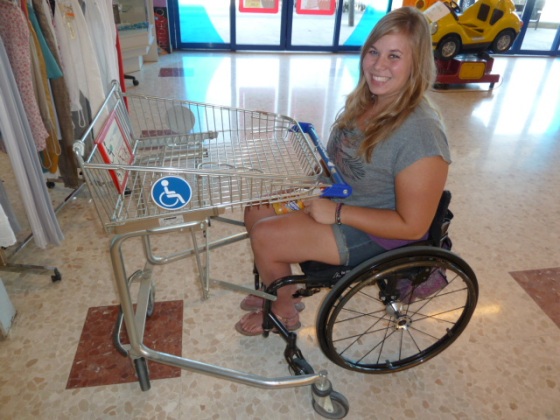 Transportation is always an issue when traveling in cities. One of Arielle's favorite places is London because of their accessible cabs. Every cab has a ramp. We only took two taxi's while in Barcelona, to and from the airport. Both times the drivers were very helpful and willing to take the wheelchair. All of the buses in Barcelona were accessible and guess what… clean. The cleanliness of the entire city (with the exception of La Rambla) was truly amazing.
Subways have always been difficult. It would be wonderful if people using wheelchairs had the same access to all the stops that able-bodied people have. Eric did have to carry Elle many times on our subway travels. I'm sure part of it was our fault for not planning well enough. I did find a sign that listed all of Barcelona's accessible stops.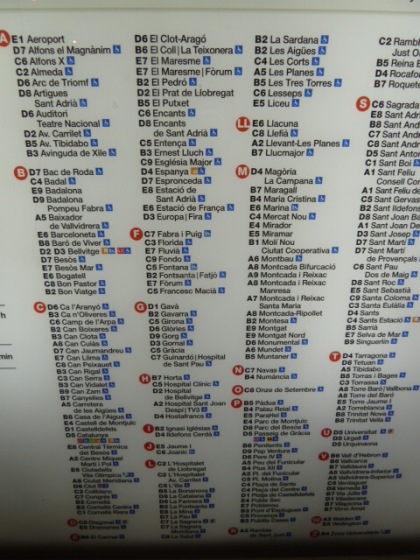 We bought our ticket to Montserrat and the cable car ride from a machine in the subway. We had the choice of taking the train or the cable car up the mountain. There was no sign telling us the cable car platforms were not accessible. The cable car itself was, but there were many steps in both stations. If you're using a wheelchair take the train. We tried to switch to the train for the ride back but discovered they were two different companies and we would have had to pay double. The cable car ride was breathtaking, and the people who worked at the station seemed embarrassed and upset that it wasn't accessible still there were many steps, and it would be impossible for someone using an electric chair.
Most days we walked for miles and explored Barcelona. We only took the subway or the bus when we were worried about timing or completely exhausted. This was a good thing considering all the chocolate croissants, cheese sandwiches and gelato I ate. Every street had ramps and was easy for Elle to traverse. Many times the ramps were marked showing accessibility.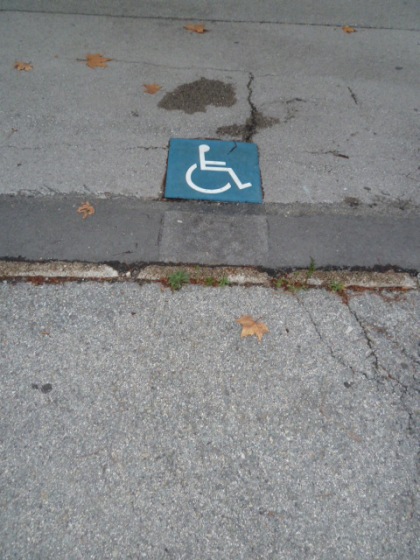 We decided last minute to rent a car and drive to France. It was easy to find a car big enough for all of us and the wheelchair. It turned out to be a great decision because of the total freedom it provided our family. Etched in my mind is the English woman's voice on the GPS  "Go through the round–about and take the second exit."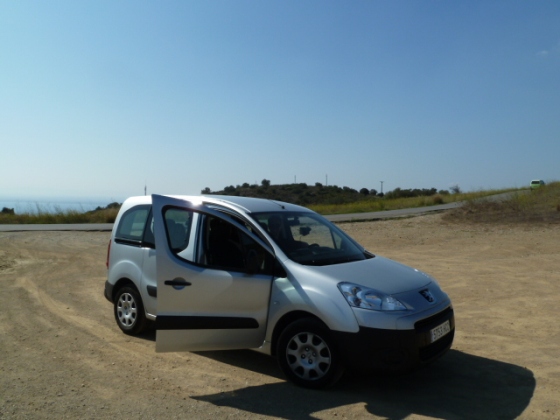 Extremely organized, clean and welcoming to those with mobility challenges, that's how I would describe Barcelona. (Besides being beautiful of course.) There were even airport employees designated to meet the needs of those using wheelchairs.
Now I'm curious to see if Barcelona is unique in their accessibility advancements or if more cities in Europe are just as accessible. I guess we'll just have to do some more traveling to see.
Please join me on Facebook.
Right now I'm attempting to wash some towels in our Barcelona washing machine. So far I don't see any bubbles so I think I may have put the detergent in the wrong place. Sure would be great if I could read Spanish. I'll think of it as a science experiment. What will happen if I put the soap in this place and turn this knob? Kinda fun.
Last night we went to see Barcelona FC play At. Madrid. Wow! What an experience. First we bought the shirts to show our Barcelona spirit.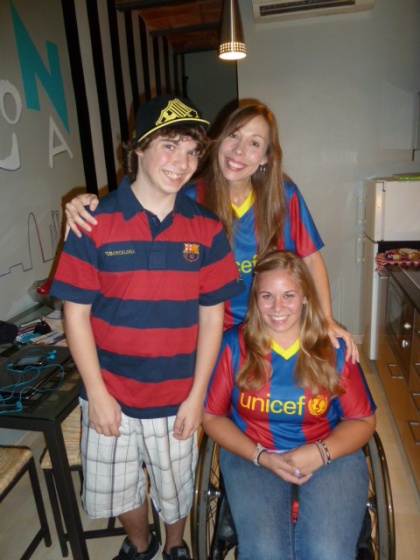 We bought our shirts at El Poble which is a short walk from our apartment. Look at what else we found at El Poble.
We decided to take the subway which was not the best choice.
(The washing machine is still going. The good news is I've seen bubbles. The bad news is… am I supposed to stop it? Will it keep going and going like the Energizer Bunny?)
When we finally reached the subway train everyone was happy to see us.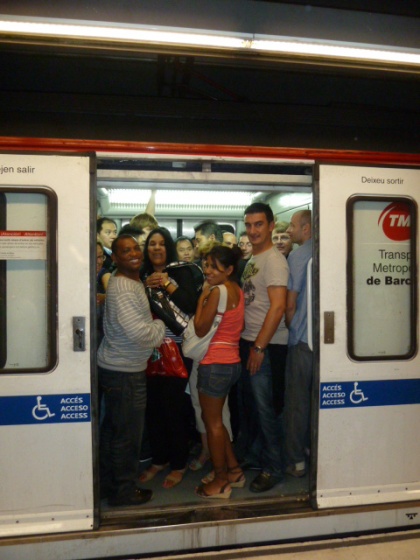 We weren't really sure where to get off. We should have followed the crowd because we rode the train to the end of the line.
Luckily, the kind woman driving the train let us stay on and repeated over and over which stop we should get off to see the game. I bet she's a mom. She knew she had to tell us more than once.
When we reached the street we simply followed the crowd of one hundred thousand to the Futbol match. The stadium was massive and it took quite a while to find our specific entrance. There were happy people speaking many different languages everywhere. I tried to keep up with my peeps but Kai pushed Elle through the crowd so fast Eric had to keep waving his arms to let me know where they were.
We found our seats just as the game began. I pulled out my camera. The rain poured and I was very thankful for the roof over our heads.
(It's still going. Those towels are going to be very clean.)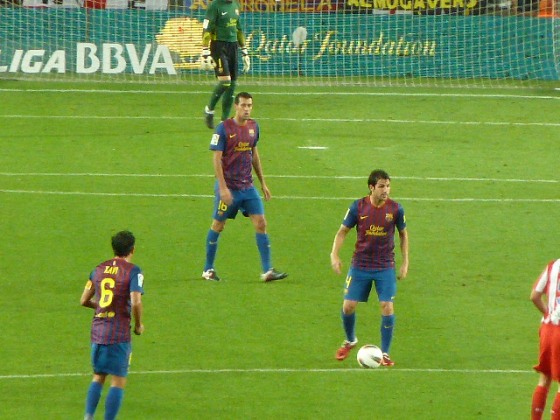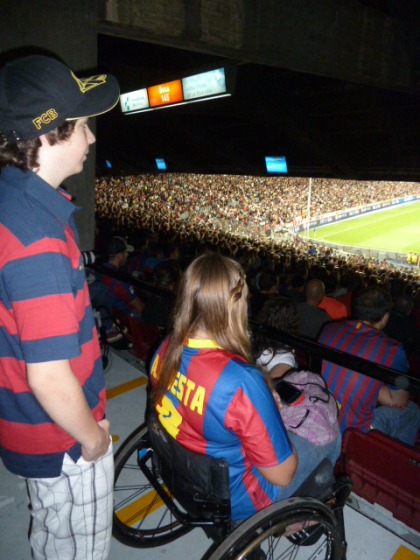 We decided to walk back to our apartment because it was only a little after midnight and only 1.8 miles. We grabbed some cheese sandwiches and gelato for our hike. When we reached Placa d' Espanya which is where our apartment is located we found lots more people. The La Merce Festival is this weekend.
Guess which Rausin wanted to stay and listen to the concert? She was outvoted.
Tonight the festival has a fireworks display and something that involves running with fireworks instead of bulls. I think I'll opt out of the running from fireworks and find a nice spot to sit with some sangria and watch fireworks.
The towels are done! Now all I have to do is figure out where to hang them to dry.