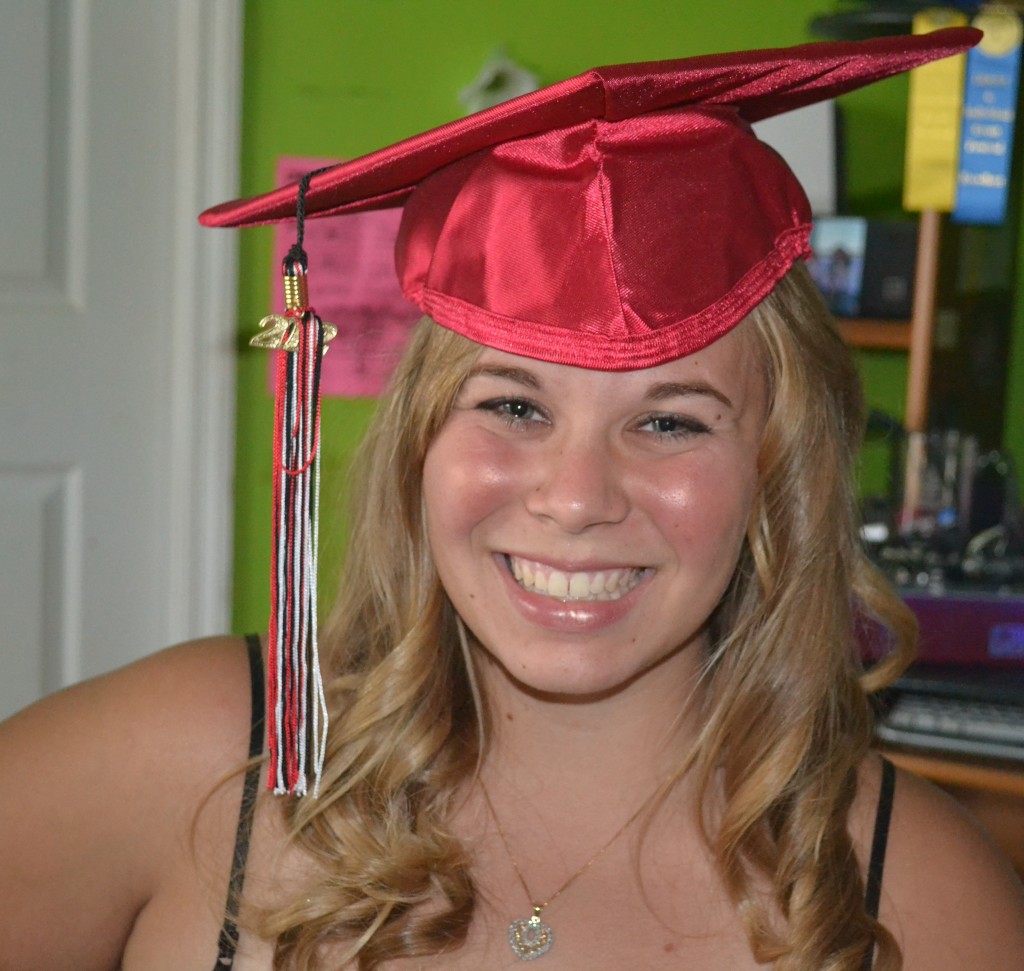 "What's wrong with dad? I was sitting at breakfast with all my friends and he's texting me asking me if I have all my cell phone contacts backed up? He's acting strange."
"You' re leaving soon. It's on our minds everyday even if we don't discuss it."
"Oh."
That was my conversation three days ago with Arielle. For the past three weeks we have had award ceremonies, banquets, performances, final exams, Baccalaureate, invitations to deliver, teachers to thank, parties to plan, and a long list of supplies to purchase for college. No matter what I do, grocery shop, clean, exercise, write, there is a looming cloud within me that has grown every day and it whispers… she's leaving. Most days I can ignore it and go about my chores. It's as if I'm saying I can't hear you, I
can't see you, I'm pretending you're not there… And then suddenly I'll be in my car at a stop light and the car next to me will have a toddler in a baby seat laughing or holding a sippy cup and I'll fight to stop the tears. The cloud is there telling me those days are gone. Life is changing and she's moving away.
My beginnings with Arielle were unconventional. I remember the uncertainty I felt right after Arielle was born. Unmarried, an apartment manager in Los Angeles, no college degree, from the outside my life was a wreck. But I had this tiny ray of light and her name was Arielle. She was my responsibility and I could no longer be selfish. I had to pick myself up, get an education, and make the best life for her that I could.
Even back then I knew it was important to connect with other moms. I needed guidance, advice, I had no idea how to take care of an infant. I joined the YMCA mother's group but it was difficult to make friends because I was so young. One class I loved was an exercise class. The instructor had choreographed an entire dance to Billy Joel's, "River of Dreams."  Arielle was only two months old and I'd bring her in her car seat, set her across from me and keep a close eye on her while I moved to the music. She never cried. She too loved the sounds and would kick her feet and smile. The memory of me dancing with Arielle at my side to the lyrics "we're all carried along by the river of dreams…" has been one of my strongest memories of our days in LA perhaps because it was symbolic of finding happiness during a time when I felt alone and judged for my lifestyle choices. Afraid for our future. I literally was walking in a valley of fear searching for something and in my arms a tiny baby showing me that within the uncertainty was beauty and love. Always.
Jump ahead three years, I'm living in Florida, taking Arielle to preschool and there I met the most amazing moms I have ever known. Before I knew it I was having play dates in the park, lunch at each other's houses, trips to Busch Gardens, Lowry Park Zoo and preschool sleepovers. There were birthday parties, Halloween parties, game nights and ( only once for me) camping trips. Our children became like siblings because most everything we did together we included them. I learned about friendship, the importance of family vacations, the importance of being involved in my children's lives, the
importance of a good education, and especially after the accident I learned
about love. My friends and their children were there for us every day after the
accident and have been there for us every day since.
There was a time when we would sit chatting in one of our living rooms watching our preschoolers play and wonder if they would go to high school together. It seemed like such a long time off. None of us could imagine that one day their voices would be deep or they'd stand a foot taller than us. None of us thought about saying good-bye. Now, today, May 19th the day has arrived. Four of our children will graduate Summa Cum Laude from North Fort Myers High School. Close by, another will graduate from Bishop Verot High School and too far away, but close in our thoughts, one will graduate from a
high school in Rhode Island. I sit here typing – wondering how could this be?
In seven hours I'll be sitting in a huge arena seeing a sea of red robes and tassels.
Today is really the day.
All of us moms and dads are feeling the looming cloud of uncertainty combined with a ray of light of happiness. We know we have prepared our children the best we could. We are joyful of their new beginnings. We hope that above all else they will find happiness. We hope that all of their choices will be good ones. We hope that they will always be safe. We love them more than they are capable of understanding and when we drop them off at college or say good-bye as they leave for the Air Force a piece of us will stay with them. For the first time in our lives we truly understand that nothing is permanent except our love for our children. What a glorious 18 years and eight months I
have had with my beautiful Arielle. Today I will celebrate every moment we have
shared from the dance class in LA to our trips to Europe, to all our long conversations in the car and all of our times spent with our friends. Today, I will celebrate the ending of one adventure and the beginning of another.