Valentine's Day cupcakes I made last year…
A friend asked me over the holidays if I received her invitation to Pinterest. I told her I did but hadn't had time to sit down and figure it out. The thought of one more thing to do was overwhelming. I still hadn't mastered Twitter and between Facebook, this blog, and getting MYSTIC ready for another edit, I felt I had enough on my plate. Then one morning the mood hit and I decided to see what my friend was raving about. Oh my! I sat there glued to my computer for two hours creating boards, pinning recipes, and connecting with people near and far. I was hooked. "Pinterest yet?" is my new motto.
I saw and pinned a picture of one of the most beautiful Valentine's cupcakes I had ever seen. Take a peek here.
Not long after I found another cupcake recipe that looked delicious and easy. Easy is key for me. Take another peek here.
I decided to combine the two recipes and finally try my sweet heart idea. It worked! Sort of. I have ideas for my next try and I'll pass them on to you. For now, this is my masterpiece.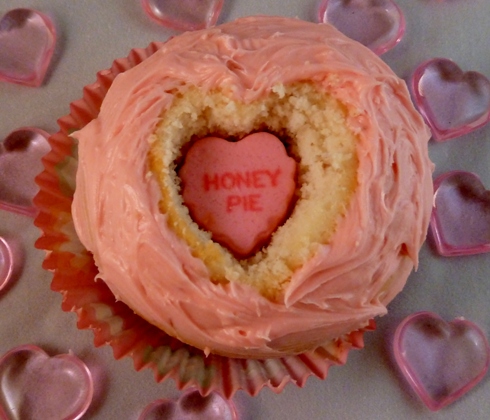 Valentine's Day Cupcakes With a Candy Heart Inside

Print recipe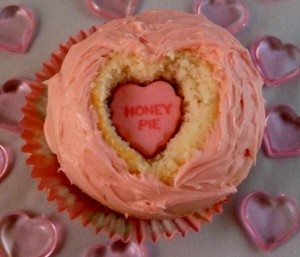 Ingredients
1 Container icing (I used strawberry icing but you can use any flavor your heart desires.)
1 package Brach's Conversation Hearts (I used Brach's because they were the biggest I could find.)
1 VERY small heart shaped cookie cutter or toothpicks
Brownie base
2 eggs
1/2 cup canola oil
1/4 cup water
1 package of plain brownie mix (Do not use a brownie mix with added chocolate chips or syrup.)
Cake filling
3 egg whites
2 tablespoons Canola oil
1 1/3 cup water
1 pakage of any type of cake mix
Directions
Step 1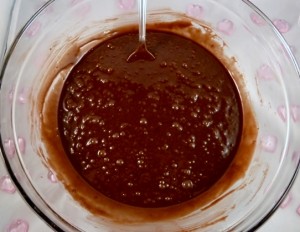 Mix together all the brownie base ingredients. You can see from my picture that there are extra chocolate chips in the batter. My mistake. The chips stuck to the paper liners of the cupcake.
Step 2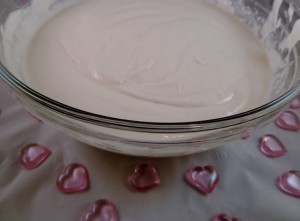 Mix together all the ingredients listed for the cake filling.
Step 3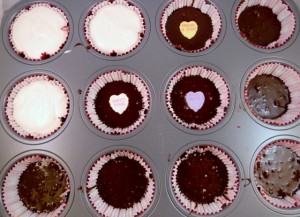 Fill half the cupcake liners with the brownie batter.
Step 4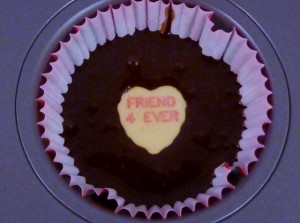 Place a Brach's conversation heart on top of the brownie mix.
Step 5
Cover the heart with the cake batter. Fill to the top of the cupcake liner.
Step 6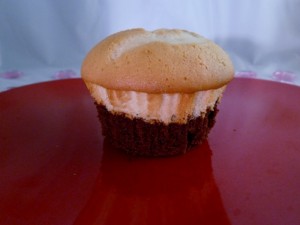 Bake the cupcakes at 350 degrees for 20-25 minutes.
Step 7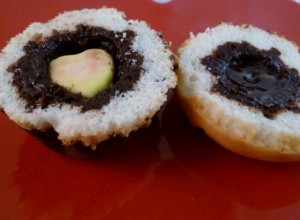 When the cupcakes are cool. Cut the top of the cupcake off. I have a link on this post that will take you to the website that has pictures of this step. Unfortunately, I was concentrating on trying to make a heart using toothpicks and I forgot to take pictures. Note - I highly recommend finding a heart shaped cookie cutter. Here is the heart your Valentine will find in the center of their cupcake. The words are blurred by the candy heart is intact.
Step 8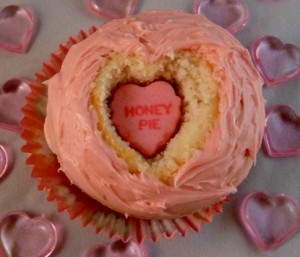 Ice the flat bottom half of the cupcake and then place the top back on. The icing will show through the heart. Since my heart shape was slightly irregular, I added a Brach's conversation heart to the center. Have fun with this recipe and try different cake and icing flavors. You can even go wild and try homemade batters!
If I were to try this recipe again…
I would use a small heart-shaped cookie cutter instead of using toothpicks to poke out a heart.
I would use the brownie recipe from my last cupcake post.
Along with that brownie recipe I would try a strawberry cake mix (boxed) and dark chocolate icing. …. But that's just me.
MYSTIC
on Amazon!