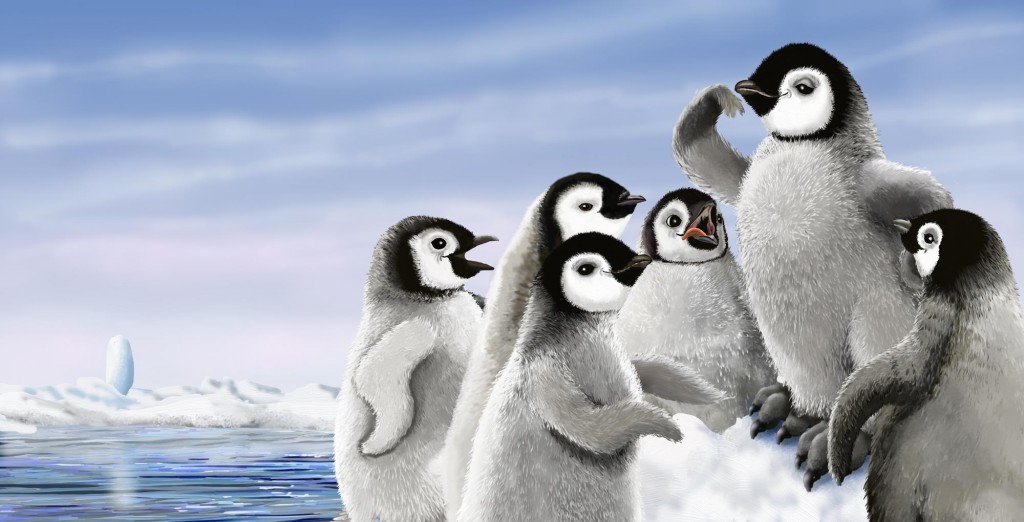 I Can't Hear You! I Can't See You
. By Sandra Horn and Illustrations by 
Muza Ulasowski
I first saw Muza's illustrations on uTales. I was blown away! Look at those penguins and the beautiful colors in the water. Then I found The Sea Cat Dreams.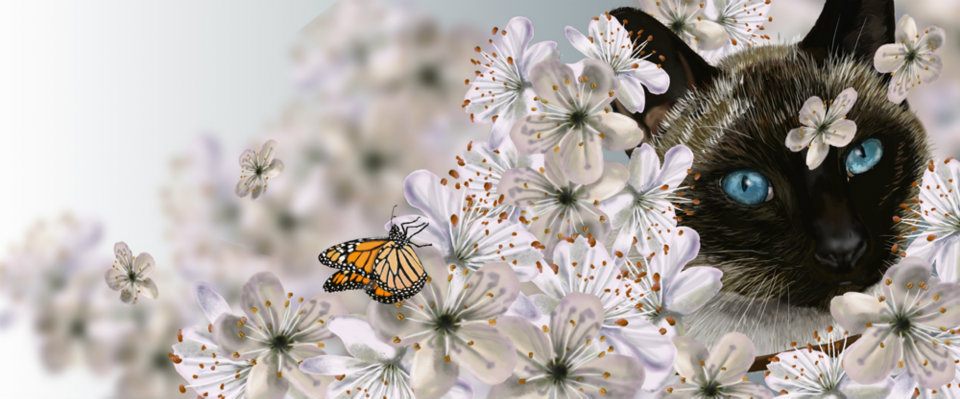 Wow! I had to reach out and meet the woman behind these amazing illustrations. Bonus, she lives in Australia! How cool is that? I've always wanted to go to Australia. I discovered not only is Muza a talented illustrator but she's also a mom with a big heart. She belongs to The Wantz Committee, an organization that fundraises to help charities.
I decided to get my Oprah on and do my very first interview. I went to Joanna Marple's blog to see how it's done. Joanna has a book on uTales too. Snow Games.
Introducing Muza Ulasowski…
[Muza] Thank you so much for inviting me onto your blog, Krista.
You're very welcome. Thank you for taking the time to answer all my questions. Please tell us about your published books. What made you choose to illustrate these stories?
[Muza] With the first book I illustrated, "Where's Michael?" by Xavier Waterkeyn, a lecturer at college where I had studied Graphic Design, forwarded to me a request he had received from Xavier for 12 illustrators to each create a double spread panel for his book. I thought it was an interesting project so contacted the publishers and was fortunate to be one of the 12 illustrators selected to create the panels.  It was a very interesting introduction to the world of publishing which I enjoyed very much.  With the second two books "The Life Cycles of Marine Animals – Emperor Penguins" and Life Cycles of Marine Animals – Layson  Albatross" both by Michael Molnar, the  publishers had seen my website, liked the style of my animal illustrations and asked me to illustrate the books.
I think on the basis of the images of these books on my website, I was then contacted early last year by Nils von Heijne, the founder of the very exciting digital ebook publishing company uTales.com, and was invited to join the uTales Facebook group. It was through this group that I met my first e-book collaborator, the multi-talented Jennifer R. Poulter, who sent me her marvellous manuscript about a cat that loses his human friend.  It was such a beautiful, poignant story and it touched me in so many ways that I felt absolutely privileged to have a go at illustrating it.  Hence "The Sea Cat Dreams" which is now available as an e-book through uTales.com and is soon to be published in print.
I was also part of a collaborative project at the beginning of this year, when approximately thirty uTalers from around the globe, wrote and illustrated the Friendship Alphabet Book, all the proceeds of which go to the charity, Pencils of Promise.
It snowballed from there and I have since finished collaborations on another 2 books "I Can't Hear You! I Can't See You" written by fabulous UK author Sandra Horn, and "Elliot Finds a Home" written by the amazing author Amelia Picklewiggle, both of whom are very talented members of the Utales Group.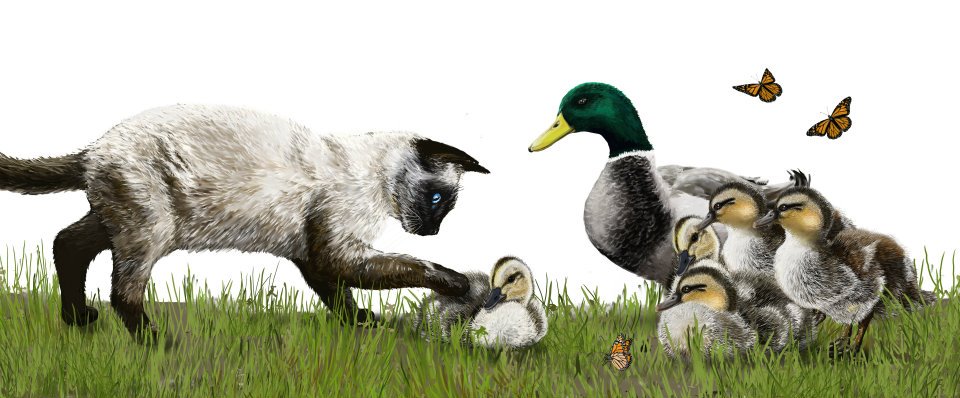 Do you have a favorite illustration from the books?
[Muza] My favourite illustrations are possibly from 'The Sea Cat Dreams' as this was the very first book where I finally felt very comfortable with creating the illustrations digitally.
Please tell us about your creative process. Where do you begin?
[Muza] Oooooh… that's a curly question – a lot of walking around thinking and visualizing is involved, also a lot of research, before I even attempt to put pen to paper, so to speak. I usually begin by splitting the manuscript text into the individual pages to see where the images and text could fit on that particular page.  I then do lots of quick pencil thumbnail sketches to visualize what the page will look like combined with the text on the page – like a storyboard process. Then I do a lot of research, whether it be researching the particular animal I will be illustrating, or object, or person.  Only then do I create full sized rough concept sketches, either with pencil or sometimes directly onto the computer. The pencil sketches, once okayed by the author, are then scanned into the computer and used as the background reference as I paint the images digitally with my trusty Wacom Tablet.
What was it like working with the authors and illustrating books for uTales?
[Muza] A marvellous experience and a lot of fun – I have become very good friends with the most amazingly talented writers who I met through uTales.  And I look forward hopefully to many more collaborations in the future.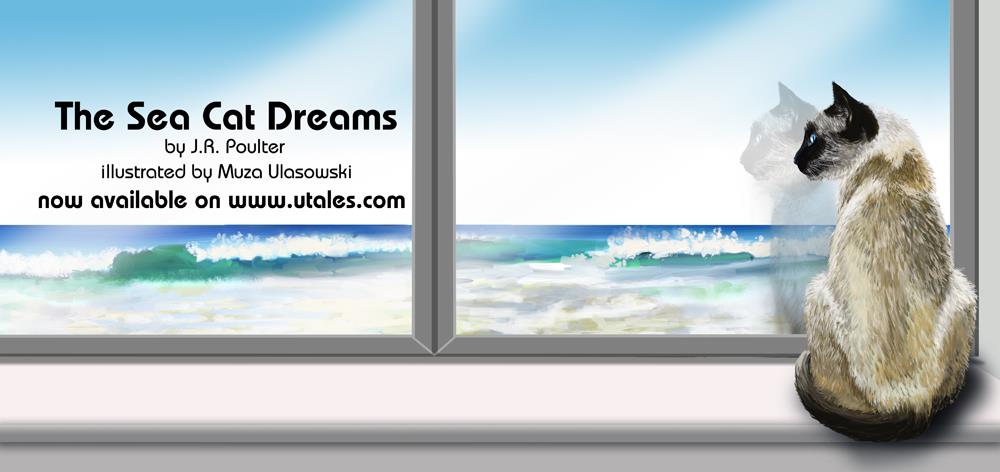 What are you working on right now?
[Muza] I am in the process of finishing off the last couple of pages of another gorgeously written picture book by Sandra Horn, "Suvi and the Skyfolk", and have commenced thinking and visualizing about another 2 books – one by Amelia Picklewiggle, and the other one is your beautifully written book, Krista.  I find doing several books at the same time helps in the thinking process, as whilst I am creating one image for one book, I am also formulating in my mind how to create the image for the other book.
Can you tell us about yourself?
[Muza] Well, I am in my early 60's – I have always wanted to be a children's book illustrator, and have always dabbled in art, but didn't seriously consider this as a full time career until after I went back to full time college in 2005 and achieved my second Diploma in Graphic Design in 2007. The first diploma was achieved BC (before computers!!), but I didn't pursue illustrating as a career at that point in time. I have two beautiful daughters and a very patient husband who constantly puts up with my disappearing behind the computer at 2 am in the morning, which is when I usually get my creative ideas!  I live on the outskirts of Brisbane, Australia, on acreage, and wake up every morning to the warbling sounds of kookaburras and cockatoos and magpies demanding their breakfast. We have two dogs, a German Shepherd and a miniature bulldog who is actually owned by one of my daughters. The other daughter owns a vast array of horses, dogs, cats and ducks, so I am never short of 'models' for my illustrations.
I feel very privileged now to be able to have the time and good health to pursue a career that I enjoy so much and feel so very passionate about.
Do you have a favorite character or book?
[Muza] I have always loved two of Mem Fox's picture books "Hunwick's Egg" and "Possum Magic"- they were also both my daughters' favourites. I think Mem Fox captures the essence of children's book writing and of course she has had the most marvellous illustrators visualize the magic in her words.
What advice would you give children who want to grow up and illustrate books?
[Muza] Draw, draw, draw, always keep drawing, and follow your dream – don't let anyone talk you out of pursuing your dream.
My works can be seen on:
http://www.muzadesigns.com.au
https://www.facebook.com/muza.designs
http://utales.com/books/i-cant-hear-you-i-cant-see-you
http://utales.com/books/the-sea-cat-dreams
http://www.illustratorsaustralia.com/portfolios/muza_ulasowski
I'm very blessed to have the opportunity to work with Muza on a project that is dear to my heart. Thank you, Muza. Someday I hope to visit you in Australia!