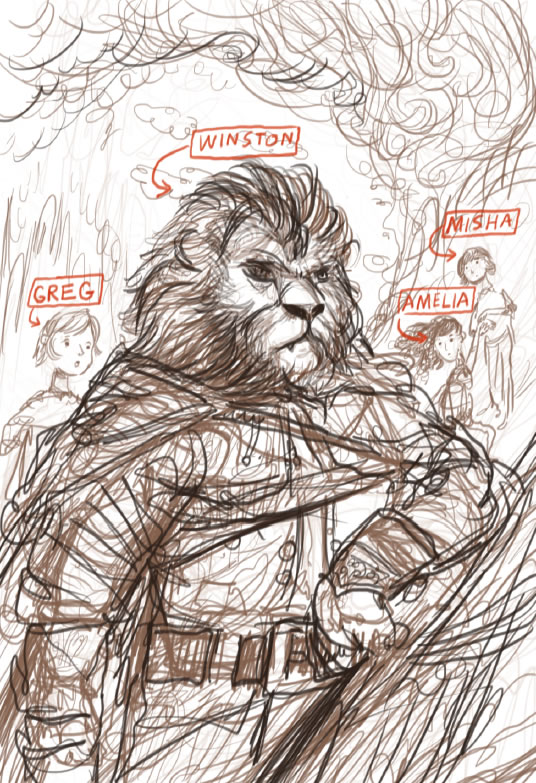 Illustration by Timothy Banks
When I first saw the message that the cover of MYSTIC was available for me to review I was very nervous. I had no idea who the illustrator was. All I had done was fill out a questionnaire about MYSTIC and speak to a project team member about my vision for the cover. I told her what I thought I wanted but also that I was open to ideas. A week later I received an email. The first sketch was ready to be viewed. The characters of MYSTIC had been in my head for six years and now I was going to see them in front of me. I clicked on the link, held my breath and then breathed a giant sigh of relief. I was shocked and amazed. There was Winston front and center–the beautiful, strong, lion–man I had created. Mr. Banks had captured his essence perfectly. I even loved the way Winston was dressed and was bummed that I hadn't thought to put Winston in such an outfit.
Amelia, Greg and Meesha, there they were! I wanted to squeeze their adorable little cheeks. I stared at the illustration for several minutes feeling the joy of finally seeing these children whose voices were so clear in my mind.
Even though I was in awe of Winston's attire and the children's lovely faces I had to ask for some changes to be made. The thought of going back through the manuscript and incorporating Winston's outfit was too overwhelming. I sent CreateSpace a page of notes and more ideas for the background of the cover. I also desperately wanted to know the name of the mystery illustrator.Two weeks later, I received his name and the revised cover. Perfect! He had done it again. I approved the cover immediately.
Mr. Banks, you are an incredible illustrator. I'm very lucky to be working with you. Thank you for your beautiful illustrations.
This is a very exciting time. It's funny because I fully understand the magnitude of having worked on a project for six years and knowing that soon … very soon, I'm going to see my manuscript as a real book. A book I can set on my shelf and a book I can read on my kindle. Intellectually, I think wow it's really happening but emotionally I'm a bit numb. I suppose it has to do with fear. Every day at school I walk by the art room and a poster outside the door says Creativity Takes Courage. And every day I say to myself it sure does! Whether it's creating a meal, a song, an illustration, or a story, simply by creating we are putting ourselves out there and opening ourselves up for critiques. I'm guessing many authors and illustrators have felt the same jumbled mess of emotions with their first book. Perhaps that is what makes a first book so special.
I've had many people ask me for the date MYSTIC will be available. Here's the scoop. The interior and the cover design have been approved. CreateSpace is waiting for my final manuscript. I've completed all my edits to the story. It's the grammar I'm concerned about. What if I missed a comma or put an en dash where there was supposed to be an em dash? Scary stuff. Imagine trying to make over 200 pages grammatically perfect. Sure, I've had a lot of help from the editor, Emma Dryden, but I've made some changes and those lines are what I'm worried about. Luckily, Eric agreed to be my extra set of eyes to check for mistakes. Believe me he's being very brave in agreeing to do that because this manuscript is my baby and I'm very protective. Once Eric changed a paragraph that Emma had edited and I turned into the female version of the Hulk right before his eyes. It wasn't pretty.
I'm hoping to have the final manuscript uploaded to CreateSpace by November 27th. At that point it should take about three weeks for everything to come together. If any changes have to be made to the cover or the book interior it pushes the release date back a week. If all the pieces come together perfectly and no changes have to be made then MYSTIC should be available the week of December 17th.
Thank you for asking me about MYSTIC and for all of your support not only with MYSTIC but with this blog. Many of you have shared my posts, given me ideas for posts and encouraged me along my writing journey. I am extremely grateful. Thank you.