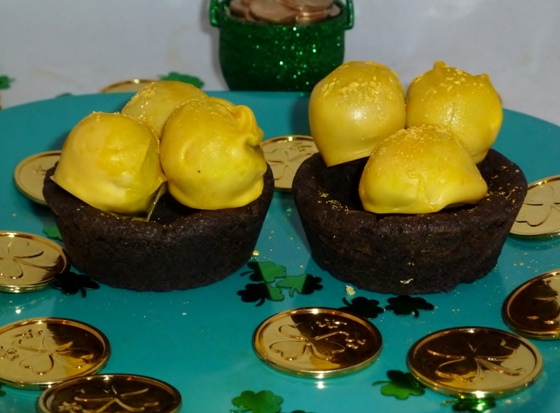 I'm usually pretty good at resisting dessert temptation. Usually. Turns out these cake balls have a power over me that I can't resist. I don't know whether it was sheer joy that they actually were tasty, the spider cake balls I made for Halloween were a tad on the nasty side, or if it was their small size. I'd pop one in my mouth and then feel as though a few hundred more wouldn't hurt me. When I reheated the morning's leftover coffee after preparing the milk chocolate dip – I knew I was in trouble. It wasn't long before I was walking around the house holding my stomach wondering just how many sparkly bites of joy had crossed my lips. And there's still another pan of cake balls in my refrigerator. One cake makes a bazillion cake pops/balls.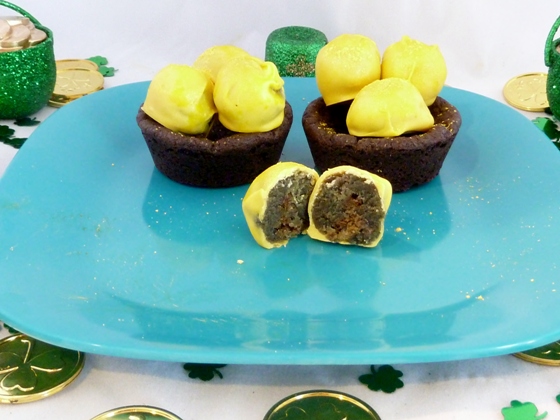 Sparkly Bites of Joy – Pot of Gold Cake Balls

Print recipe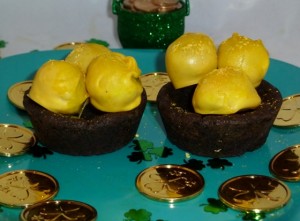 | | |
| --- | --- |
| Serves | 36 |
| Prep time | 15 minutes |
| Cook time | 3 hours |
| Total time | 3 hours, 15 minutes |
| Meal type | Dessert |
| Website | Bakerella |
Ingredients
Pot for pot of gold
cake balls
2 1/2 cups All purpose flour
1 tablespoon Cocoa
2 cups Sugar
1 1/2 cup oil
2 eggs
1 cup buttermilk
1 teaspoon baking soda
1 teaspoon salt
1 teaspoon vanilla
2fl oz Green food coloring
Directions
Step 1
Preheat the oven to 350 degrees and find two eight inch cake pans. Grease and flour the cake pans. Grease two cupcake tins for the cookie dough.
Step 2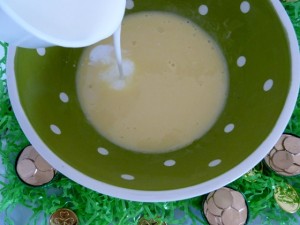 In a medium bowl, whisk the eggs and blend in all the liquid ingredients. (Including the food coloring.)
Step 3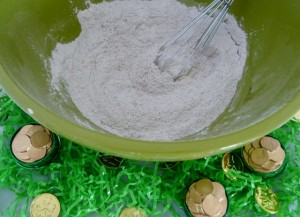 In a separate mixing bowl whisk together all the dry ingredients.
Step 4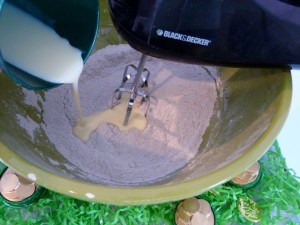 Slowly add the wet ingredients to the dry ingredients. Mix on medium speed for several minutes until it is all combined.
Step 5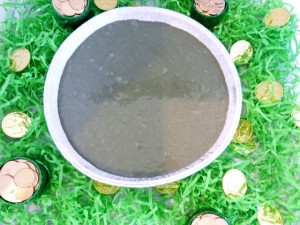 Pour the batter into the cake pans and bake for about 30 minutes.
Step 6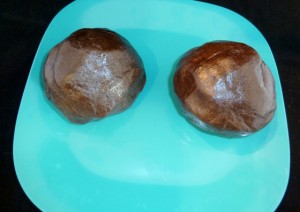 Cookie dough pots: Place both cookie dough packages in a bowl and add a half cup of cocoa. Stir together until the dough is black.
Step 7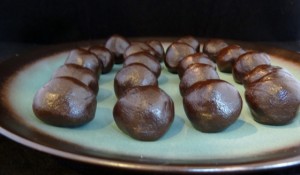 Break the dough into 18 separate balls. Each should be about the same size.
Step 8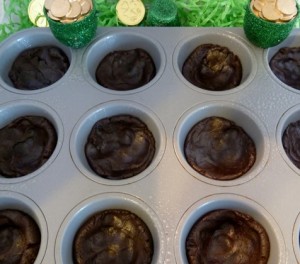 Put each ball into a cupcake compartment in the cupcake tin. Press the dough to the bottom and up the sides.
Step 9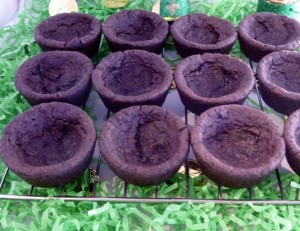 Place the cupcake tin in the oven for ten minutes. Take out and gently push down the center of each cookie pot. Place it back in the oven for 5 more minutes and repeat. 4 more minutes - push down and if the cookie dough still looks wet return it to the oven for another minute or two. Once the dough looks dry in the center it's done. Let cool for five minutes in the pan and then pop the pot out using a knife along the edge. If the bowl/pot doesn't pop right out the cookie is not done. Put it back in the oven. The total cooking time is around 20-22 minutes.
Step 10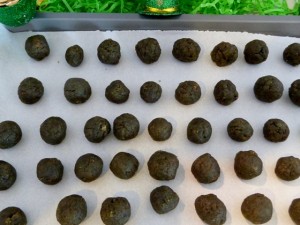 How to make cake balls: When the cake is done and completely cooled, crumble the cakes into a large bowl. Add half the can of cream cheese frosting and mix well. Form the dough into little balls. Place the balls in the freezer for an hour or the refrigerator for a few hours.
Step 11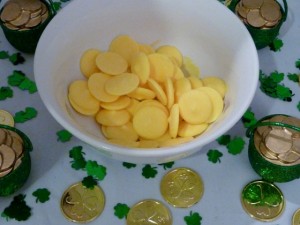 Melt the chocolate in a microwave. Heat for 20 seconds - stir and repeat until the chocolate is melted.

Step 12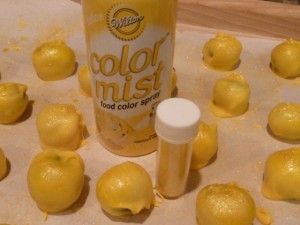 Dip the cake balls into the chocolate and set on parchment paper to dry.
Step 13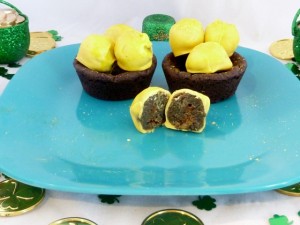 Place the balls in the cookie pot and you have a sparkly bites of joy pot of gold!
Day five of my St. Patrick's Day Extravaganza. Whew! I made it. I feel as though I've spent the past five days in a very unnatural habitat – my kitchen.
Here's a quick recap of the recipes.
Day 1:
Day 2:
Day 3:
Day 4:
And last – at least for a few days… My own creation (kind of but not really) cake pops pot of gold. I combined two recipes. I took the pot of gold cookie pot and tried it in a regular sized cupcake tin. It worked! Then I made the cake pops from Bakerella's recipe and added yellow chocolate to make them look like gold. I'll call them sparkly bites of joy.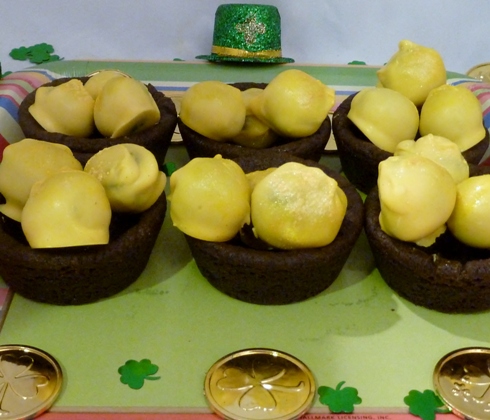 When you look at those pots are you seeing a potential Easter basket? Hmm.
Eric thought the sparkly bites of joy entire ensemble was delicious. I prefered the chocolate mint eclair to the cake pops. But then Bryers mint chocolate chip ice cream is one of my all time favorite desserts. Eric is more of a pumpkin or pecan pie kind of guy. Blah. We have extremely different tastes in music too.
I'm cheating a wee bit and ending this post before I put up the recipe. Sunday, I'll add the steps and pictures to the GetMeCooking website. They have a lot of other great recipes too – even ones that aren't vegetarian. Eek! You should take a peek.
Today is day 2 of my St. Patrick's Day extravaganza.Yesterday's pot of gold was a big hit with the high school crowd and today's shepherds pie received two thumbs up from Arielle and Eric. I believe I heard Arielle say, "You're keeping the leftovers in the fridge… right?" And Eric replied with, "Yeah but this is a get up in the middle of the night and sneak some dish." My heart smiled. It's nice to know my cooking skills are improving. Even though last night Kai told me the Food Network had the perfect show for me – America's Worst Cooks. Anyone who lives with teens has to be tough. Insults are the way they express their love. I'm not sure why they teach pregnant moms deep breathing exercises. The moms who really need it have teens. Breathe in – remember that little baby you held in your arms? – Breathe out – I know they still love me.
Vegetarian Shepherd's Pie

Print recipe
| | |
| --- | --- |
| Serves | 8 |
| Prep time | 1 hour |
| Cook time | 30 minutes |
| Total time | 1 hour, 30 minutes |
| Dietary | Vegetarian |
| Misc | Serve Hot |
Ingredients
2 bags MorningStar Crumbles
1 box MorningStar Sausage (Cut into small pieces)
1 cup onion
2 cups Frozen mixed vegetables thawed
1 cup water
1 (6oz.) can tomato paste
1/4 cup fresh parsley chopped
2 tablespoons Vegetable broth
1/4 teaspoon salt
2lb Refrigerated mashed potatoes
1 1/2 cup Shredded sharp cheddar
1/2 cup chopped green onions
2 heaped teaspoons Sugar
Optional
1/8 teaspoon Black Pepper and red pepper
Directions
Step 1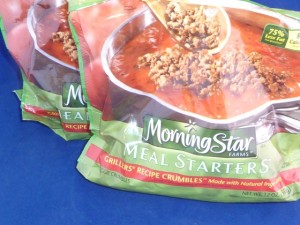 Preheat the oven to 350 degrees and spray a 12x8-inch dish with cooking spray. Cook the crumbles and sausage in a large skillet on medium heat. (I add a little olive oil.)
Step 2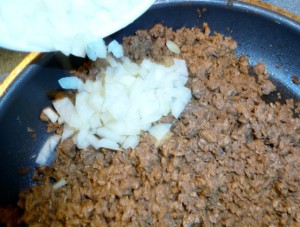 Add the onion first and cook for two minutes.
Step 3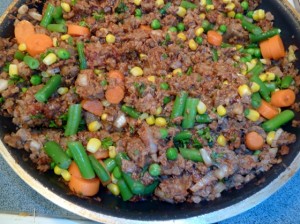 Next, add the vegetables, broth, tomato paste, water, parsley and sugar. Sprinkle the salt and black and red pepper to taste. Stir everything together.
Step 4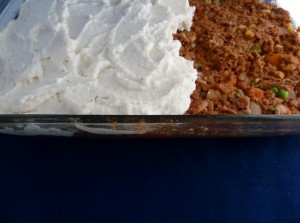 Pour the mixture into a baking dish. Spoon the mashed potatoes on top.
Step 5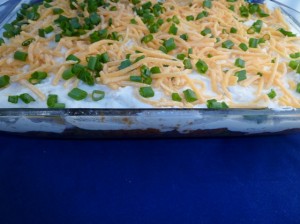 Sprinkle the cheese and green onions over the mashed potatoes. Spray a sheet of foil with nonstick spray and place it over the shepherd's pie while baking. Bake for 25 to 30 minutes. Oh, so good!