I woke up in 2003
Before Thanksgiving Day 2003 I had been asleep, going through the rise and fall of daily life like waves on an ocean. I believed the key was to make my children's lives better than my own and to create the fairy tale, the one with the white picket fence, big house, and happy family. Back then I had three major goals: Have a house that my children could call their childhood home, stress education so my kids would go to college, and educate myself and have a career so I wouldn't be dependent on anyone. I finished my degree, we built the house and my husband, and I set high expectations for our children's academics. We fell into the rhythm of early mornings, school, after-school activities, bed, and repeat.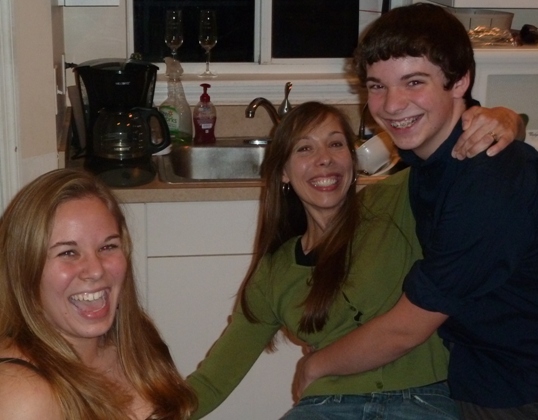 I'm continuing my Thankful Moments with my Kids posts. This is week three. Click on the links to read thankful moments week one and week two.
Talking with My Kids After School
Sitting at the table, eating pita and hummus, listening to Arielle and Kai talk about their day at school or talk about music, politics, religion, potential colleges…those days were the best! For an hour or so I had an opportunity to glimpse into their teenage world.
Whether I spent my day writing or substitute teaching I always tried to make sure I was here when they got home just in case they felt like talking. Most days they did. I'm lucky that Arielle has always had the gift of gab. Some days she'd get home and we'd sit for over an hour discussing various topics. Kai would jump into the conversation for as long as he could stand until his music or video games called to him. Looking back, I am so very thankful that I had this time with Arielle and Kai because four years went very fast and now only one kid comes home from school every afternoon instead of two.
Since Arielle has gone to college it's much quieter. Kai and I are similar in that we are both introverts at heart. We are perfectly happy in each others presence but we have a tendency to drift off in our thoughts. I'll begin creating stories and he creates songs. However, we are used to our ritual of late afternoon chats so when he gets home we still spend some time talking together. Arielle's energy is missed by both of us but her being gone is another reminder to be thankful for moments with my children.
MYSTIC Update
:
MYSTIC
will be available either the end of December or early January. As soon as I have a date I will post it. The cover is amazing!
Timothy Banks
did an incredible job. I can't wait for you to see it!
Every morning I wake a half hour early in order to begin my day in thankfulness. I grab my coffee, climb the stairs to my writing room and sit in my grandmother's old lazy boy chair facing the window with a view of our canal. In front of me are a collection of books. The Power of Now and A New Earth by Eckhart Tolle, The Magic by Rhonda Byrne, Manifesting Change by Mike Dooley, Firstlight by Sue Monk Kidd, and The Book of AWESOME by Neil Pasricha. I choose one or two of the books open to a random page and begin reading.
Just like I go to the gym to keep my body strong, I do the same for my mind by reading the inspirational words of others, reminding me of the blessings that every day holds.
Neil Pasricha has done a wonderful job of taking daily life and pointing out the awesomeness in his book, The Book of Awesome. He's listed examples such as high-fiving babies and popping bubble wrap as those little moments in a day that make us smile.
So, for the next several Sundays in November I'm going to build on Neil Pasricha's idea. I'm going to write about my thankful moments as a mom.
Magic Moment #1. Riding in the Car With My Kids
From when they were little and Rafi's lyrics blasted through the speakers to elementary school when Radio Disney ruled, we've always enjoyed listening to music in the car. High school brought classics such as I'm Sexy and I Know It to one of my favorites Gangnam Style Jason Mraz's, Living In the Moment. Last weekend's college visit brought yet another change. Shocked by the new crooning sounds I asked, "What are we listening to?"
"It's Frank Sinatra, mom." 
"Oh… okay." 
Discussing life while tunes blast through the speakers, sometimes singing sometimes dancing, sometimes lost… we're together and that's all that matters.