I woke up in 2003
Before Thanksgiving Day 2003 I had been asleep, going through the rise and fall of daily life like waves on an ocean. I believed the key was to make my children's lives better than my own and to create the fairy tale, the one with the white picket fence, big house, and happy family. Back then I had three major goals: Have a house that my children could call their childhood home, stress education so my kids would go to college, and educate myself and have a career so I wouldn't be dependent on anyone. I finished my degree, we built the house and my husband, and I set high expectations for our children's academics. We fell into the rhythm of early mornings, school, after-school activities, bed, and repeat.
"Lovely family time." It's what we say when we get annoyed with each other in the Rausin house.
Now that my children are young adults they see us much differently than they did when they were little. Ahh, to be able to go back to the time when Eric and I could do no wrong… Nope, they see all our flaws and what's worse–we raised them so they share many of those same flaws or should I say interesting personality traits.
Here's the story of this Thanksgiving. Or why Arielle's at the grocery store Thanksgiving Eve at 8:17 pm.
For the past few months Eric's been excited about cooking with Arielle for Thanksgiving. So, imagine my surprise this morning when Eric was leaving for work and he casually mentioned that he left the grocery shopping for Thanksgiving dinner up to Arielle, our twenty-one year old who is home from college without a vehicle. What? Suddenly my nerves about running the Turkey Trot 5K in freezing 50 degree weather at 7:30 am. was trumped by my panic over having to maneuver through a crowd at the grocery store searching for cumin and sweet potatoes. I don't even like sweet potatoes. Couldn't I just crawl out of bed at the crack of nine and sip coffee in my cozy sweats then feast on cold pizza and potato chips around noon? That would be a great holiday for me.
How did this happen?
Eric and I are both procrastinators. Our children didn't have a chance of getting that gene that makes you take care of things weeks in advance. Poor kids. However, where we differ is that my husband, like my daughter, are extremely easy-going. If plans change, if things don't go the way they anticipate, they are pretty OK with whatever happens. This can cause them to make lots of plans like fancy Thanksgiving dinners, get excited about those plans and then if we get too busy and can't shop until last-minute it really doesn't matter… everything will work out. It's a good way to be. They are happy 99.9% of the time. Except that they live with two planners who tend to get upset if things do not go the way we anticipated. We're capable of saying things like, "What do you mean Arielle's doing the shopping? She doesn't have a car. Why didn't you just ask me to go shopping?"
Enter the passionate side of the family. Son and I. We plan our days from morning to evening. It upsets us if those plans change. When it comes to his music or my novels we don't discuss them much. It's all in our head…constantly. To discuss it adds stress because there's already so much internal pressure to get it done; talking about doing it creates more pressure. We like routine, don't ever try to stop us when we're writing, and even though we both procrastinate.. what we say we will do…we do. It upsets us too much to not follow through with plans. Therefore, we are very wary of new experiences, trying new foods, and agreeing to do anything that we feel may cause us stress, like running a Turkey Trot in freezing 50 degree weather at 7:30 am. Yep, I'm doing it because I said I would but totally freaking out about it.
Put us all together during the holidays and we end up with Arielle shopping with her friends at  Publix late at night for Thanksgiving dinner. Eric telling me that even if we order pizza for Thanksgiving it's really going to be fine. Kai flat-out refusing to do the Turkey Trot because he's not getting up that early–especially to run. And me trying to get the idea of the perfect family Thanksgiving out of my head. You know the one in the commercial with the decorated table and pilgrim salt and pepper shakers. We are not that family. Never were.
The thing is it's not about the picture perfect table or meal. Whatever we end up having tomorrow for dinner doesn't really matter. It's the fact that we're all together, laughing at our lack of preparedness and all our quirky ways that make us who we are. It's about the four of us being together. For that I am very grateful and who knows, maybe I'll even be grateful I ran the Turkey Trot. Maybe. Happy Thanksgiving!
We did it! "Don't cry because it's over. Smile because it happened." Dr. Seuss  Yeah…I'm smiling because it's over too. 🙂 Check out Arielle's Thanksgiving post: Racing Rausin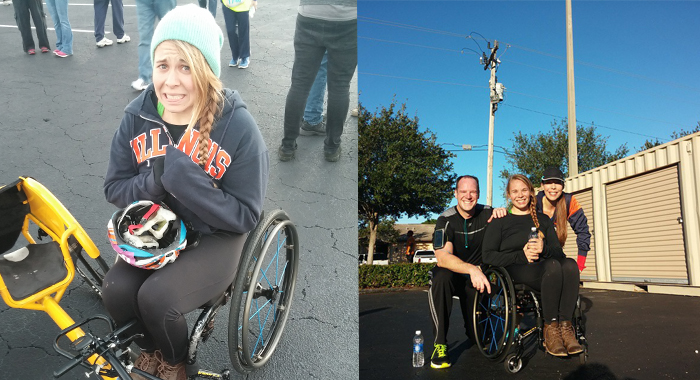 And last year's 10th anniversary of the accident post can be found here: Remembering The Accident That Changed Our Lives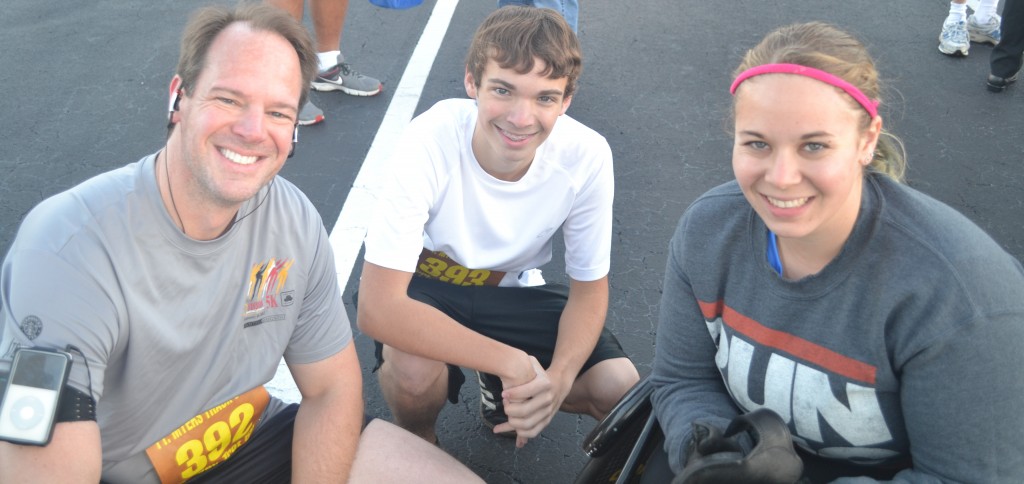 Turkey Trot 5K Cape Coral, Fl.
Arielle came home from college for Thanksgiving. It was wonderful having us all together again and the balance in our family was restored. Two females and two males. Also, two vegetarians and two omnivores. Lucky for me Eric was very excited to cook whatever his beloved daughter wanted. Arielle and I had many vegetarian feasts beginning with his famous jalapeno grilled cheese. We also discovered the best veggie burgers in town at Square 1 in Ft. Myers.
Thanksgiving flew by and soon I found myself at the airport saying good-bye to Arielle again. "Three more weeks." I told her. "I get to see you in three more weeks."
I drove home thinking of our time together and one of our best nights was spent curled up on the couch watching Good Will Hunting. I had remembered liking it many years ago and thought the kids might enjoy it to. We assured Kai it wasn't a chick-flick and convinced him to set his composing aside for a couple of hours.
"Some people can never believe in themselves until someone believes in them."
We had left over pies, ice-cream, popcorn and M&M's on stand by in case we craved a snack. All four of us and our zoo lounged in front of the TV and watched Good Will Hunting. I was right. With the exception of one greyhound racing scene (do we really need to abuse dogs to gamble?) the movie was fabulous. Both kids enjoyed it and both parents loved having us all together. Three more weeks…
MYSTIC Update
:
MYSTIC
will be available either the end of December or early January. As soon as I have a date I will post it. The cover is amazing!
Timothy Banks
did an incredible job. I can't wait for you to see it!
Of course I am thankful for my family and friends but that's too cliché. Here are some other things I'm thankful for.
Thankful For List:
Cameras – Taking pictures so when I'm old I can look back and say "Wow, look how young I looked – what happened?" … Okay, maybe not cameras.
Chocolate – There's nothing quite like the taste of chocolate. Chocolate brownies, chocolate strawberries, chocolate Toblerone, hot chocolate. I'd eat it every day if I could. But then I'd get cavities and gain ten pounds and have that sinking feeling of trying to zip up my jeans and realizing that no amount of jumping up and down or lying on the bed and sucking in my gut would make the zipper budge. …. Okay, maybe not chocolate.
Facebook – It's so wonderful being able to spend time online visiting friends from the comfort of my home, dressed in sweats, talking /typing and keeping up to date with everyone's family. It really doesn't matter that my laundry never gets done, I haven't gardened in weeks and my closets look like a gang of two-year-olds decided to redecorate. What matters is that I've been able to type happy birthday to over three hundred friends and show them a dorky picture of me shouting "Mimi's!" Wait a minute… Okay maybe not Facebook.
Cooking a giant meal for… yeah right!
Vacations – Traveling to new places and seeing new sites is exhilarating. It reminds me of the joy of life and gives me a renewed spirit of happiness. But then I come home and I'm suddenly aware of all the dirt in my house and that my eleven year-old carpet is truly disgusting, my refrigerator is still leaking water, my baseboards and blinds have layers of dust, my bedroom walls are still stark white and there's a strange odor emanating from my garage. Too bad I just spent all my money on vacation. Okay… maybe not vacations.
So, in summary… I am very thankful for my friends and family… and sarcasm. Happy Thanksgiving!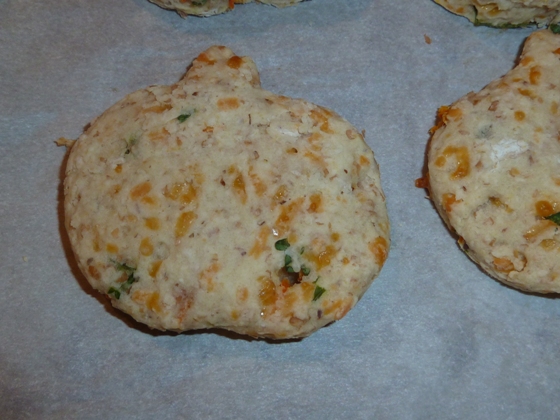 Two members of our household enjoy my cooking.
Here are two dog treat recipes that are easy and healthy for your canine friend.
This recipe was the favorite of both my dogs: Veggie Bones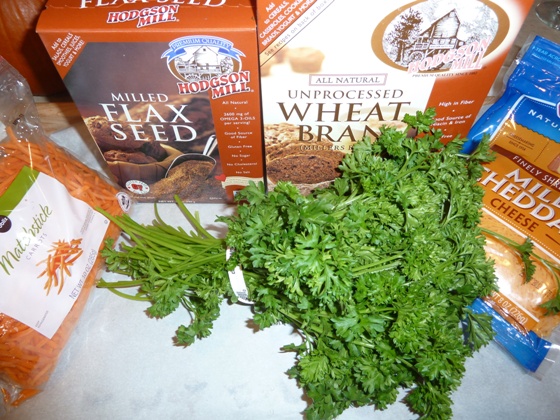 Ingredients:
2 3/4 C. Flour
2 Tab. Bran
2 Tsp. Baking Powder
3 Tsp. Fresh Parsley (minced)
1/4 Cup Shredded Carrots
1/4 Cup Shredded Cheddar Cheese  (Or Mozzarella)
2 Tab. Olive Oil
1/2 Tsp. Flaxseed
1 (or more) C. Water
First, preheat your oven to 350 degress. Grease a cookie sheet or use parchment paper. Mix together the parsley, carrots, cheese and add oil.
Next, in a separate bowl combine the flour, bran, baking powder, and flaxseed.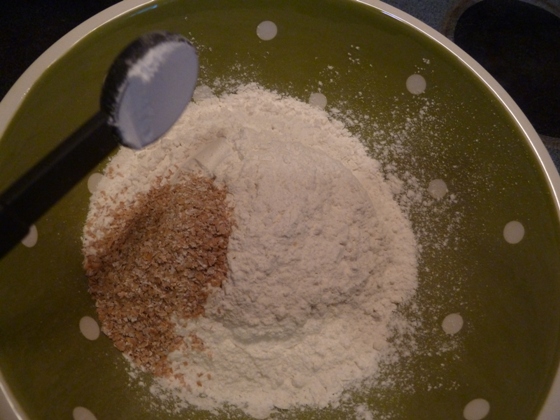 Then add a 1/2 cup of water, stir, and combine the flour mixture into the veggie mixture.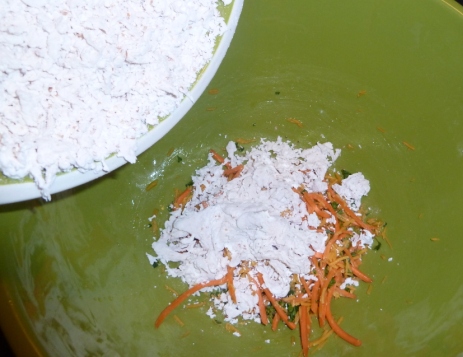 The original recipe called for 1/2 cup of water but I had to use more in order to form the dough. Of course I didn't realize I should have measured the amount of water I used until after the dough was formed… so good luck.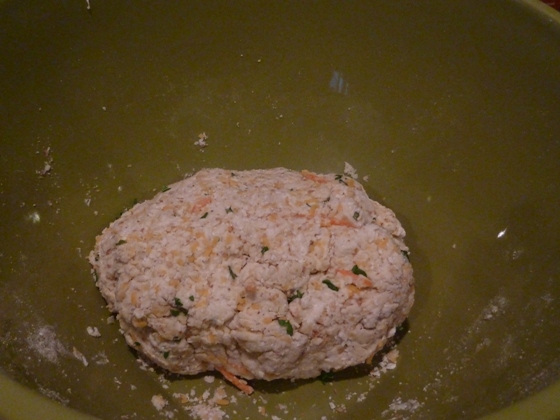 Roll the dough and use cookie cutters to shape as you wish.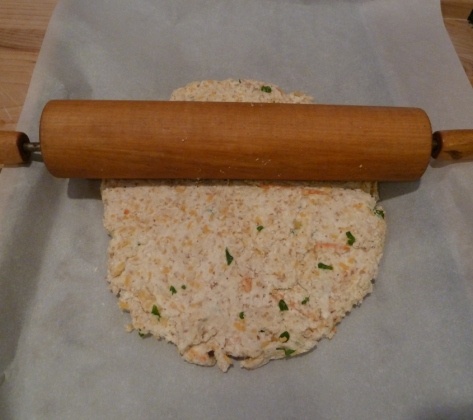 Toss it in the oven and bake for twenty minutes. They should be slightly browned on top and firm. They will harden as they cool.
My dogs loved them and gobbled them up right away.
I read that pumpkin is very good for dogs so I decided to give this treat a try. It's super, super easy and economical but both my dogs took a little time getting used to the flavor.
Pumpkin Dog Treats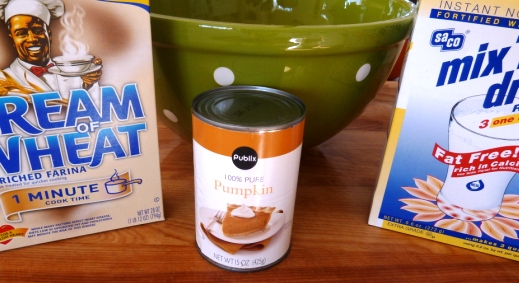 Ingredients:
1 15 oz. Can Mashed Pumpkin (Not Spice)
2/4 Cup Cream of Wheat or Rice Cereal (Uncooked)
1/2 Cup Dry Powdered Milk
Combine all the ingredients and drop spoonfuls onto a cookie sheet.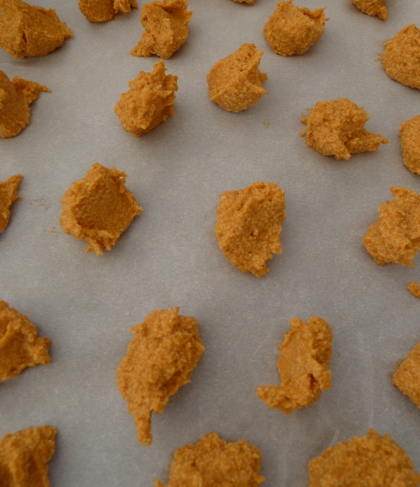 Bake at 300 degrees for twenty minutes.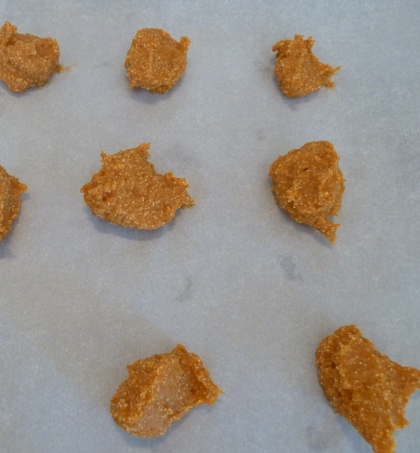 My cats wouldn't touch either Thanksgiving treat and they were quite unhappy with the dogs getting so much attention. Next week I'll have to search for their perfect holiday dish… vegetarian of course.