Spreading the Love

Caloosahatchee River bridge
Valentine's Day is on its way! I say let's spread the love to everyone. Let's make the holiday more than loving just our immediate family. I read an article the other day that said Americans are lonely especially older Americans. Living in Cape Coral I can say that it is all too often I see an elderly person sitting alone in a restaurant.
This Valentine's Day do something in your community or online that shows people you care. Compliment someone, buy a few desserts and take them to your local police or fire station with a note of thanks, or write a kind letter to your child's teacher. Reach out to your neighbors who live alone. Bring a bag of dog or cat food to your local shelter. Tell friends on Facebook about your favorite restaurant or local boutique. Or you can get creative and do something like the following person.
Cape Coral has three bridges connecting to Ft. Myers. There is a $2.00 toll on two of the bridges leading into Cape Coral. Several months ago, I was crossing the bridge from Ft. Myers and as I came to the toll with my $2.00 the woman told me it was already paid by the car in front of me. I was shocked. I had no idea who the person was. Suddenly, I was overcome with a feeling of joy and awe that a stranger would offer such kindness expecting nothing in return. I decided to pay it forward. Now, every so often I will do the same. I'll pay for the car behind me. I get giddy and imagine the stranger's surprise. I hope that they too feel the joy I felt. To me, that's what Valentine's Day should be about–spreading love to those in our community.
Having just published a book I have had a lot of love and support from friends. Getting the word out about a new book can be a challenging process if you're not a major publishing house or a celebrity. Many people on Facebook have helped me by sharing links. I've been invited to do school visits. I've received two wonderful reviews. One anonymous and one from the Daily Dose (Rob) at the Reeve Foundation.
I'm going to start my spreading the love campaign by spreading the word and including  links to organizations that are dear to my heart. These organizations show love to children, animals, and veterans. If you decide to join in and help spread the love in your community please let me know on Facebook or in the comments section of this post. February 14th can be a day of giving and showing love for everyone. Afterall, it really doesn't take diamonds to make people happy. Chocolate…maybe… but not diamonds.
Organizations I love:
The Reeve Foundation
Brittany's Hope
the Elephant Sanctuary
And one I just read about…Mission Continues
And of course where we found our Buddy: Gulf Coast Humane Society
For more Spreading the Love ideas check out Flowering Minds.
Most of the recipes I post are easy. This one is super duper easy.
I found a recipe for popcorn cake on Pinterest. The recipe called for marshmallows which are not vegetarian. Yeah, I was crushed when I found out how gelatin is made. No more smores for me unless I can find vegetarian marshmallows.
Anyway, I took the recipe for the popcorn cake and made one with caramel and another with chocolate. If I hadn't run out of caramel, I would have used them both on the second cake. I'm crazy that way. They both turned out super duper yummy.
By the way, did you notice the Valentine's Day card in the picture? It was made for me by my favorite three year-old.
Valentine's Day Popcorn Cake

Print recipe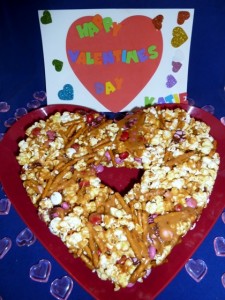 Ingredients
1 bag Popcorn
1 bag M&M's
1 bag Caramel
2 tablespoons Heavy whipping cream
2 cups Pretzel sticks (May want to break the pretzel sticks in half.)
Directions
Step 1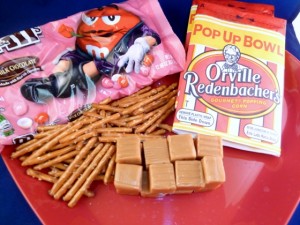 Microwave the popcorn according to the package directions.
Step 2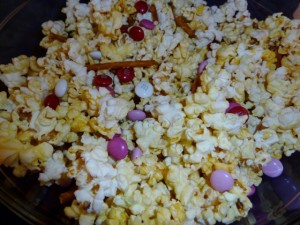 Pour the popcorn, M&M's and pretzel sticks into a bowl.
Step 3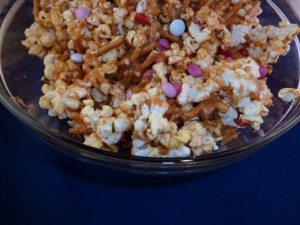 Melt the caramels and cream in a saucepan. Pour the caramel over the popcorn mixture.
Step 4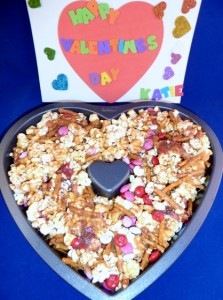 Spray the cake pan and your hands with cooking spray. Spread the popcorn mixture into the heart shaped pan and press down.
Step 5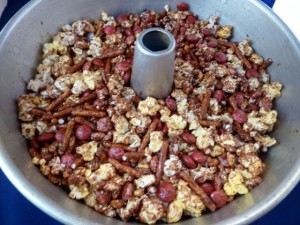 I also made this recipe and added chocolate instead of the caramel. Just as delicious!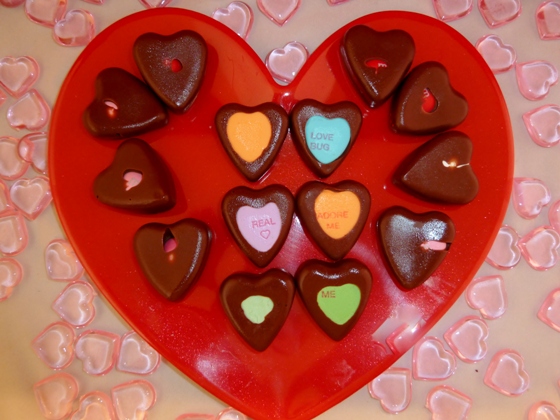 As promised here's my new Valentine's Day treat.
Remember that day
 when I went searching for the candy conversation hearts at
Publix
and they laughed at me because it was too early – it was all about the Super Bowl? Then I had to use animal crackers in my cupcakes because I couldn't find the conversation hearts…
Well, that same day in the dollar section of Target I found little pink heart ice-cube trays. Two for a dollar. I picked them up and had this little conversation in my head that said… Do you really need these? … Little heart-shaped ice how cute, they're only a dollar and they're adorable. Why not? I brought them home to the rolling of eyes. Seriously, heart-shaped ice cubes, mom? That's what they were thinking. I live to amuse my teens.
Jump ahead a couple of weeks to chocolate pretzel making day. I saw the little heart shape and wondered if I could make my own unique chocolate treat. I decided to experiment. I added chocolate and then a conversation heart, M&M, and purple sugar just for fun. Notice how I only made three. At this point I wasn't sure if I'd ever get the chocolate out of the tray.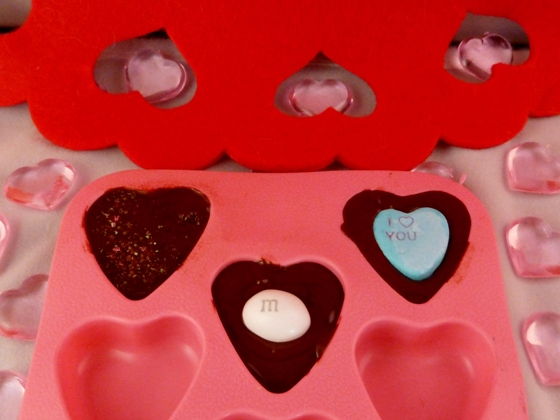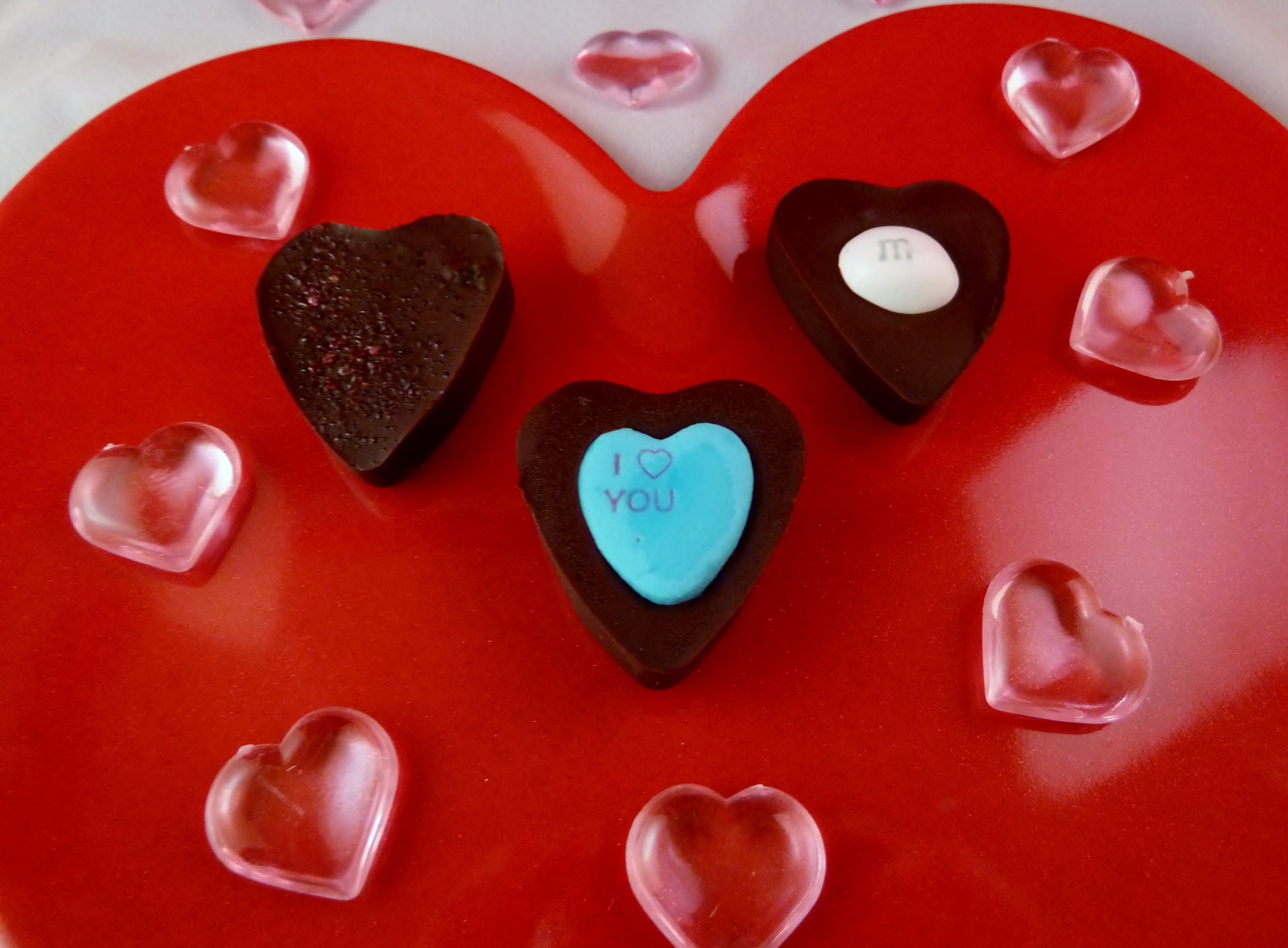 I did and it worked! Yay, for me. But the chocolates were upside down so I decided to try again. This time I put the M&M and conversation hearts at the bottom of the tray.
This is an easy inexpensive treat for a classroom, Valentine's Day party, or even a bridal shower or wedding favor. If you personalize the M&M's and place them on top of the chocolate (example above) they could have the wedding date or bride and groom's names on them. OR … If anyone is thinking about a proposal why not have the words, Marry Me? written on the M&M. Now that would be uber cute especially on Valentine's Day.